Beneteau Oceanis 40CC
Our first home purchase and we could not be more happier with this awesome sailing vessel!  Named "SeaUs" ( You cant take the sea out of us! ) was built in 2001 in France by builder Groupe Finot for Beneteau. This is the 40Ft Center Cockpit version of their popular Oceanis line.
For us that means a huge Aft Deck with tons of deck space for fishing or tanning ( which Beau our dog loves to do! ) and tons of storage lockers. One storage locker can hold over 35 gallons of spare fuel in 5 gallon gas jugs + more (oil, etc) and we have 2 of those + many others! Then we have a scoop transom (back end of the boat) that steps down to 6 inches from the water, GREAT for swimming and getting on and off the dinghy for shore visits.
Specs
LOA (length): 39′ 6″
Draft (depth below water): 5'7″
Beam (width): 13′
Weight: 13 Tons
Hull Material: Fiberglass
Keel type: Wing Keel
The Cabin:
The other advantage of the Center Cockpit style is that it allows for a huge "Master Stateroom" (rear bedroom) equipped with a queen size bed, his and hers closets and nightstands, and several shelves for clothes even a vanity with shelves and storage all around and in it!
We have a second berth (bedroom) perfect for 2 which also has closets and even a mini couch with storage below that. There is Head at the bow (restroom with shower at the very front of the boat).
Our salon (dining room / living room) is fit for 5 and even has a gas fireplace (diesel fueled)!! Great in cooler climates with a cup of tea. Also excellent for drying the cabin out, a major plus!
The very secure navigation station is across from the salon. We have a nice long and tight (tight is good on a boat) galley with a large freezer/fridge, 2 basin sink with fresh water and salt water spigots, an oven and 2 burner stove, and a microwave (godsend).
Last but not least is the Man Cave (head (restroom) converted into a work room) a couple work benches, tons of storage for spare parts, lubes, glues, shop vac, and TOOLS with extra storage for dog food, shop vac, and misc other odd items.

Engines: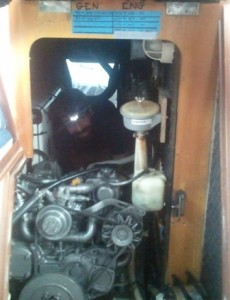 We have 2 Diesel engines one dedicated to propulsion of the boat and another for AC power and stationary battery charging.
The drive engine is a Yanmar 4JH3E 58 Horsepower, beautiful, runs clean, and very very reliable. Moves us at about 6.5 knots cruising speed and 7.5 top speed. It sips a little less then a gallon of diesel per hour at cruising speed.
The Generator is Westerbeke 7.6BTD which produces 7.6 Kilowatts of AC power (same as runs in your house). It sips less then 3/4 of a gallon of diesel per hour. It's a bit testy but were getting there.
CHICO! Our third engine is our 4 HP 4 stroke Yamaha engine for our Dinghy (ship to shore transport). We got a hell of deal on it and he is pretty much brand new and runs amazing. He holds 3/4 of a gallon of unleaded gas and we carry a 2 gallon reserve tank with us on our excursions.
Fuel:
We carry 90 gallons of Diesel on board as often as possible, 35 gallons in the onboard tank and 55 gallons in jugs. The Diesel is for the Generator, the propulsion engine, and the Fireplace. Not much fuel used. Where there is wind there is a way!
We carry 20 LBS of propane for the stove and we have somewhere around 30 portable propane bottles for the grill. Portables can be used for the stove as well.
Steering:
Hydraulic steering with hydraulic ComNav Auto Pilot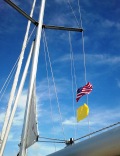 Sail Plan
We have a roller furling 150% Genoa, an in-mast roller furling Main sail, and an asymmetrical spinnaker complete with mast equipped spinnaker pole.
Z-Spar Mast and boom and a Selden Furlex Furler.

Navigation
3 Laptops loaded with OpenCPN (opensource software) and several iterations of digital charts from Maptech, NV-Charts, NGA, NOAA, and more. We use an externally mounted GPS puck and have a spare standing by. We also have a handeld gps and a satellite phone which can also deliver our GPS position. We use a flat screen monitor which swings out into the cabin for viewing from the helm. We use our cell phones to create a wireless hotspot which in turn enables a remote control for the laptop while we are in the cockpit or at the helm. And of course we have paper charts on board as well.
Other Equipment:
2 Air Conditioners. One dedicated to Master Stateroom at 5800 BTUS, and the other for the rest of the cabin at around 13000 BTU.
XM Satellite Radio
Diesel fireplace with real flames awesome at night!
FrigoBoat Refrigeration
Hot Water Heater
Sony Stereo
85 Watt Solar Panel for juicing up the batteries.
Furuno Radar and cockpit display range up to 16nm for dodging boats and adverse weather
Rail Mounted Magma Grill
Electric Windlass (anchor winch)