Fishing is a favorite way to pass time for us and for many sailors alike while sailing. But at times in our case it really is about survival. A way to put our nomadic skills to the test while at sea. Testing our patience and will. I swear sometimes nature has a sense of humor and can be cruel all at the same time. Putting in a good effort with each cast of the line, if the sea gods like us that day we will be getting the nutrition we need to fill our tummy for the long haul…if not, then its canned food. oh 😛 Yum. Always supporting a sustainable habitat in our oceans what we catch and keep to eat is always kept to the bare necessity.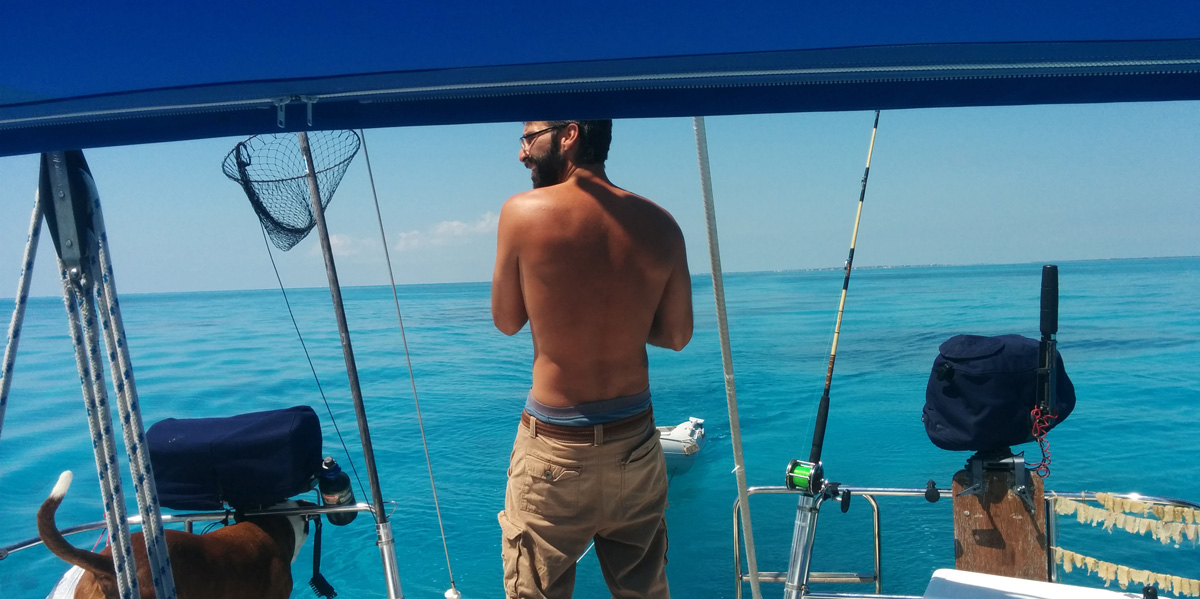 With a wide variety on the menu in the ocean we have come across many different types of fish, most of the time they go back in the ocean OR if we are lucky ONE fish will feed us for weeks! With that, we quickly picked up on which ones are safe to consume and the best ways to eat and preserve our catch to get the most out of it respectfully. In turn, we found many ways of cooking and eating fish, but one discovery we actually thought of on a whim was Fish Jerky! One day, with many sunsets ahead till we reached land, we were blessed with a huge catch! With more than we could fit into our "huge" freezer (which is the size of a shoe box mind you) we thought why not dry it? You know honestly it actually tastes better than the beef stuff and it stores well on board, another major plus! With that into consideration it has become one of our favorite ways to turn a big catch into a healthy snack for months on end. Fish Jerky oh yea….
To learn how we created our very own fish jerky on board read on!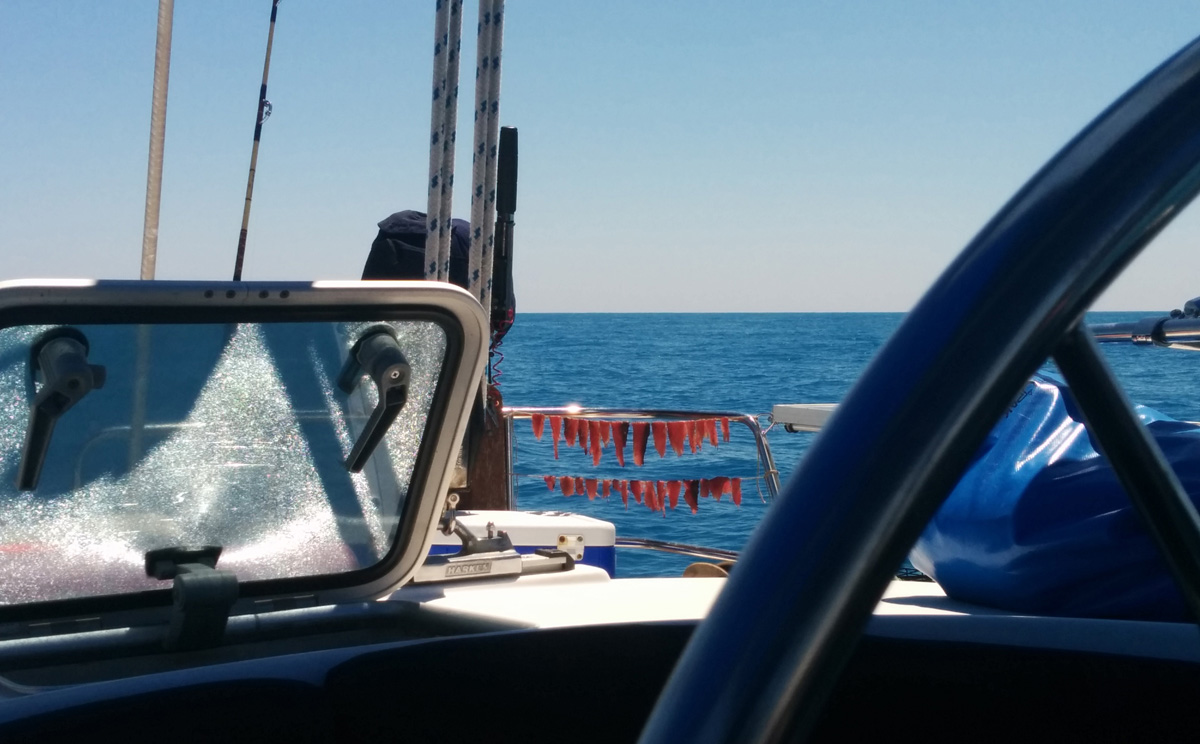 How its done. Salty Sailor Style. Its really simple! 
1. First you must respect the ocean and the life in it.
2. You must catch your own fish to get the Salty Sailor Style we speak of- within regulations of course, no buying it frozen from a store not only is it cheating but its not going to be the same!!! Plus if you catch it yourself you will have a sweet fishing story to tell as you share it with friends (and at that point its ok to exaggerate your story a bit 😉 ).
Types of fish that are good for this: Primary Tuna or Bonito we have found to be prime cuts, Mahi-mahi is good too. Avoid oily fish like Mackerel, Yellow tail – their oiliness will only take longer to dry. Barracuda, by no means do you want to use that stinky fish unless you are a crazy Bahamian like –> Josh ( we still remember the story buddy) then there is a possibility you might get tricked into it. There are plenty of other fish we didn't mention that are great to dry, but we have not had the chance to explore that far. So use your best judgement and never ever waste a fish. Eat what you catch OR if you have lots to offer, feed a local family!
3. Once you get the fish on board, fillet and cut into thin slices. The thinner the better. Makes for faster drying and easier eating.
4. Then comes the seasoning. We have experimented with alot of different varieties but our favorite spice mix is peppered garlic with a powered green chile. If you have none of these spices no worries! Pepper alone is really good, or a bit of soy sauce, or vinegar, heck even curry powder if your wanting to get creative. But I definitely recommend the sea spray naturally salt as you sail. The most important part after adding your favorite seasoning is to pick a good spot to hang it on line to dry and let the sun do the rest.
5. Three sunny sailing days later you have perfectly dried fish ready to be stored and snacked on for a nutritional treat! If it rains repeat step 4 😉 Preserve in a airtight container or enjoy right off the line!
The seasoning part really is up to you and if you have a favorite mix you would like to share please feel free to leave us a comment!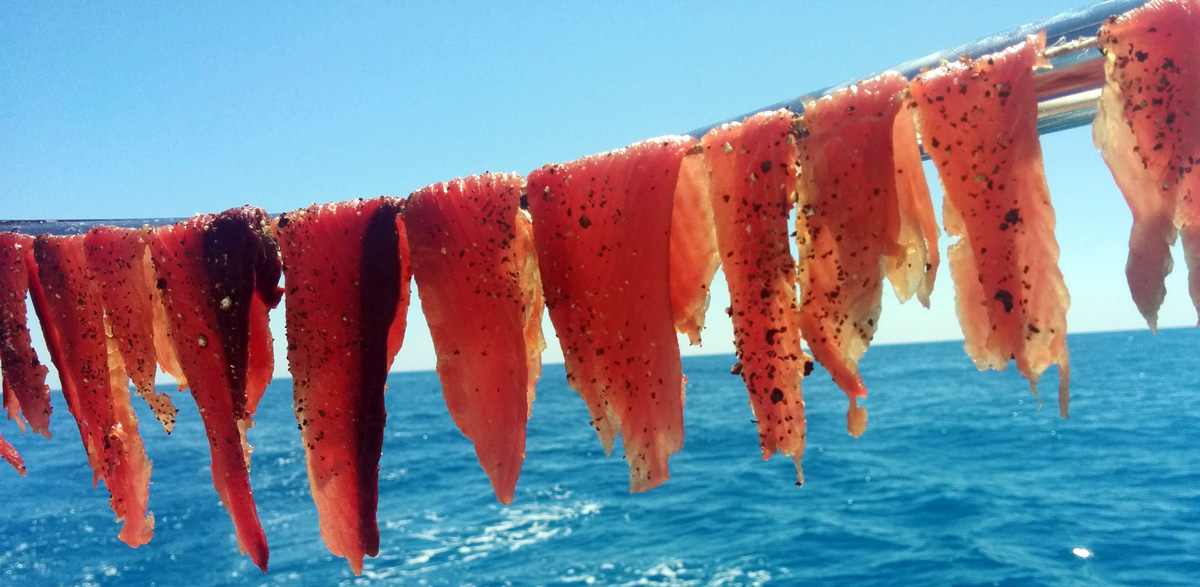 Here is our tuna drying nicely on the aft deck seasoned with our peppered garlic green chile sailor mix. A Tip in seasoning: Honestly the simpler the ingredients the better. Simply crushed pepper alone is really yummy.
Now this is the actual tuna fish and my sailor doing his best to keep the catch. One day I hope to record a video on catching a tuna fish because once out of the water these guys vibrate like crazy!!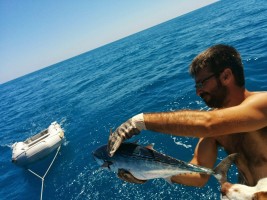 In the hands of the catcher its hard not to get a good laugh as it shakes the brains out of the salty sailor. A tip to help a sailor out: If you have some hard liquor on board, dose the fish ( and the sailor ) by putting it down his gills. This will give the fish a happy ending and partially flavor your jerky, PLUS it gives the sailor a bit of a celebratory buzz! 😀 Rum does a decent job but don't go wasting all that good rum on the fish! For a tuna fish or big catch a heavy dose of cheap vodka will do the job.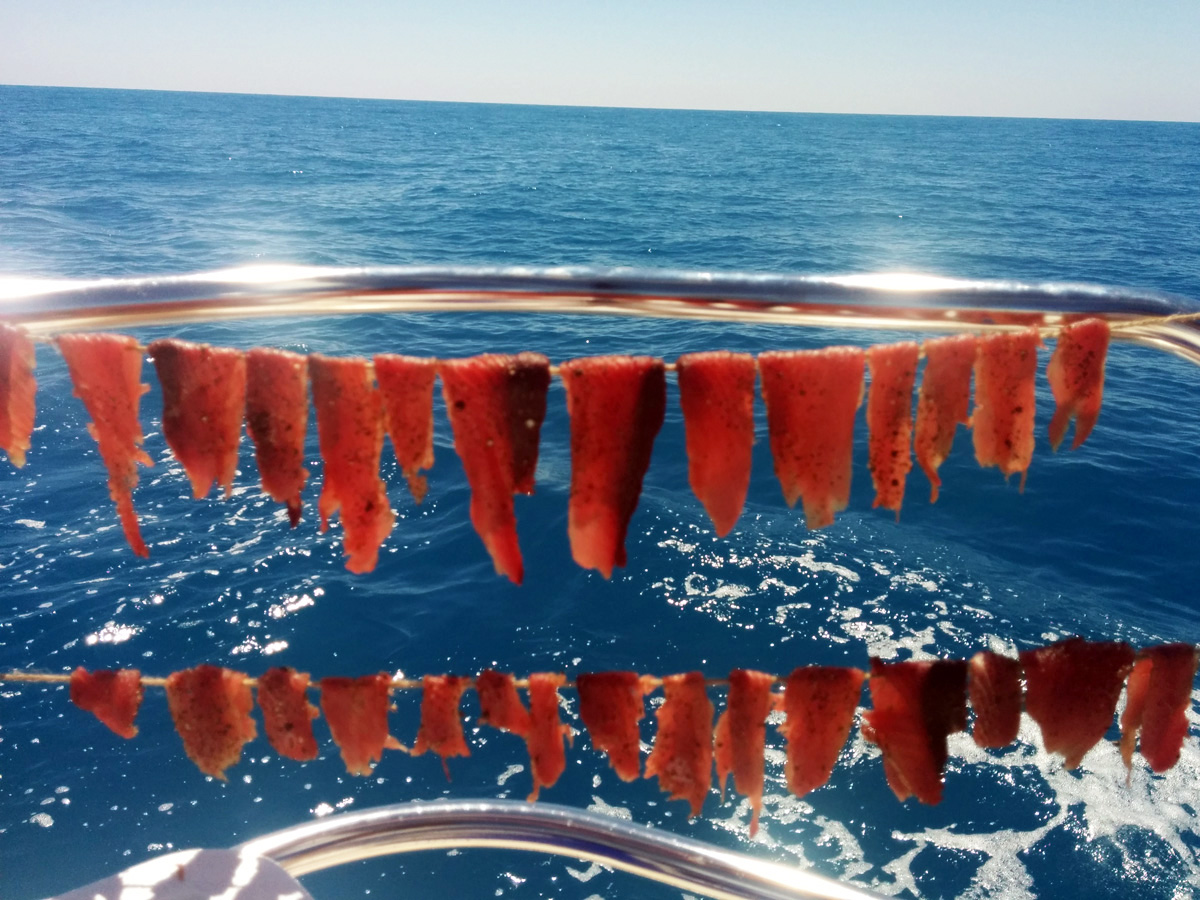 Almost as if we are conducting our very own research experiment based on the habitat and what is available while sailing… we are constantly learning ways to survive off the big blue. Where simplicity is key we… sail on…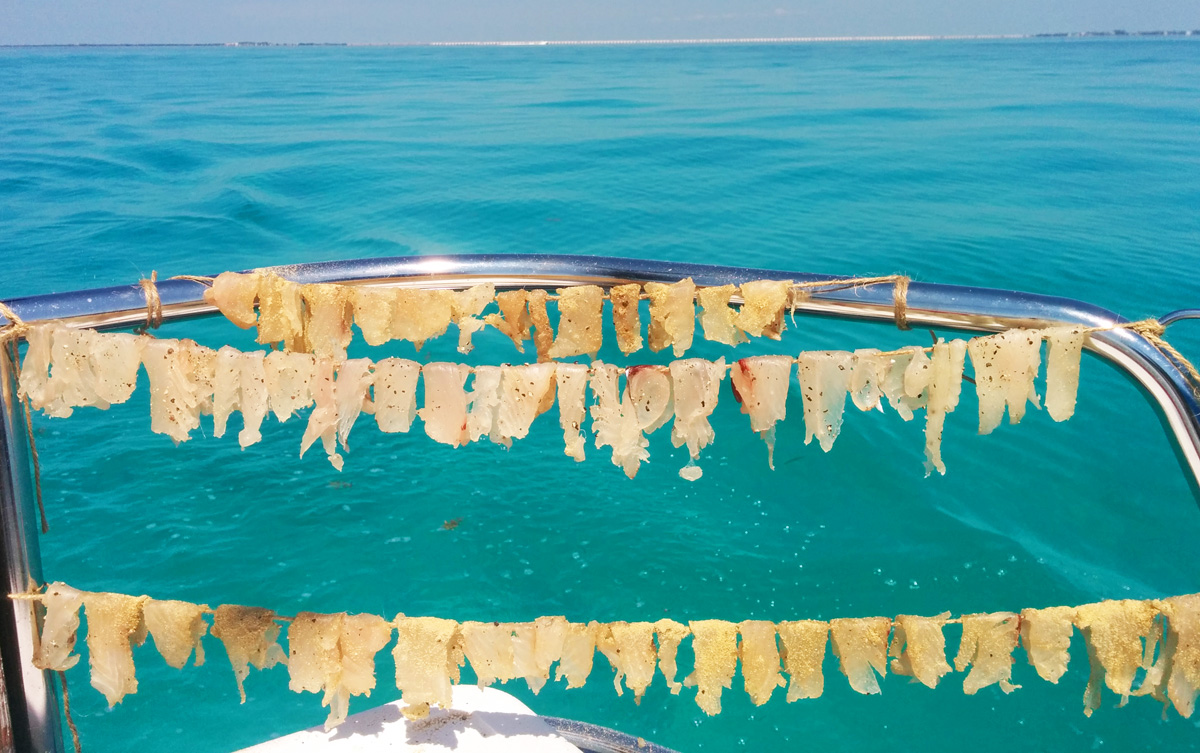 There you have it. Next time you hook a big catch, hang it on a line. Let it hang out. Eat and enjoy!

Special Notes:
Once you get your catch on board if the conditions are prime and safe, its best to get it on that line to dry right away.
If you are planning to dock or be close to land before it has time to dry be prepared for sea birds/ jerky thieves. Also don't forget those furry ones, if you have a dog or cat on board they tend to disappear too!
Fish Jerky also makes great gifts for friends and everyone loves a good fishing story!
For you land lubbers: If you have no access to the ocean or a boat, find a sailor and make a friend for life…they just might share some fish jerky with you 😉
Lastly.
There are way too many seafood chains and big fisheries robbing our ocean for its valuable goods. The more we stop contributing to their greed, the more we can help preserve our ocean life.
Please avoid those all you can eat seafood places –>  Eat sustainable seafood. Consume responsibly. Respect the earth.
Respectfully fish on friends. Stay Salty