Below is an article that was published early this summer. With each of my articles targeting change and ocean awareness I would like to share this special piece with you printed in Yoga Magazine. Namaste.
---
A journey of change with an open heart. 
---
As the wind blows through my hair and the movement of the boat rocks gently with the waves I find balance. Not in the traditional sense of having stability but in the form of becoming one with the earth, the ocean. Ever since we left Colorado and moved aboard our sailboat my husband and I knew our lives would change forever. We took a chance selling everything including our business and went for it. Changing our lifestyle completely to live an unconventional nomadic and what we thought to be a pretty far out life at sea.  A dream to live minimal and experience nature, to really follow our hearts and explore. Now going on 3 years living on a sailboat, uncountable islands, and who knows how many thousands of nautical miles later we are floating on the ocean sailing through life embracing change every day.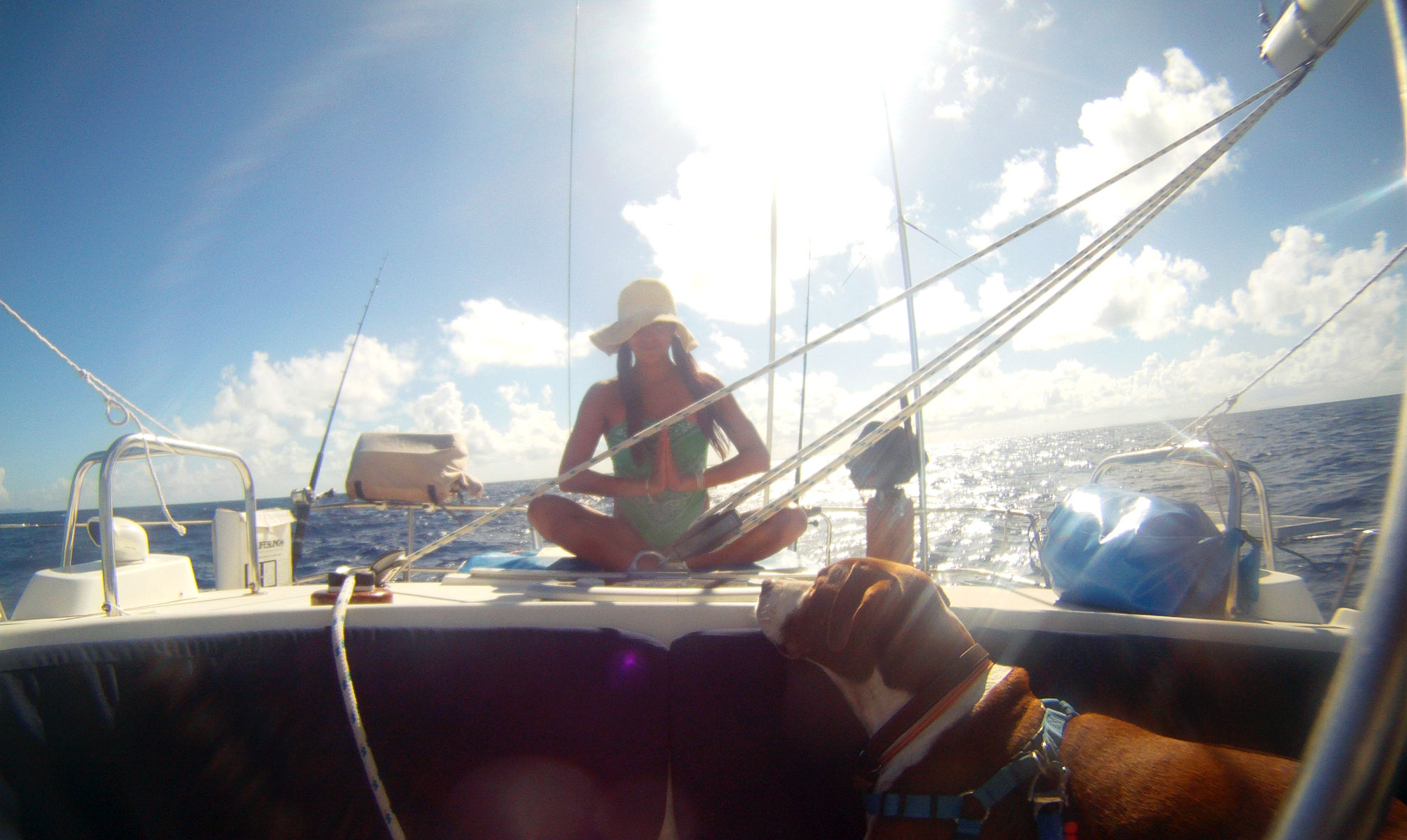 Releasing the lines sailing into the sun my journey began by adapting to our sailboat, processing the movement on water and after a while the stillness on land. Allowing myself to learn to fully accept these transitions and our surroundings began by opening my heart letting the elements of nature and yoga find my inner balance. This was now our home, our new life and a total different way of living. Accepting the change in the most literal sense and allowing it to guide me.
Mornings surrounded by an unfamiliar island when the tide and winds are calm I go up to the bow of the boat and watch the sun rise. Meditating, taking a deep breath of the wild Caribbean air. Slowly going into poses I find as the boat starts to rock my body adapts to the movement and poses come naturally.  My body the vessel, like wind in my sails taking me on a journey only I can see and feel. Soaking in all the beauty around me. Focused on breathing. I feel the ocean and my body connect. I exhale.  Gently swaying to the ever flowing tides. I take another slow breath in. A new journey begins within.
I have discovered that my strength grew with yoga. Limited space and the constant movement of water, there is no room for a fitness center onboard, no set time to practice yoga. I simply just had to make it work with the space I had available. The more I incorporated yoga the more it began to make sense it is one the best ways not only keep your body in condition at sea but a beneficial way to adapt to everything you are surrounded by. Just as in everyday living we must find balance. We go through life everyday never considering that everything around us is moving, changing. The ability to adapt is in our nature. We are change. We evolve.
Allowing yourself to become open, to take risks and follow your heart, this is how we evolve. Think with an open heart and allow change to become you. Sailing enlightened me to find peace in change, through Yoga a natural balance in everyday life and the world around me. Uncovering the true treasure of life and it is life itself. Everything is living. Growing. Adapting. I believe life with yoga provides a key to the soul and mind. Unlocking a door to see things differently, to feel more and make that connection.
Gaining a friendship with the ocean I found comfort in the vastness of the sea. We are living minimal and being kind to our earth in every way. A huge change with absolutely no regrets. Having life ebb and flow like the tides knowing there are ups and downs as in life I take one day at time. Nature has the answers to everything and the possibilities are endless like the ocean. We don't need a workout center we have yoga. Everything we need is already inside each and every one of us. Beneficial in all aspects the more we can make that connection by using our own experiences to build a better you, I say that is the ultimate gift. The gift of life. I slowly exhale…
Strive to make a change| Seeing the effects of ocean pollution first hand I feel change is crucial to our survival. To be nourished by our surroundings we must make efforts to heal the damage. What I find most polluting our ocean is plastic. If we can stop the consumption of plastic bottles and bags I believe it's a good start to eliminating it in our oceans. Now is the time we must take steps to use less. Give back to our earth by showing awareness and educating others, together we can make a difference. I see the beautiful ocean and I see how it is suffering, giving us signs every day. Also when I look out into the ocean I see hope. Hope that we can recover, hope for our future, our earth.