Sunday| Feb. 1, 2015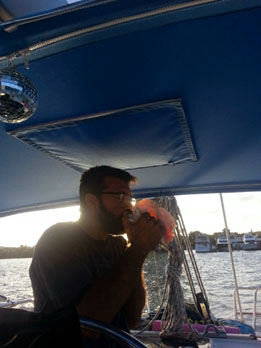 Working like busy bees all day to get the boat ready for our departure, we finally finish around 1pm. Surreal in a sense we have been stuck here unable to move since our accident and now just like that we are leaving! I will never forget the faces of those four guys as they helped release our lines, the sweetest smiles, our buddies. People from the condos were waving goodbye from their balconies it was an exciting event. We depart with butterflies in our stomachs and with one last see ya Ryan blows the conch horn echoing over the water. It was loud and awesome. A short sail later we anchor in the bay just North of I95 just in time for the sunset. The sun gave us the most beautiful ambiance and warm welcome. Celebrating being back at anchor and the boat is running good, we end the night overlooking Miami and the open bay. We did it, we can release the lines again, we are free to roam. Sweet!
Monday| Feb. 2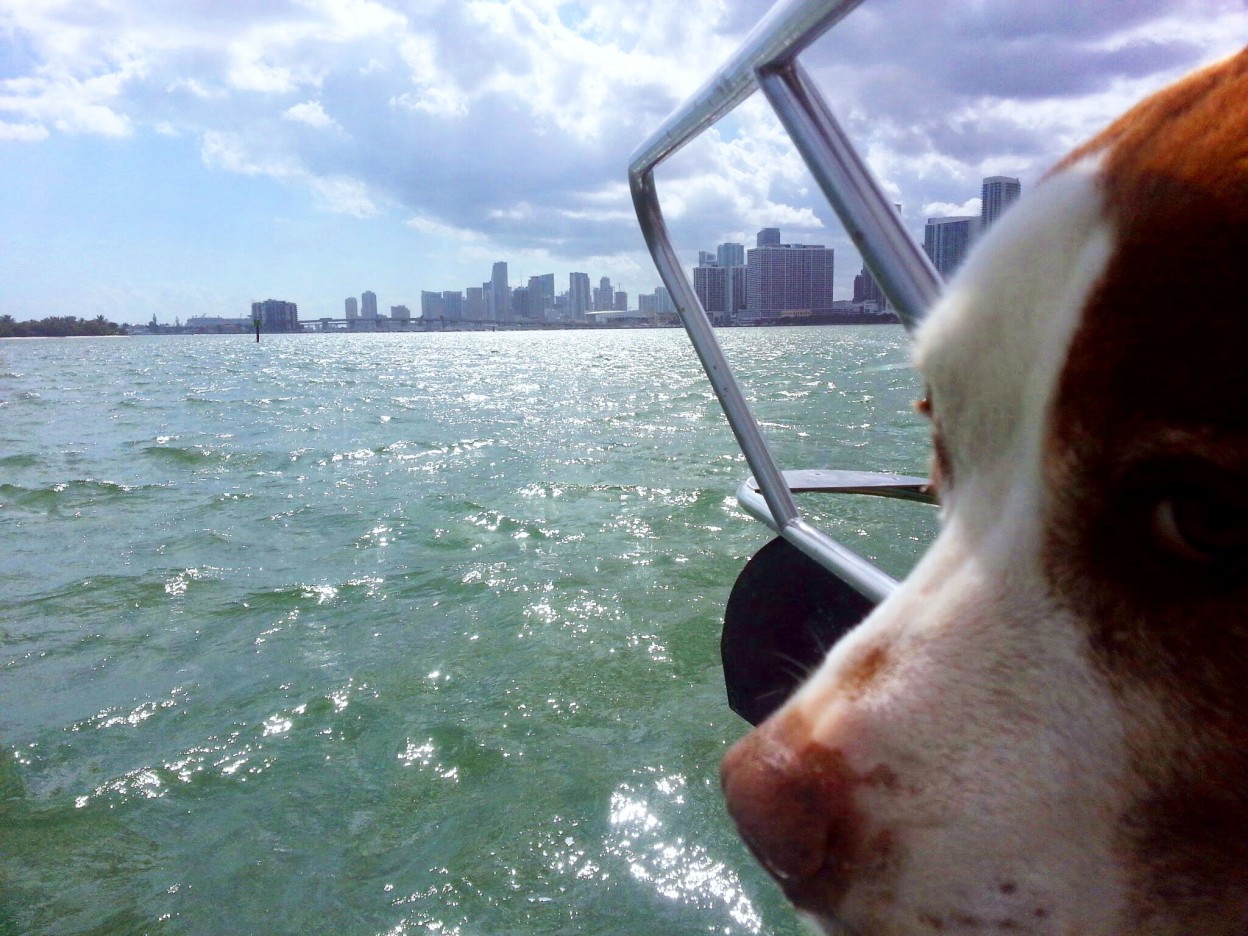 7am. We wake up to glistening sparkles throughout the cabin from the sun reflecting the ocean as it slowly rises. A hot cup of tea in hand we look out the window to enjoy the view, then see a freakn barge heading straight towards us! With no time to spare we go outside to the bow of the boat and let out more anchor chain, giving more slack and space for the shallow barge that is headed our way. The rude awakening comes less than 40ft of our bow making big waves and with sleepy eyes and pajamas still on we give each other a BIG whew.
8pm. Just after breakfast I look out and could not believe it. Another barge bigger than the last is coming our way again! Turns out we are in a path of some major construction underway. We move a few hundred yards out of the way. After we drop anchor it rains, so we chose to wait and work before we move to our planned anchorage. Its Monday, which means we have to function on water for our clients on land. As the sun peeks out from the clouds, the rain stops and we wrap up work for the time being. With Beau waiting patiently like a good boy he can now swim, and he is stoked! Then comes another splash. Ryan jumps in to save an item that fell into the water in his undies. Ok now its looking more like our kind of normal.
Just after 2pm we anchor in our planned spot. Familiar with the surrounding area and where the good holding spots, we anchor like pros. Aside from grounding ourselves for a bit, it would have been perfect ;). With one other boat here we are the new neighbors and we couldn't be any happier with our million dollar view that cost us 0 dollars. Even if we are here for a short time, it makes that much more special. We bbq some lunch, and we take it all in. Now we must make plans to go get our one connection to land, our car…
6pm. We row our dinghy to land and lock it to a funky mangrove tree just off of the sea wall. Hail a taxi from the road, and with our dog Beau in tow we are all on our way back to the marina where our car is. Afterwards we stop at Pizza dude <<dude has GOOD pizza<< to eat some dinner and practically fall asleep in the restaurant. Totally lucking out by finding a spot where there is free public parking (which is unheard of here in Miami) its perfect and just a short walk from the boat. With the car parked close to the boat now, our mission is complete. We head back to the boat dragging our feet and arms ZZzz
Tuesday| Feb.3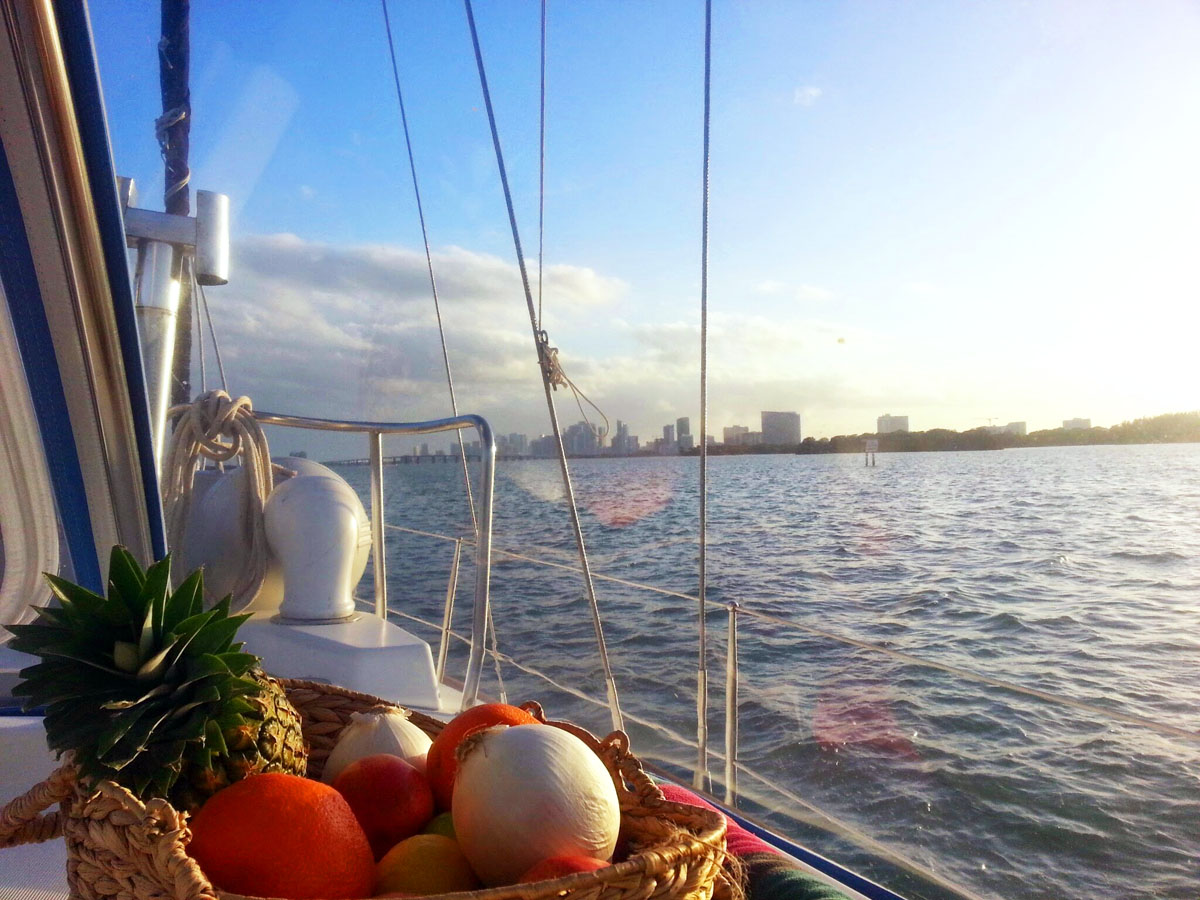 Today we have appointments on land so we set out to tackle the day. Its funny to think no one knows we live on a boat, and when they do find out I love to see the look of confusion as they stare back at us with question marks in their eyes. We function just like everyone else (kind of) look pretty normal (sort of). With the weather as our guide and our very own fashion designer (which tends to have a weird sense of humor sometimes) we continue on rain or shine. Aware of the fact that nothing is ever perfect, life around us is constantly changing, we learn to adapt everyday.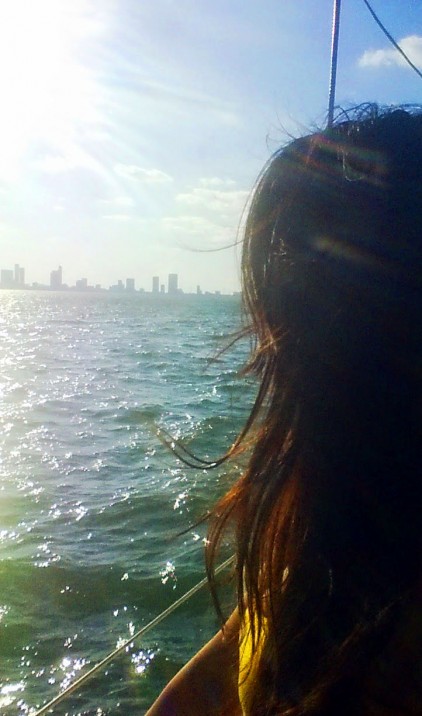 Wednesday| Feb. 4
Today I am alone on the boat.
8am. Row Ryan to land and he goes into the office. I take a stroll down the walkway along the sea wall and end up crying most of the morning. Finding plastic bottles and plastic bags one after another, filling up two trash bins I sit down in exhaust. Apologizing over and over to mother earth picking up what I could, I could not hold back tears as I see birds picking at the plastic bags unable to avoid the man-made substance. I remember one time I sliced my toe, knee, chin, and forehead all at the same time never shedding a tear. Get me around animals who are suffering, earth that is dying, out come the waterworks. In hindsight the effects of pollution and human neglect has always had this effect on me. I understand deeply and it hurts. Being the weird kid who never went to the zoo because it made me sad was never a concern to others as it was to me. That is why living on a sailboat brings me peace, we get to see wild life in their natural habitat- free, we use less – less impact on the earth. Life is simple with sails and we always find ways to use what we have on board. Rowing back to the boat with dried salty tears on my cheeks, that day I made a promise to her and myself. This is a part of our reality I will not ignore. As harsh as it is, my only hope is to inspire change by giving you a glimpse of what is really going on in our world. A world so amazing, so beautiful we should all try just a little to keep it that way. Arriving to the boat later in the day and I hear splashes close by. We have visitors. Dolphins swimming a few yards out playing close to our boat. I listen as they breathe, and swim around our home. Beau is trying to imitate my dolphin call which he doesn't realize how weird he sounds…then one comes close to the boat and gets a good look at Beau and I. Looking straight into my eyes as if to tell me something, we understood each other without words… thank you.
7pm. Work and dinner done, I am in the cockpit listening to music waiting to hear the signal from land. I have no way to get a hold of Ryan other than our Satellite phone, internet is up and down, mainly down. My phone crashed the other day (actually I dropped it ssh) so we communicate through text via ISat. Text is free with our satellite plan which is great in this case, nice backup. I give him instructions to honk the car horn twice as he drives down the nearby street. Instead he alerts me by honking repeatedly down the street like a crazy man, I cant help but to laugh. Men. I jump in the dinghy with Beau and row towards land in the dark. By the time I get there he is walking up to meet me. Perfect timing. This is day 4 back at anchor.
Thursday| Feb. 5
Its rainy and the boat is rocking like a crazy house. We are working online, internet is good, then not good. Then comes the wind. We are clocking 40 kts and boats start dragging. There are 3 other sailboats in the bay where we are anchored and two of them are sliding slowly sideways with the wind. Our anchor holds tight like a champ as we roll with the waves. The smaller of the two boats picks up anchor as he is a few feet from colliding with another boat. He re-anchors 4 times before the weather calms down. That guy sure had a hell of a morning fighting the wind and his manual windlass ( – a device that feeds the anchor chain in and out of the boat). We dropped everything we were doing at the time to watched the action, prepared to protect our home. Thankfully very little went on during the freak squall other than that. The boats that were in the distance are now neighbors that can describe our faces, birth marks and all. After all the excitement comes the calm, and Beau knows its time for his swim. He dives off the boat with no hesitation in 2 foot choppy waves. This dog just loves to swim, total rock star. We conduct business the rest of the day online, happy our batteries and power system is keeping up with our laptop usage. We rock on.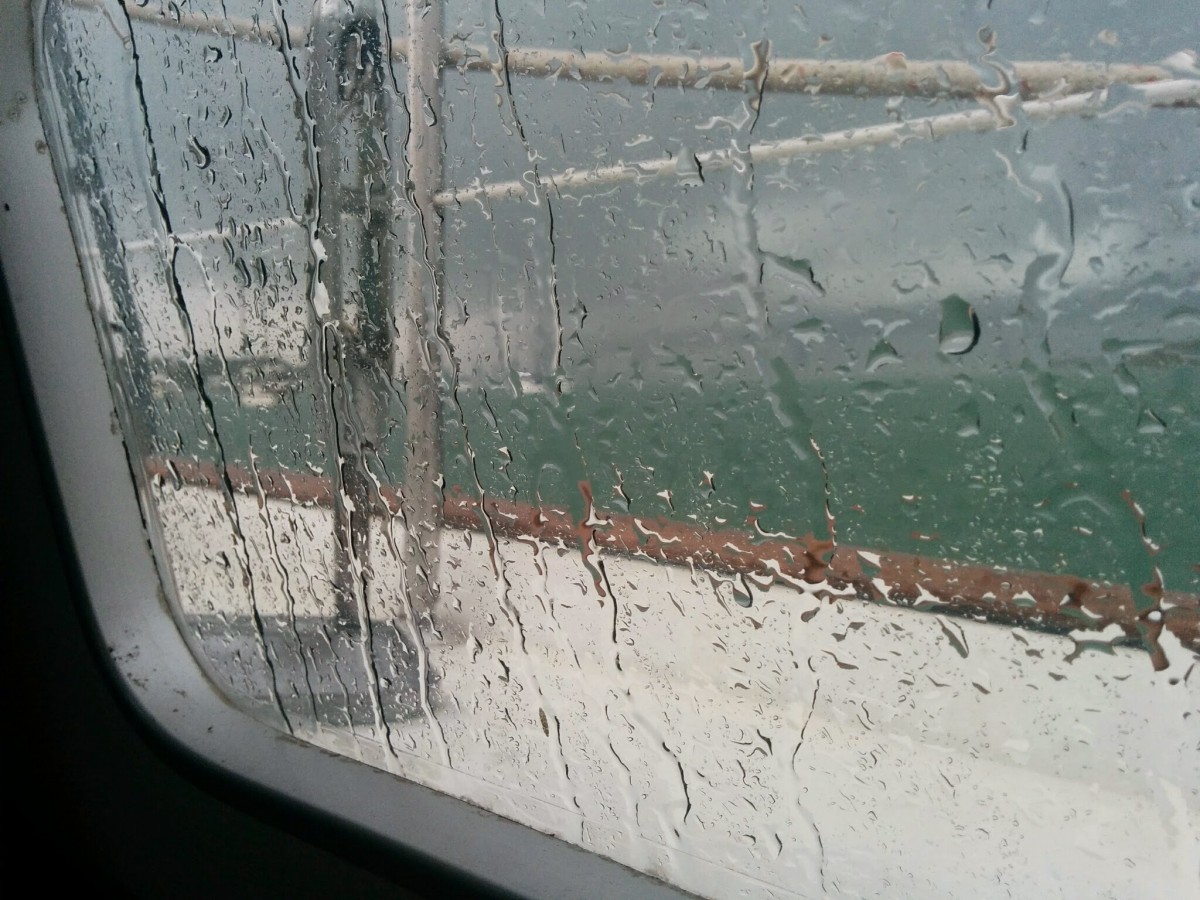 Friday| Feb. 6
We wrap up business early and take the rest of the day to do small projects like get the outboard running like a champ, figure out why our auto pilot is not working, and hopefully try to repair my cell phone. Its beautiful out today. The remaining half of the day I row to land and work on picking up trash by the sea wall while Beau retrieves unknown objects from the ocean. Today was a good day.
Saturday| Feb. 7
This is the first weekend in a long time we have the chance to just relax on the boat. Its been a while since we had free time to do this. All of our spare time prior was dedicated to fixing our boat.  We are stoked to have the day dedicated to doing nothing at all and the weather could not be any more inviting for a nice tan. Today is our day off. 😀 Relax.
This is our first week at anchor, no rush here we are just taking one day at a time. No one day is ever the same we love it all… well except for the damn plastic.