The last couple of months has looked more and more like a construction zone on our boat. Lots of work, repairs, trial and errors, headaches, backaches, but most importantly PROGRESS! Our goal was to do the repairs from our collision ourselves and simultaneously conduct refits along the way. Nights and weekends ( we do the 9-5 thing during the week) dedicated to tackling alot on our list has been tough BUT the good news is our goal has been reached and soon we will be sailing again! * To view on all the repairs we did to our boat click here>>whole enchilada
So here is what we have been up to in a nut shell the past couple months…
Teak | We finally finished the all the teak (wood sections) on the boat. Weekends of sanding and more sanding, its finally complete. This project felt like a never-ending battle, honestly wood maintenance never really ends but it does look good for now 😀 . Along side our new custom toe rails not only does it look better than ever but you can barely tell which pieces of wood we replaced. Nice work on the replicating the sections of teak and dry fitting it for us Custom Marine Carpentry Thank you guys!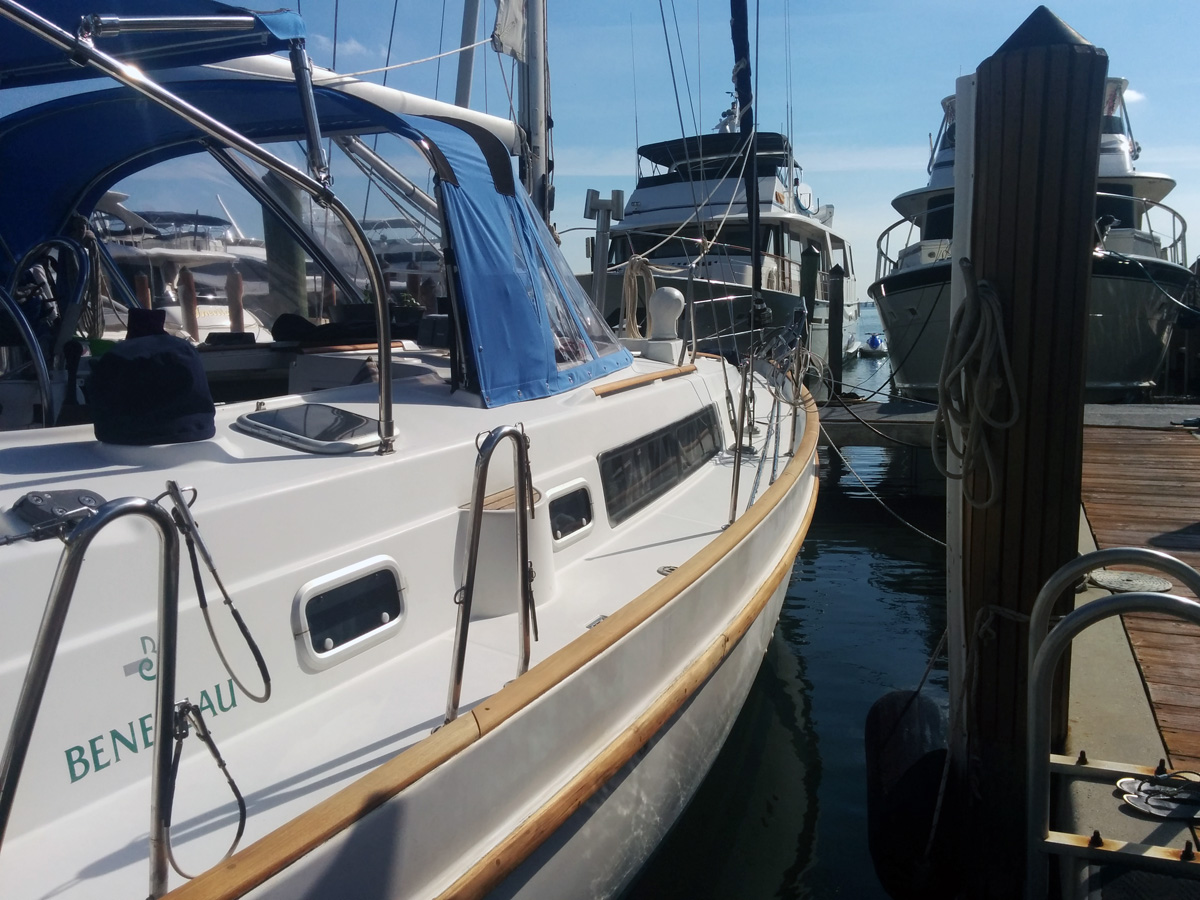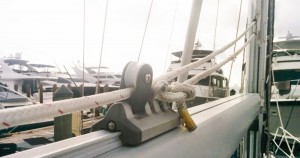 Zspar Boom Traveler | Purchased from Rig-Rite  a much needed replacement part. Our rope rig did the job getting us back from our journey through the Caribbean thankfully. To read how this part broke and more about our rope rig click here for a sea story.
Harken Main traveler |  The old traveler was locked in a set position missing the pull pin unable to adjust. Instead of purchasing a new one which means more $$$. We chose instead to have a professional cut a SS bolt in half and weld it to the top of the broken pin, which extended it and gave it a head with threads on it, which we then fastened a cap nut to . Fabricated at a Steel Monkey Dream Shop. Being able to adjust this again will definitely help us sail better thanks guys! Problem fixed.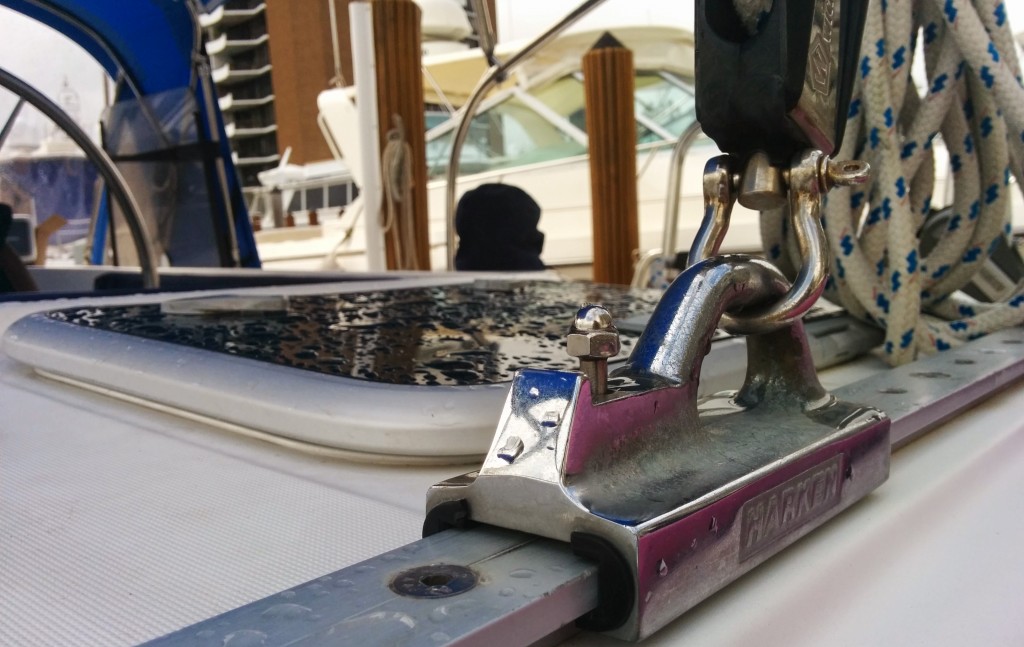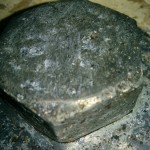 Keel Bolts | Nice and clean. They were very rusty. Its very important to keep rust off of these as these big bolts are what holds our keel to the boat.  The keel is what keeps the boat balanced and upright, this counter weight also allows us to sail without toppling over. A very important piece of a sailboat. Clean bolts very nice, strong keel attached very very good. No worries now whew! Have you checked your keel bolts lately???

Lines. We replaced our in-mast furling line with a new one that is much longer. After unbolting a handful of bolts the " spiral drum" slid out to expose the coil. In order to replace the line within the coil we simply had to untie the old knot at the bottom and pull. We replace the line and made sure to tie a knot at the end of the line, then bolt back into position securing the in-mast furling system. Having a new line that is longer allowed us to rearrange all the lines for a nice set up. This will help us pull out more sail without all the tension. Allowing a smooth feed in turn it is less likely the main sail will jam. I like this alot.
The big project/ repair/ refit | New toe rail, cleats, Harken Genoa Tracks and blocks. Spanning months and months this project was a SEA MONSTER!  Since we were repairing the port side (left side of the boat) due to our collision, we thought it would be a good idea to refit the starboard side (right side of the boat) the same. Since we were getting custom fabricated section of wood, it seems logical to replace the other side since its practically a reverse twin of the other. In turn it would save is money in the long run since the wood was splitting on the starboard side also. This project consisted of removing and replacing the existing wood, unbolting in total 36 bolts from within the cabin. The two 6 ft sections of custom toe rails that were fabricated by Custom Marine Carpentry for the port and starboard sides we then had to install them ourselves. Which had to be precisely drilled to match the existing bolt holes and new spacers. Once we had all the parts, conducted plenty of research, we installed everything very carefully taking a whole weekend for each process. I am happy to say we are finally done! Here is the progress. Whew! This here feels AAAAAAWESOOOOME to have complete!
In conclusion this whole process was a long one BUT what we learned about our vessel and what we are capable of doing with a little elbow grease and some rational thinking… is priceless. With a few more things left, we can now call the "big projects" finite and the goal to repair the boat ourselves attained! Its easy breezy now. We are so close to sailing again I can feel the sails ready to be free and fly….as am I.