Walking around Dinner Key marina here in Miami where it all started, reminiscing when we were preparing to leave the United States. Flashbacks, the feeling of the unknown and that excitement I have now come to recognize as freedom gave me butterflies all over again.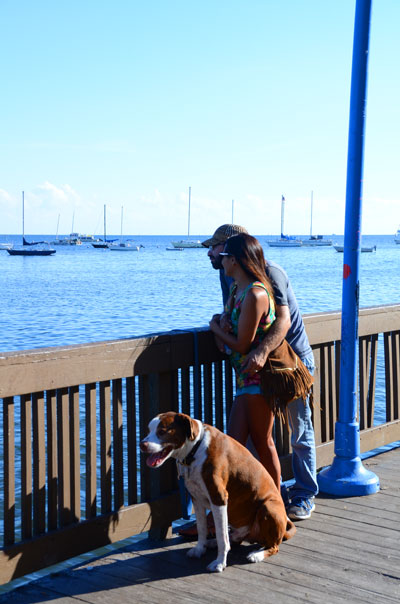 Since then and many nautical miles later, we have created some insane sea stories even I wouldn't believe if we had not gone through it ourselves. Living minimal the past 3 years has not only been eye opening but soul opening. We have adjusted our lives on water and ever since that moment when we first stepped on this sailboat our lives changed for the better. We have worked side by side through storms, good days and bad days, sailing through it all. When I first began to write this post my intentions were to describe the transition, the inner change of the last three years aboard but honestly what I really found interesting were the numbers. Reviewing an old excel sheet of our previous budgets and living expenses the difference between then and now is really sweet! Through the years we have experienced such a contrast on many different ways of living aboard, I decided to break down the past three years and how it laid out for us with the numbers associated. Real life, from land to sea and everything in between. 
LAND LIFE – The rat race. Our previous life in Colorado. This is what our lives looked like in numbers prior to making the move aboard. We had a 26 ft Mac Gregor, a house we rented, 2 cars, and all the normal bills associated with land life. Our dream when we first envisioned living on a boat was not only to travel the world but to experiment how little we could live off of at sea, a way be kind to our earth by really live minimal. Together, we first created a technology company that would be the means to our goal. Within five years and no hesitation an opportunity presented itself and we sold our Technology company. We quickly budgeted ourselves with a monthly income of $2,000.00 US dollars and decided to go for it. Under conditions with the new owner we could not conduct business or work with systems that were in competition with the company we just sold. We took that as an excuse not work at all, so we decided to take a couple years off completely to really test the waters. Creating additional funds from selling all our possessions on land (including our Mac Gregor which turned into our down payment for our new home) gave us enough to pay off debts, provided for the land voyage across the United states, and enough to provision our boat/ home for the big blue. We stretched every little to the max. We were set on making it work with $2,000.00 a month or less if we could pull it off. Below are the numbers to give you an idea of what we were paying monthly prior to moving aboard. Sure glad were not associated with those bills anymore, whew!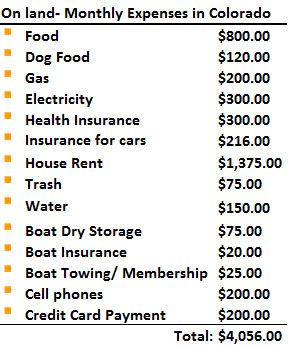 GOING OFF THE GRID- The bare minimum through the Caribbean: Year 1. January 26, 2012-We moved aboard. Provisioned our boat and within 2 months without hesitation we sailed from Miami on a course through the Caribbean. Got to Grenada in September and cruised around the islands. Fishing for food, collecting rain for water, solar for power, we lived of the earth and survived on the bare minimum. Testing the waters we had a chance to experience raw nature, go through some pretty wicked storms, in turn finding the true discovery was within ourselves. If I close my eyes I can still smell the tropical scents of the volcanic islands in that wild Caribbean air. I see kids playing with toys they made from the earth. Women swinging their hips dancing and singing as they walk along the beach. The Caribbean men respectfully charming and they all have a good fishing story in one way or another. We had the chance to see what life is like for other cultures, see the most beautiful natural creations, touch the strangest animals, and we got to experience this together. Overcoming obstacle after obstacle we survived it all based off our own will to keep going despite the odds against us. Nature was teaching and we were learning everyday. Figuring things out along the way it was a real test to see what we able to do with very little, and I loved every minute of it. We were able to live off the $2,000.00 a month easily, and most months we were able to live with spending only hundreds of dollars for food or supplies. With that taken into consideration what we were able to save by living minimal allowed us to have extra for circumstances like the unexpected breakdowns and emergency repairs (which we did have and it did take a chunk of change). Which one should always expect as life is never perfect, you should always be prepared. As you see here these are the things we would not go without. Sat phone, spot, and insurance can be paid yearly, so the numbers shown here are a monthly breakdown to give you an idea what was important to us. Diesel and gas was always kept to a minimal therefore excluded from the breakdown as it fluctuated with the weather. We were rich in life and it had nothing to do with MORE money.

THE CHALLENGE- Work and marina life. Year 2. Starting fresh and getting back to work. This was our chance to reboot our lives our way. Live by our own design. Create our own way of working and living. Having this time to connect with one another has been like merging two rivers. Progress and flow, work life, and our life aboard a sailboat organically evolved. We arrived back to Miami and the United States the remaining half of the year with a new outlook on life and work ethic. Right off the back we knew what would work for us and started fishing the concrete jungle. Technology was on our side and this time we were not going to get stuck in the rat race. Never get tied to land… or so we thought. Shortly after our arrival we unexpectedly got into a accident with another boat. In hindsight it was like our wings were clipped unable to sail due to the collision. Huge bummer but with that it forced us to focus on work, creating new incomes on water. Not much time passed before we found an awesome company to partner with. Being straight forward in who we are and what we are looking for, ironically they loved the idea that we lived on a sailboat. This company gave us the opportunity and flexibility to utilize our technology experience. While my husband gave his full attention to this company, being the entrepreneurs we are I went ahead and created my own company to get other far out ideas flowing. Life around us was adjusting to our way of living on the sea, working from the cloud, meticulously creating a virtual paperless world where we could be keep our dream alive. Getting a good feel of marina life in Miami and discovering the expenses that followed. Luckily for us we found a great place that was really cheap and a total hidden gem. Most marinas your looking to pay over a thousand a month depending on the size of your boat. After being at anchor for over a year I learned being at a marina is nice and convenient but not really our style. Being tied to land is not my favorite feeling but it was good as far as making those initial connections for work easy breezy. All that aside here is what it looked like for us at Palm Bay Marina in numbers, simple and sweet.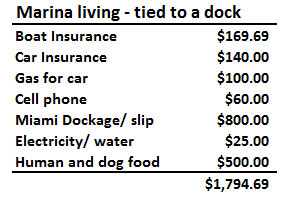 THE NOW – We are free and living minimal. Year 3. We just finished refitting and repairing our boat, it was a tough job since we have took up the challenge of doing most of the work ourselves. With that we saved alot of the money that was paid to us from the other boat that hit us, in turn it allowed us to do some extra upgrades in the process. Hard to believe the repairs are complete and now our options are open like the sea. Not only can we sail again but the boat is stronger than ever and alot cooler looking now too! 😉  Now we are wanderers of the sea, going where our hearts lead. Having gone through such different circumstances we now know what we are capable of, what is possible and how flexible we are together on water. Even though we have one connection to land which is a used car that is old and loud and about to give out any day….we are rich in life not by what we posses in materials, but what we don't need and are able to do without. The skills to survive has freed us from the concrete jungle and money the little we do spend doesn't determine or control who we are anymore. Utilizing technology work is now fluid and flexible like the water we live on! I continue constructing creative technology projects online for my own company adjusting my own schedule as needed. When I'm not working I am focusing on news ideas to help the earth and our oceans. My husband Ryan continues to help grow the IT company we partnered with creating the latest technology systems for corporations worldwide and we do it all remotely from our boat. * To read more about our background click on the picture below.
We now know what's important in life and its not an expensive car, or a high profile job, or even a big beautiful house. For us it's life, and the beings who are in it. This life as crazy as it may seem to some, I am for certain we are truly living it to the fullest. Our soul is one with the earth and we are at peace. Everything is alive all around us and this world, this beautiful water world… is truly amazing!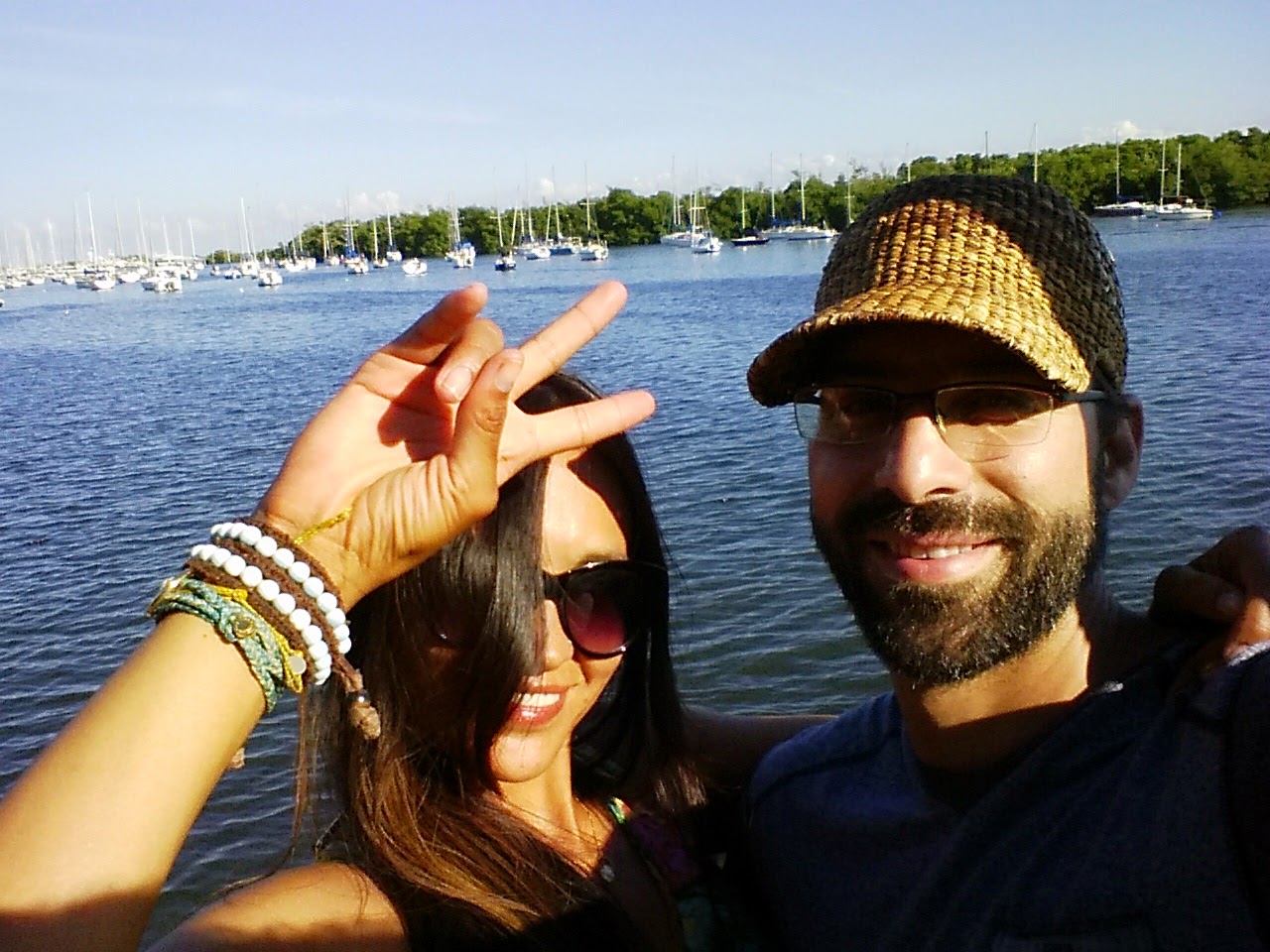 The most important lesson this earth, this life, has taught us is we can all live with less if we try.