This is was our first house purchase back in 2012 and still to this day the best decision we have ever made. Thinking back it was a crazy rush to get out of the United States to leave everything familiar. Like a blur of crammed events that overlapped each other as it filled our vessel that we now call our home. Getting the boat ready, all the things we needed to buy. A huge challenge where time was gold and nothing was going to hold us back from sailing off into the sunset or sunrise in our case. A total life change. It was March 2012. Two months of provisioning and planning had gone by like the wind. In hindsight we had everything we needed to start our adventure. We were safe and secure. Sure we could have done alot more to our boat before we left but, we left anyway.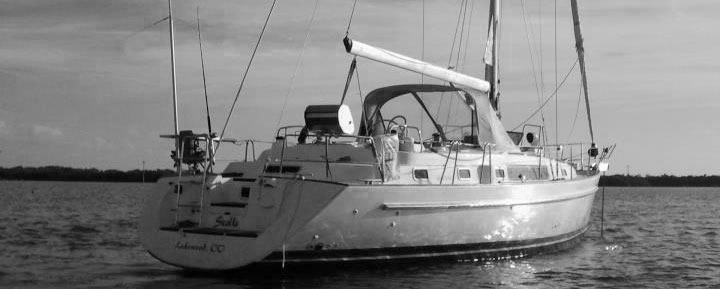 We were not long distance sailors or live-aboard experts, for us it was all about sailing and getting out there. Really living. With a considerable amount of sailing experience under our belts (mostly coastal and lake) we felt ready and could hear the big blue ocean calling us. No boundaries and no land in most cases. If we needed something we will just have to make it work somehow and we never underestimated that fact. Survival at sea. Awesome right? Well it was not until we were in the middle of the Bahamas did we get a reality check.  The effects of long sails, relentless sun, and very little shade. Not so awesome. Sure sounds great. Believe me we are adventure freaks, we love sailing and more so the wind. So after days of very little sailing, very little wind (which means very little adventure), some major sun kicking our butts, and a rocky boat… madness started to settle in. Being exposed to the sun this long we were not a pretty site. Burnt out was relevant to the t. A little more shade would do us a whole lotta good. Well, more shade than our dodger could provide. We needed to do something about this. Shade on our boat. We put our thinking caps on…
A bikini?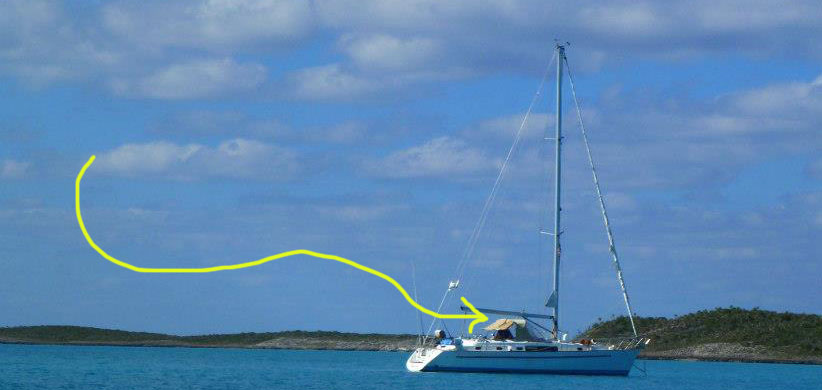 Just a bit of fabric. The "bikini" was our solution. Now that I got your attention. As you see here this is our home in the Bahamas. The tan piece of cloth you see angling down in the picture below is what we ( Ryan and Olivia) call a "bikini". Sorry probably not what you were thinking. Still slightly risque yet intriguing when you think about it? Not a full bimini but a smaller skimpy version hence the name that stuck. With sunbrella material from the previous owner we stashed away, a pvc pipe as a stabilizer weight against the wind to prevent flapping, and a awl ( ref. below) to sew it all together, we created our own shade/ bimini! Custom quick release strings to tie down our new invention and instant gratifying shade, easily rolling up over the dodger when not used. It did the job and we made it to Grenada and back like this believe it or not! Other than having to reinforce the edges a little more the original idea stayed strong.  A cheap solution for now, a quick fix. This was about survival and making it work with what you have. Doing all of this on our own with no help, just us. And for us the more $$ in our pockets the longer it meant of no work.
The Awl. Late night studying does pay off! This was the key to our project. We originally learned how to use an awl just in case we needed to make any sail repairs of our own along our journeys. Realizing other benefits, it sure came in handy quiet a few times along our adventures especially for this project. Once you get the hang of it you never really forget. Its great for any and all heavy duty materials. Which I highly recommend learning if you don't know. Here is a YouTube video that can give you a good start.
Now we have the chance to accomplish our vision!
Considering we rough it all the way down the Caribbean and back in a bikini, this is was a very exciting moment for us. New, dodger, bimini and aft shade! ALL NEW COLOR!! First we had a few things to consider with our boat type. Center cockpit like ours are taller in the center and have lots of aft deck space (like a 4ft back porch) So we clearly understood it was going to be a custom project. There were few companies to choose from in Miami that we believed could take on this creation of what we envisioned. When I came across this website the first thing that caught my eye was his quote,
If you can think it, we can make it!
Perfect. Phillip from American Marine happily came over the next day. After receiving a rough estimate that seemed fair considering these were ideas, in good spirits we proceeded forward. Without hesitation his crew came over and started working away. The whole thing was a learning process for everyone involved and we all learned the limits one is able to do considering width and fabric. We did some research to see what other bimini/dodger set ups look like. Few were found to be useful. See the hurdle we were facing is being able to adjust our sails without having an obstruction of stainless steel interfering with the good almighty winch. This allows us to take in or adjust the sails. For us being able to sail safe, efficient, and trim sails comfortably was most important. So we came up with a idea and just went with it. Never once thinking did Phillip think we are out of our minds. Bless his heart. Being a sailor himself he understood our vision. Hanoi his assistant was so helpful and worked with us over every obstacle creating this beast.
So together this is what we came up with!
It took about 2 months to complete and the original estimate was pretty right on. It was a great deal and we are really stoked with the results, Thank you American Marine! With everything else going on like repairs and additions to the boat its nice to have this project accomplished. From an invented sailboat bimini/ bikini to a new custom dodger, bimini and aft shade. Life is looking pretty good….
Cant wait to show you what were doing with the inside of the boat!!!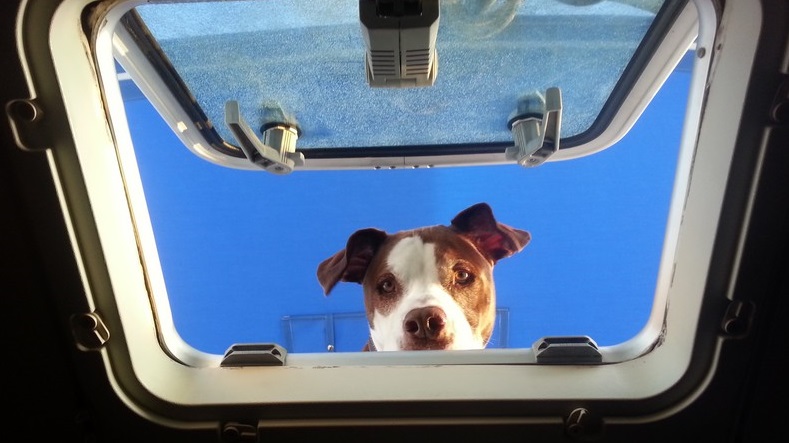 Even when the sun is not shining i
t's always a beautiful day on our oasis.