Since we work during the day… our nights and weekends have been looking more and more like this. From changing pumps to replacing everything in between.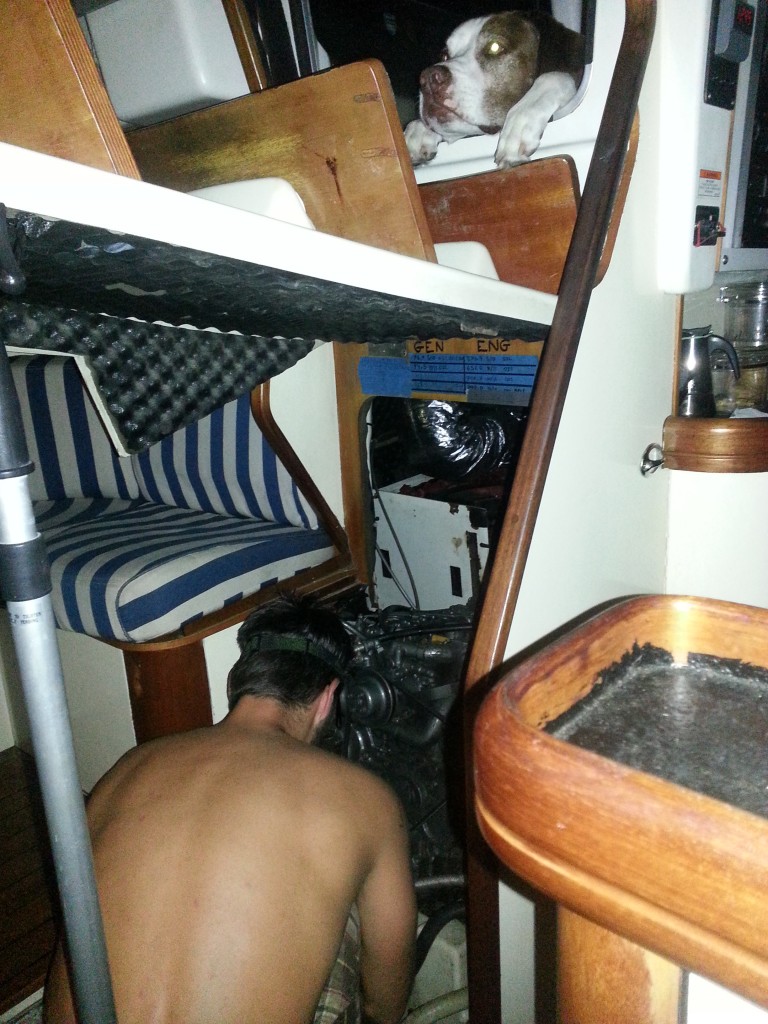 But with lots of progress!
To start I would like to begin with all the very nice things we have been doing to our boat. Simultaneously conducting repairs from our collision we couldn't help but to spoil our boat just a little more. Like our nice new custom covers for our newly replaced outboard, removable flip cap and sleeves included. Also a custom made grill cover, which goes over a newly replaced slightly smaller/refurbished grill. Our old grill was too big and the output in propane was not distributing properly. Long story short. This grill was practically given to us all we had to do was swim in to get it. Rinse and install. Confused? Good. I was too but it worked and we love it.

Keeping it cool. We replaced the original a/c unit that came with the boat which was going on year 14. We choose a Mermaid brand with an adjustable thermostat. A little smaller in size than the old one so that was a plus. The install was plain and simple of reconnecting the right wires. Honestly the only hard part was deciding which unit to pick considering the tight dimensions we were challenged with. Thankfully it fits like a glove, very cool 😉  The output is 12,000 BTU and having the temperature regulated with a thermostat is very sweet. I also got the chance to clean up all the old rust that was caked on the wood underneath our floor boards in our main salon. All the icky stuff is gone and its nice and clean under our floor boards. Very nice!

We also replaced the sun protection cover for our Genoa sail, very nice 😉 Currently, a new custom Bimini and dodger is in the works. More details once complete.  Considering we roughed it all the way through the Caribbean and back without one, were really stoked about this. So check back with us to see the completed version…. coming soon!!!

Now the not so nice…
The latest and greatest news has been getting the notice from France where our boat was built that the WHOLE month of August they are off, so no work, no production, nada. Thus, our main part which is the biggest part, and one part we really need to complete our "repair"project. The stern rail. This part not only keeps things (and people) from falling off the back of the boat, but it also holds our outboard and solar panel. We have been told this bad boy should arrive the end of November… emphasis on should. Also considering they are two months behind schedule, BUMMER! No bueno for us.
 We keep our heads up and keep moving forward.
In the meantime it has given us the chance to accomplish lots of major stuff and also discover some other things that were not in the list. But a really good idea that we address this now while we have the chance and access to convenience. Like our Genoa tracks. Our collision caused damage to our port side toe rail cracking the wood. Needing to replace the 6 ft section has proven to be a challenge.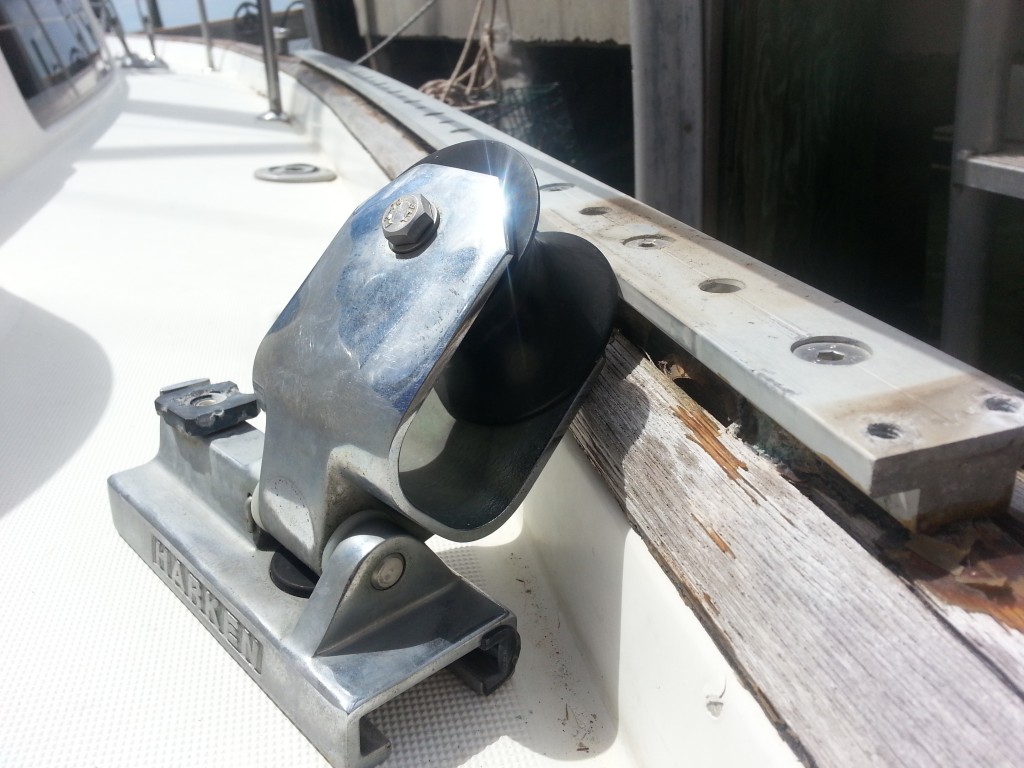 Beneteau spare parts does not produce the wood toe rail sections or provide the original Genoa tracks anymore. Big sigh
I'm discovering the older your boat gets, the more common this is likely to happen. Now, we have to get the wood custom made. Upon reviewing the estimate from the Marine carpenter for the toe rails we decided it would make sense to do the same to the starboard side. So not only will the cracked sections of our toe rails on the port and starboard side be replaced but our Genoa tracks will also. Our old tracks and traveler will be refitted with a newer sleeker Harken model. Improving sail and hopefully speed oh yea. 18 bolts on each track PER SIDE. All in very difficult places behind panels and cabinets we got them all out, finally. So for now our cabin and exterior has been taken apart and will be put back together even better…the sooner the BETTER for us!
This project has taken some time and is actively in progress but all in all is definitely worth it. Also doing the most of the work ourselves is proving successful in progress, and in our pockets. For us it about simplicity. Not only are we discovering alot about our boat and ourselves in the process. But we are also having the chance to really make it our own. A floating oasis just for us. A place we call home.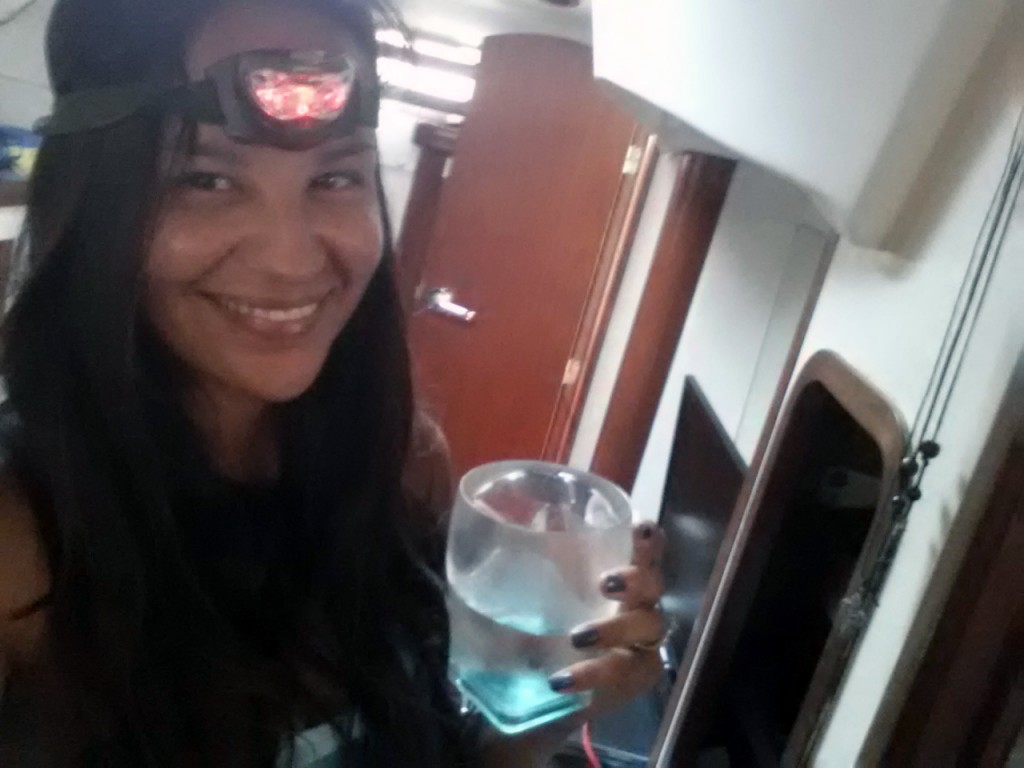 Our goal is to sail again very soon. 
This time much more comfortable, safe and shall I say with style.