~ Sprouting on a boat ~

Why in the heck didn't I try this sooner? Well that was the first thing I thought once I received my fresh sprouts grown right here on our little sailboat….and they are scrumptiously tasty! The sprouting process is pretty amazing within days you have a plant you can eat! The 3- 5 day process turns grains and legumes into living plants which is really cool to see the fast turn around. Below without hesitation let me show you how to grow sprouts!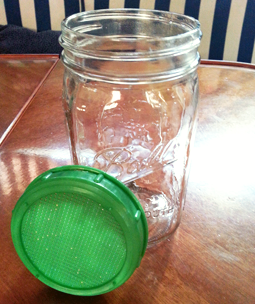 To start you will need:
1 mason jar * recycled large plastic bottles work well also.
1 fine mesh cover (strainer lid as seen here is good)  *I found tea bags work well if your in a bind
A handful of grains,legumes or seeds (if you use seeds make sure they are organic!!)
Fresh water and a positive attitude.
That's it!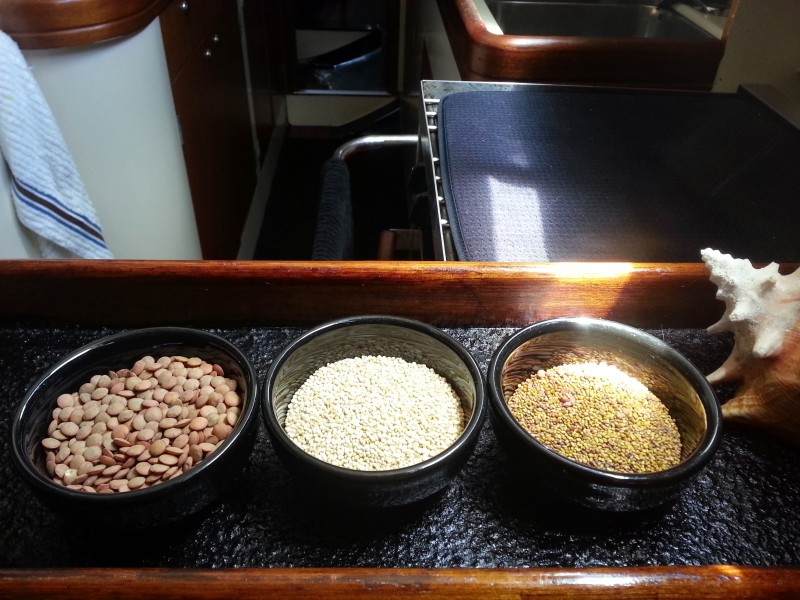 To begin
Day 1. Rinse your grains,  legumes, or seeds. And fill with water. Soak overnight. (For you late sleepers its about 9-12 hrs)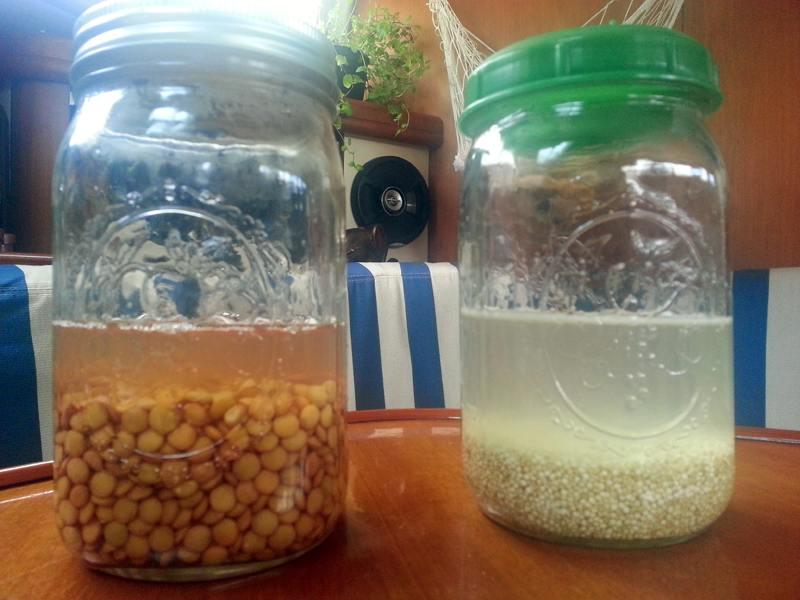 Day 2. Rinse and drain. Put a cheese cloth, mesh cover, or tea bag and secure over jar. I found placing it (top down) in a bowl at a 40 degree angle works just fine. This is to allow the excess water to drain. Cover with towel then store in a dark area.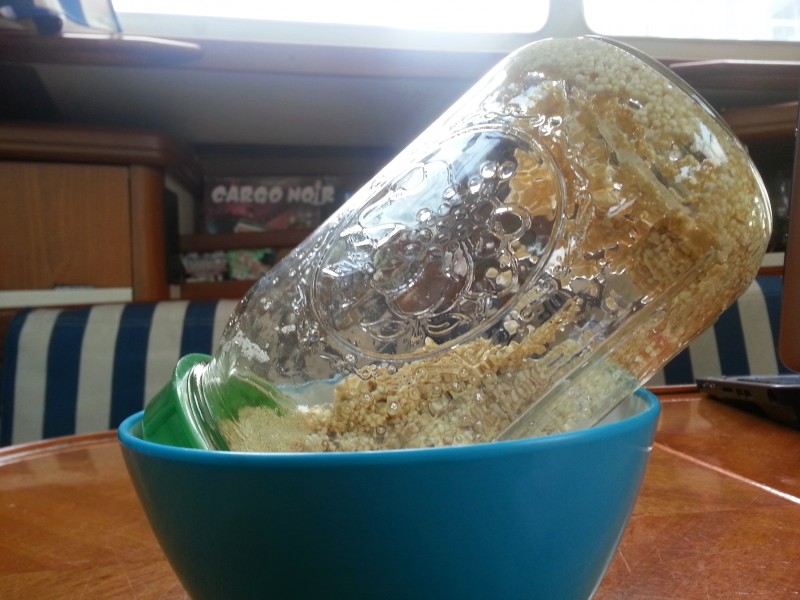 Day 3-5. Rinse with fresh water every 9-12 hours with fresh water and return to draining position. Keep covered.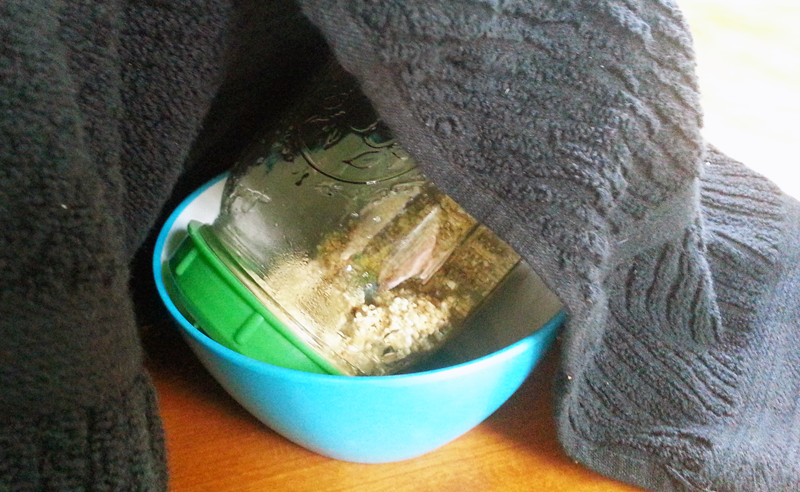 Day 5. Rinse and eat. You should now have some beautiful sprouts in front of you! I find seeds grow faster, legumes can take a whole 7 days. After rinsing really well set out in the sun. This will initiate the photosynthesis process and start producing chlorophyll. Growing precious green leaves adding to the all the other benefits it has already produced less than a weeks time. Depending on what you used to grow the result may vary.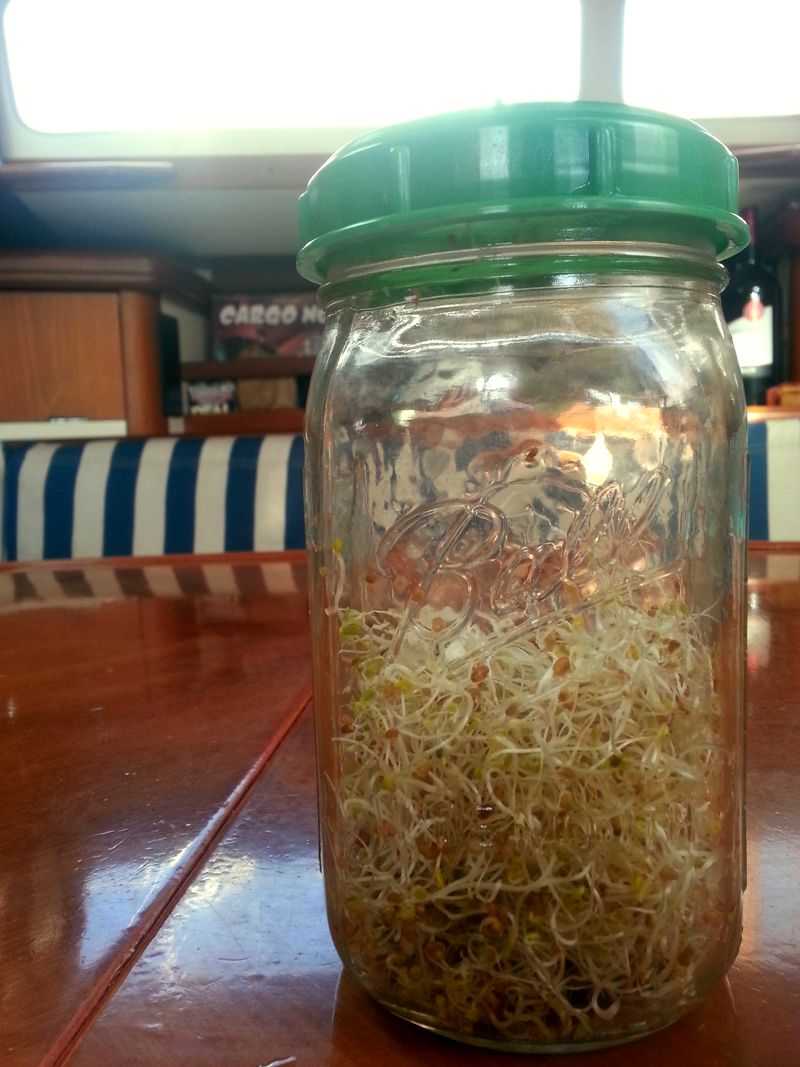 Wow factors!
Vitamin content increases by 20 percent of their original value with sprouting. This is one easy way to get some needed nutrients and add some crunch to any feast. Especially living on a boat at times its hard to get fresh anything, so this is a real lifesaver to be able to grow and eat. With loads of major energy building vitamins like A, E, B Complex, C, and carotene, they are a fresh item and excellent addition to your diet. With benefits of regulating blood pressure and sugar levels at the same time detoxifying the blood.  Its also great for your digestive system and actually encourages the absorption of minerals! When the sprouting magic is in process the plant breaks down the complex starches in particular, phytates (phytic acid), this is related to the gassy feeling you get from legumes and beans. Phytates bind to iron, calcium and zinc, which means the minerals can't be  absorbed properly. Thus leading to bloating and well you know. So eating them in this form eliminates this and truly is beneficial in the human body and to their mates.
Whether on a boat, in a house, or on top of a mountain this is truly a super food.  Great to eat and sprouts are a great parting gift for special visitors to take with them.  Try them in sandwiches and stir-fry dishes. Have fun sprouting and enjoy all the benefits of growing. Below is a recipe of what I had left in the fridge and vegetable net. Get creative and ENJOY!
"Whats left" salad recipe:
1 Fish pan fried in butter
Lettuce and spinach mix
Any need to use veg's – which in my case was lots of avocado and sprouts
Then I topped it off with some Japanese ginger salad dressing and there you have it.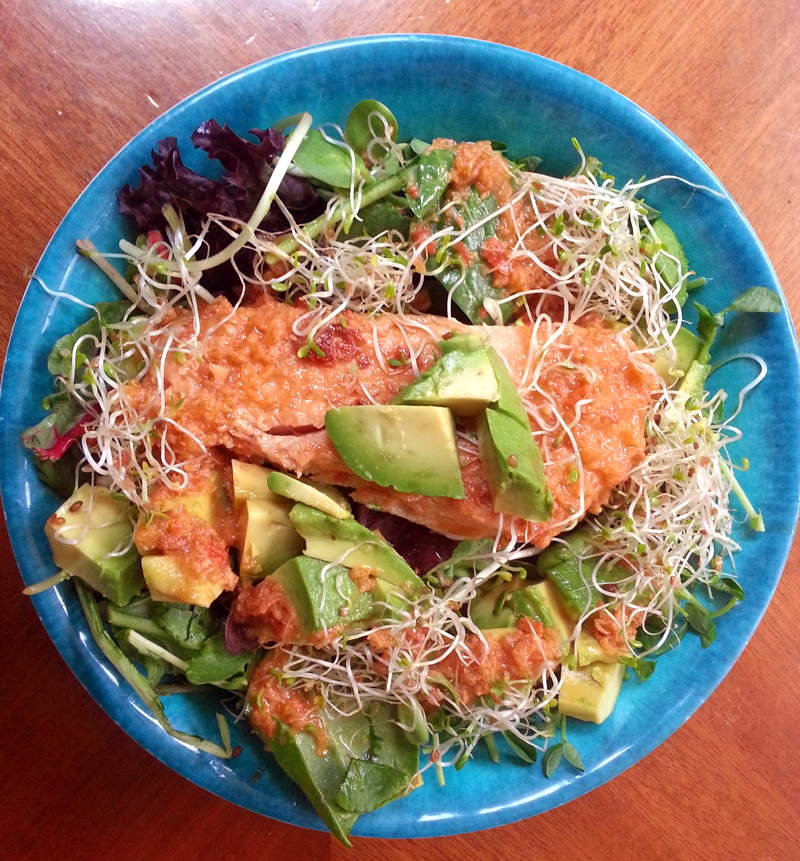 *Be cautious that sprouting does encourage bacteria to grow ( not the good kind either!)  its always best if you simply cook them and kill of any possible bacteria. If you will not use them right away make sure to keep rinsing and store in a cool dry area. Bacteria loves hot and humid climates.
Sprout on.