Feeling crabby….
As we were getting ready to head out for the day, we spot this funny looking thing water. It looked almost like debris.  A "shield" in the water? Weird? I had never seen anything like this before!  Ryan says its a Horseshoe crab. Horseshoe Crab!?!? Very cool. Then quickly proceeded the interest to learn more about these crabby creatures. After doing some very intriguing research I thought I would share what I found to be VERY interesting about these beautiful and more importantly near threatened (NT) creatures.
Let us open our minds and our hearts to see the beauty of life that surrounds us.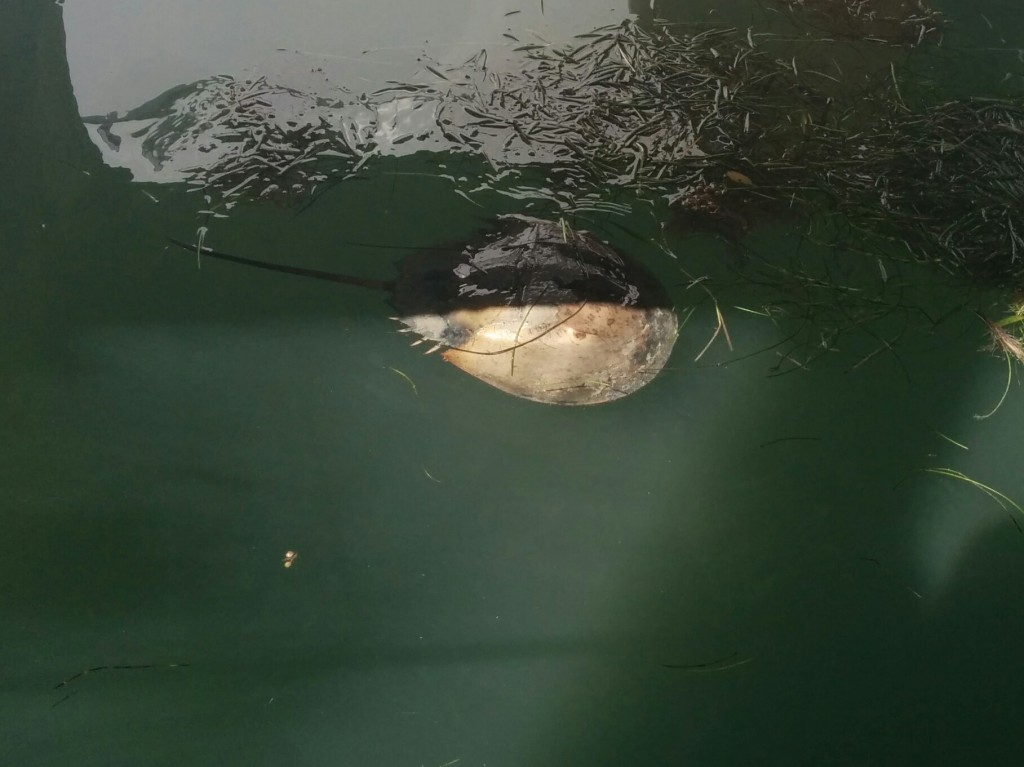 TIDBITS: The Horseshoe crab  is really not a "crab" it is more related to the Arachnids family – scorpion, spiders, mites. It is amazingly one of the oldest "living fossils" to date. Dating back to over 450 million years ago LONG before the age of the dinosaur. Nearly
over 200 million years before the existence of dinosaurs! Pretty Impressive. Yet nothing has seemed to change though the years in their appearance and habitat. They are found in the waters of the Atlantic and Gulf coast, and also in Southeastern Asia. They live to be about 20- 40 years of age. Mostly active at night. 3 days prior to a full or new moon they are actively peaking to get a nice set up to mate under the moon and lunar tides. Sounds quite romantic…
Despite having such a fierce look to them they have had quite the misinterpreted reputation. The tail looking like a weapon, is primarily used to help flip themselves upright if they are accidentally overturned. The tail also bears a series of light-sensing organs along its length. Very cool. The shell is for protection from predators and has been very successful in its survival. Having a total of nine eyes, this creature is well equipped and has led science to a better understanding to human vision. A further unique and intriguing feature of this ancient species is that it has blue copper-based blood. Within this is a substance called Limulus amebocyte lysate. Which coagulates in the presence of small amounts of bacterial toxins. This is used to test for sterility of medical equipment and virtually all intravenous drugs. This clotting property, the substance Limulus Amebocyte Lysate (LAL) is harnessed by pharmaceutical companies needing to test the safety of drugs and other fluids that are to be used on humans. In order to make LAL, the companies harvest live horseshoe crabs from breeding beaches and remove a third of their blood before releasing them back into the sea. Studies have shown that 10 to 15 percent of the individuals bled in this way die as a result, accounting for the loss of 20,000 to 37,500 horseshoe crabs each year . Very SAD. The world market for LAL is a $50 million per year industry, and this species is essential in its production. Very BAD for the Horseshoe crab.
Understanding the species helps us to not only help them but create awareness on the many valuable properties of this creature. Sadly, large companies, fisheries( Especially Conch and Eel fisheries – as they use Horseshoe crabs as bait),  and pharmaceutical entities have taken advantage. And needs to be maintained before its too late! In small parts of Asia they are eaten and thought of as a delicacy and as a "suppose" aphrodisiac. With very little food value it is not worth the life of this species to be eaten. If you come across this as a meal, please do not add to the madness. Do NOT eat it! If you are stranded on a deserted island, with nothing to eat. And it was you or him, by all means feast. Seriously, sadly enough over fishing and pollution in our waters has been changing their habitat. The decline of one of the oldest creatures on our earth not only will be sad in itself, but it will set off a MAJOR chain reaction! Especially for our birds. A major food source for migrating birds, these birds depend on the eggs. It must be carefully managed both as a valuable biological resource, and in its own right, as an amazing remnant of an ancient lineage that pre-dates the dinosaurs. By learning where they migrating, protecting and managing their habitat and mating grounds, are great ways we can help. Being aware of the life that surrounds you is being effective, and one major key to survival.  Not only to our endangered species but the future of ALL living things. If you spot one contact http://horseshoecrab.org

A Japanese Story.
In Japan, the horseshoe crab (Kabutogani) has long been legendary. In ages past brave warriors who honorably sacrificed their lives in battle were said to be reborn as horseshoe crabs, their shells samurai helmets, eternally crossing the bottom of the sea. On brush-painted rice paper screens, through calligraphic versions of haiku, their attributes were succinctly sung.
Making them not only a legendary creature. But one that we should all respect.