Manatees!
As I was washing Beau on the dock yesterday I feel an energy around but could not see anyone. I look down into the water to see a big substance. Whoa.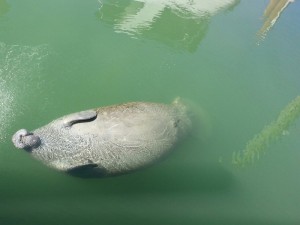 This quiet unexpected visitor sure surprised us!  Doing barrel-rolls and having  just a wonderful time with the water that was dripping down from Beau's shower. Smiling, with these bristle looking teeth, these gentle giants are just so lovable! Beau just loved the manatee but was very careful by the large object in the water not to fall in. The manatee hanged out for a while and created quite the spectral for others around. With bathing two large creatures I was tired from the days events. Everyone happy, we part our separate ways and I wish the manatee a good life.
Manatee Tidbit: This beautiful giant of the sea not only can live up to 60 years but is estimated to be 2.7–3.5 m (8.9–11 ft) long and weighs 200–600 kg (440–1,300 lb average and up to 3,500)! These mammals are an endangered species and protected in the state of Florida. Active manatees surface for air every 4 to 6 minutes, while resting manatees may stay down as long as 20 minutes. A friendly herbivore (plant-eater) these beautiful creatures are too adorable not to love!