Adios Aventura
We release our lines and push off from the dock. Adios Aventura. Not your typical Monday morning, and that's what we love. After saving funds we now have the opportunity to do some major fixing to our boat! Woo Hoo! To start the process we will be leaving Loggerhead Marina in Aventura and making our way up the ICW to haul out our boat, from there we will be sailing to Miami to a new marina. Well that's if everything goes as planned….
Hauling the boat out of the water entails a lot of preparation. Lots taken into consideration with timing, work schedules and finding a place to live while the boat was out of the water required a top notch juggling act.
Here is a video of what the haul out looks like
Once out of the water we tackle the list…
#1 Fix rudder. ( The rudder is essentially the steering of the boat. ) Possible parts needed to repair in hand.
Problem: Knocking noise. Unstable rudder post.
BIG Problem: Metal pin to release rudder is seized in the rudder post. If we cant get the pin out to release the rudder then we have a BIG Problem.
Cause: While we were sailing making our way back towards the States. We decided to do a wild and wet crossing. Through the Bequia channel going East against all nature…a great wind angle was enough to convince us to go for it. We took the route less traveled and upon rocking out with waves and current….we hear the loud noise. The noise and play within the rudder post was sustained by a temporary solution we engineered, with 12 inches of line and some wishful thinking. Thankfully it got us back to the states.
#2. Repaint bottom. Remove all rust and treat the metal on keel. New bottom paint. Maintenance job done every 1-2 yrs.
#3. Sand wood on rub rails and toe rails. I wish it was as easy as it sounded.
#4 & 5, 6..7? Re-caulk sugar scoop. Replace fresh water pressure pump. Clean hull, and whatever else we can squeeze in.
And do all of this in practically 5 days with no room for error…..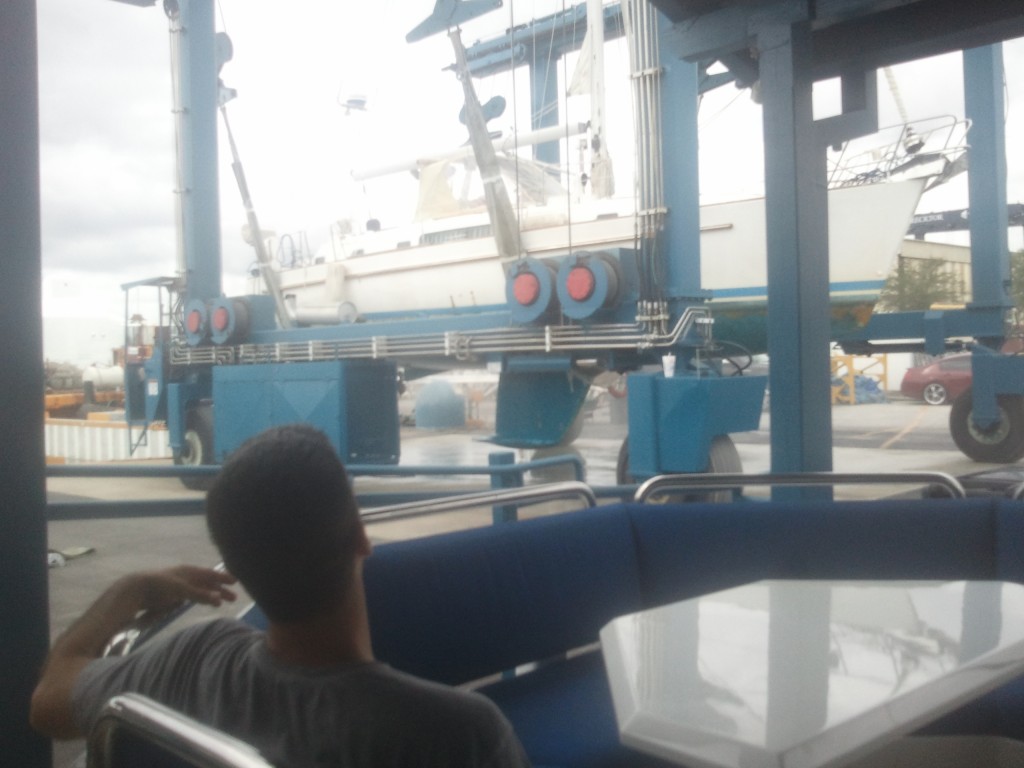 The rudder. First on the list was a big pain to our stern. Every day counted and every day the pin stayed seized was a delay of accomplishing other things. One metal specialist, some sweat and the power of perseverance. The very next day the metal pin was eventually banged out. Oh the joy! We danced and screamed like maniacs with pin in hand.
The proceeding days went by in a breeze. We stayed at a place close by – La Quinta Inn Beau LOVES your hotel!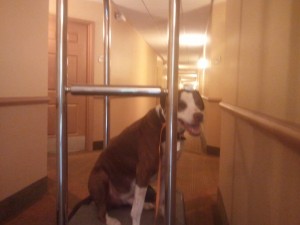 We made the most of our time and had fun with it all. The room felt so big and open, my mind wondered at the large amounts of unused space. After long tired days at the boat yard we indulged in loooong hot showers. Oh la la and hot bubble baths, always a treat especially when the hubby sets one by surprise. He scored major points for that one. At night we watched TV which was pretty crazy. Its been a while since we had access to a remote and cable TV for that length of time. The news and things that are on, Strange. 
Even more strange… take a look at the view from our boat!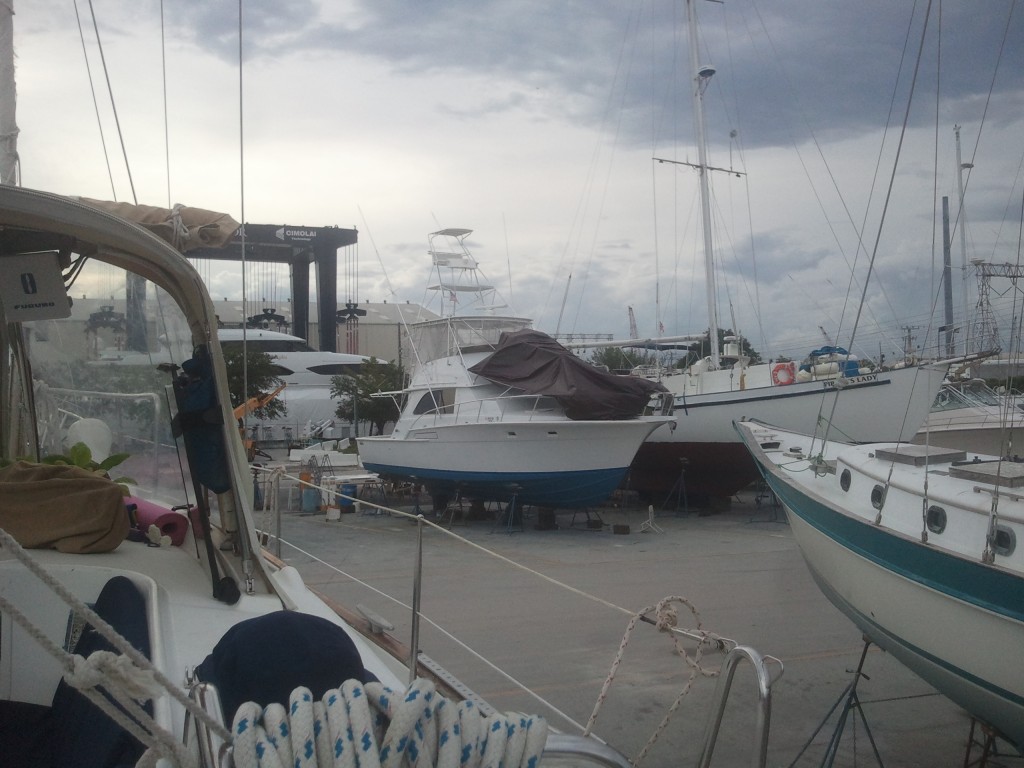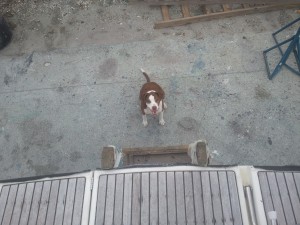 Why?!?!?!
When we were on the boat Beau was boggled well more like pissed by the idea he could not climb the ladder and come on the boat with us. Not today Beau…
Back to Business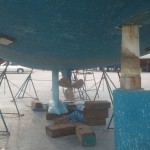 We replaced the bottom bushing and had the tiller arm galvanized and new pin in replacement of the problematic one.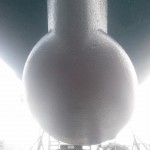 Our keel looking mighty after a good grinding and treated metal.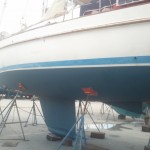 2 coats of Petit Trinidad Pro paint on bottom. Very nice.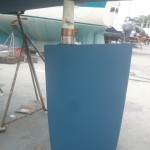 Rudder and rudder bushing before install. Nice paint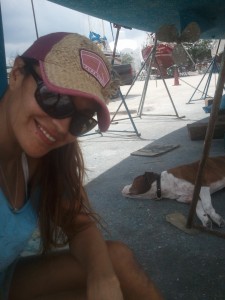 Notice the piece of fur in the background and here I thought I was tired….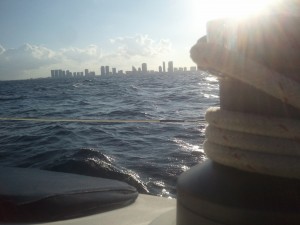 A busy Friday morning squeezing in a lot of last minute jobs.  At times we do so much in a day I'm amazed how we seem to get everything done! Promptly that afternoon the boat went back in the water and we were off and out the ICW into the ocean sailing to Miami and to our new neighborhood. I'm not quite sure how we pulled it off in four days but it worked out and it was all worth it. Now the big test was to see if the rudder fix was stable and…repaired? Sails are out and the boat feels strong and happy. After a while we relax and enjoy the ride. We had a heavenly downwind sail that took us straight to Miami to top it off.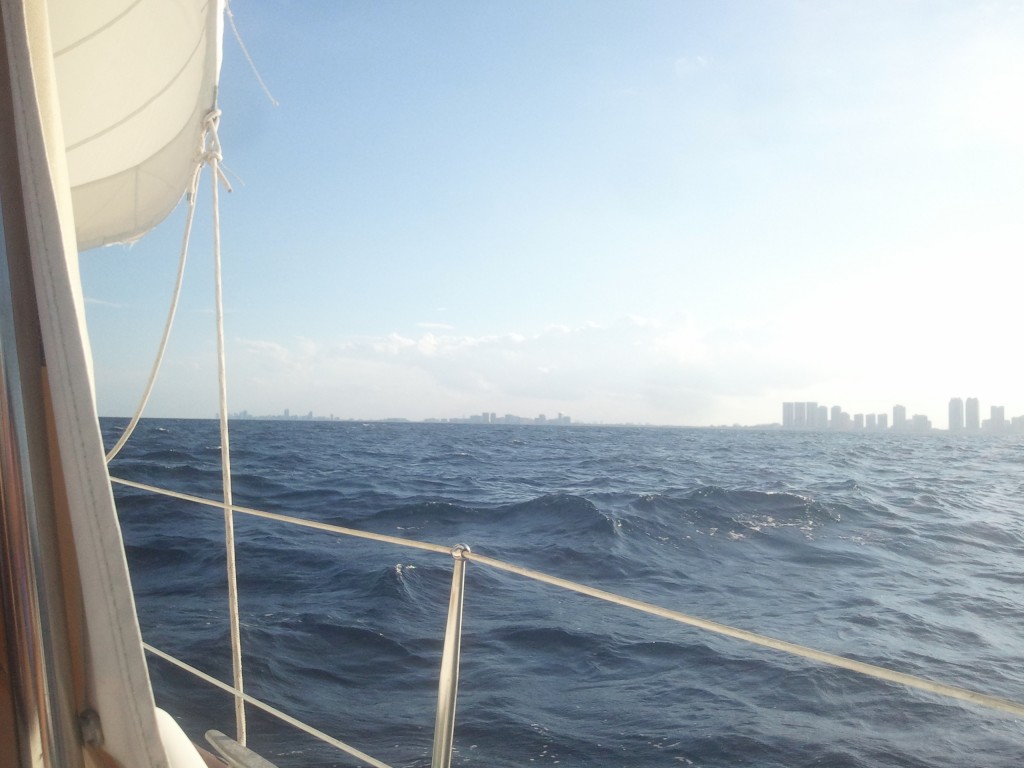 We arrived 9pm and got the supreme view of the Miami lights.  Enjoy….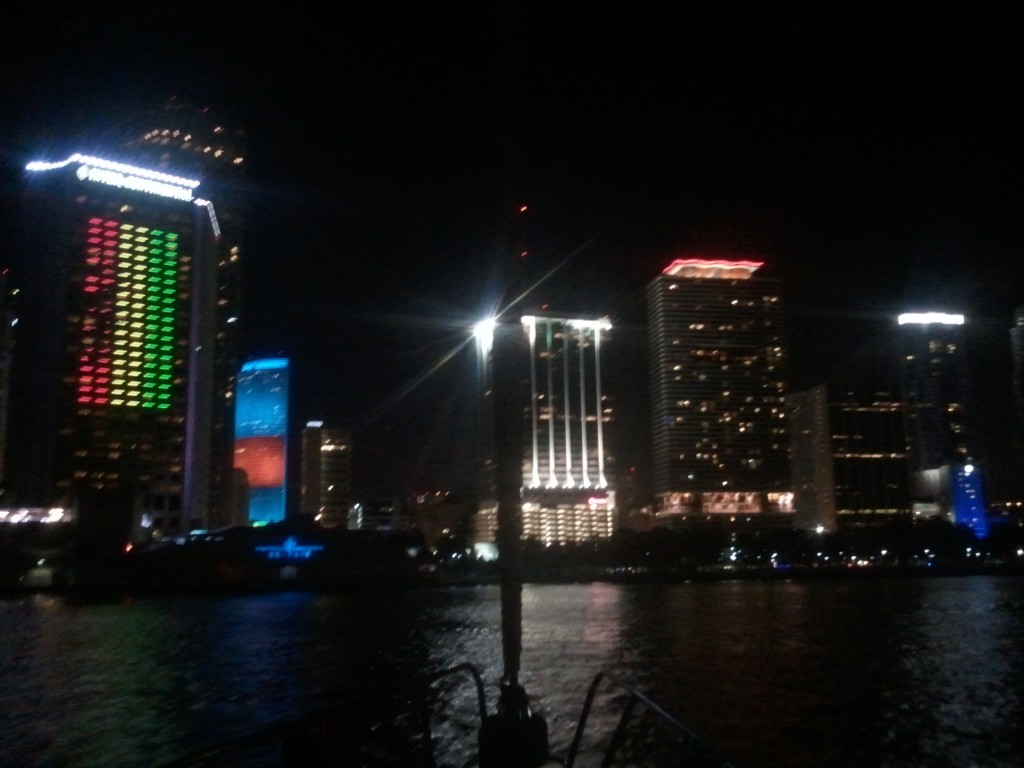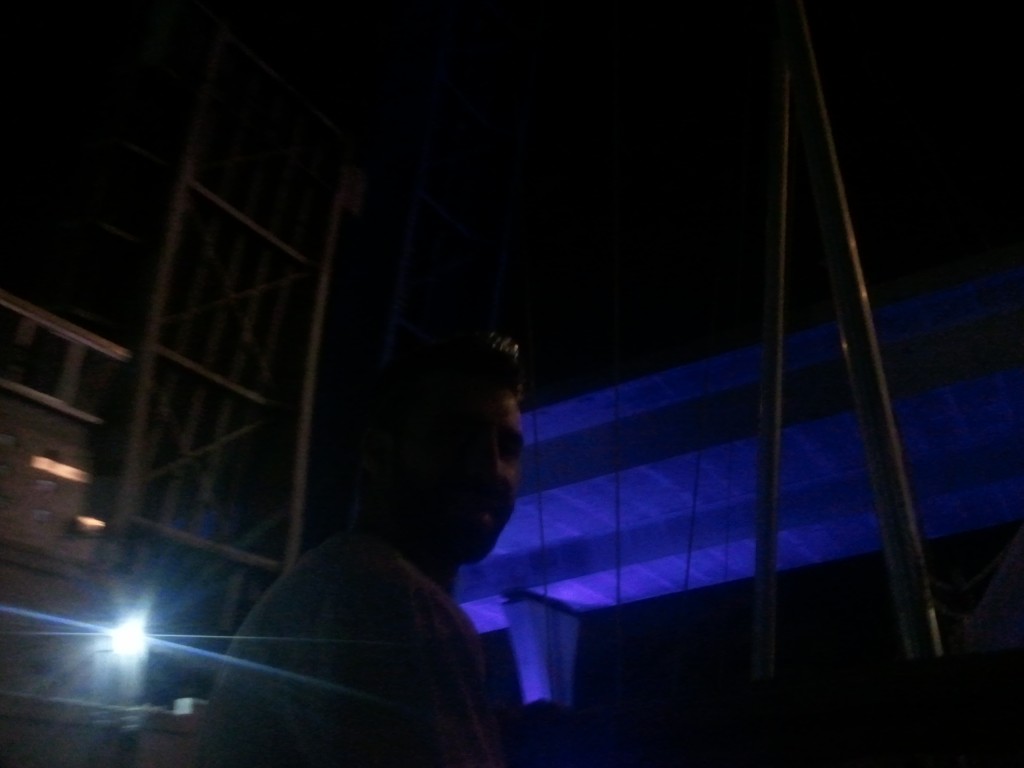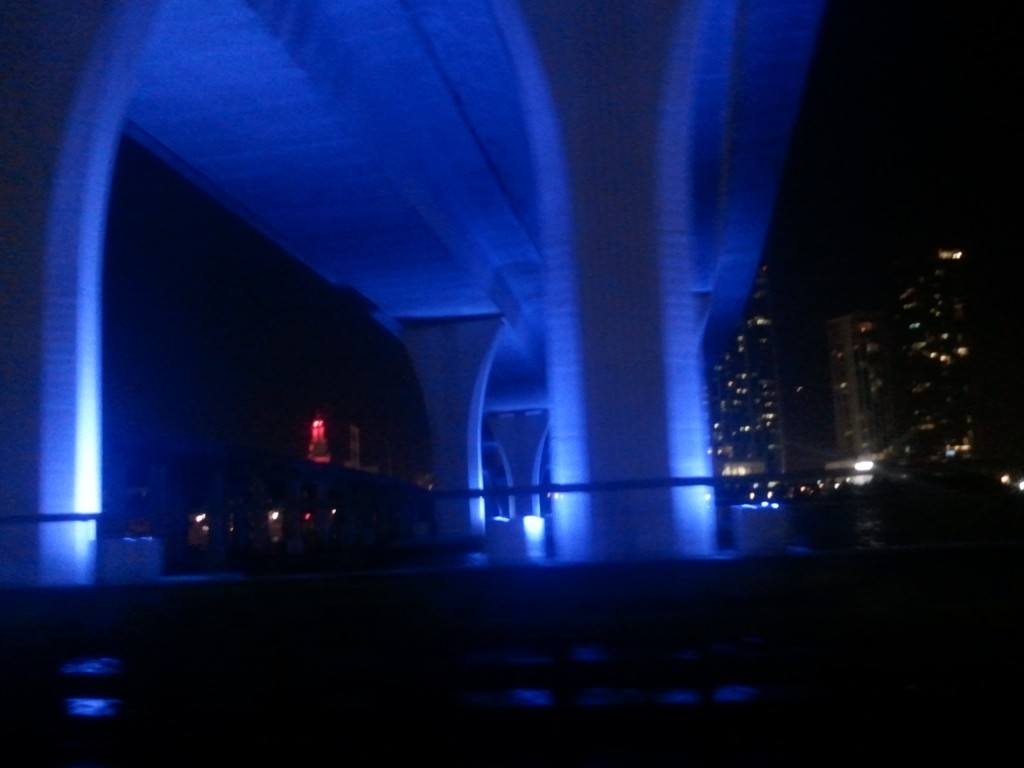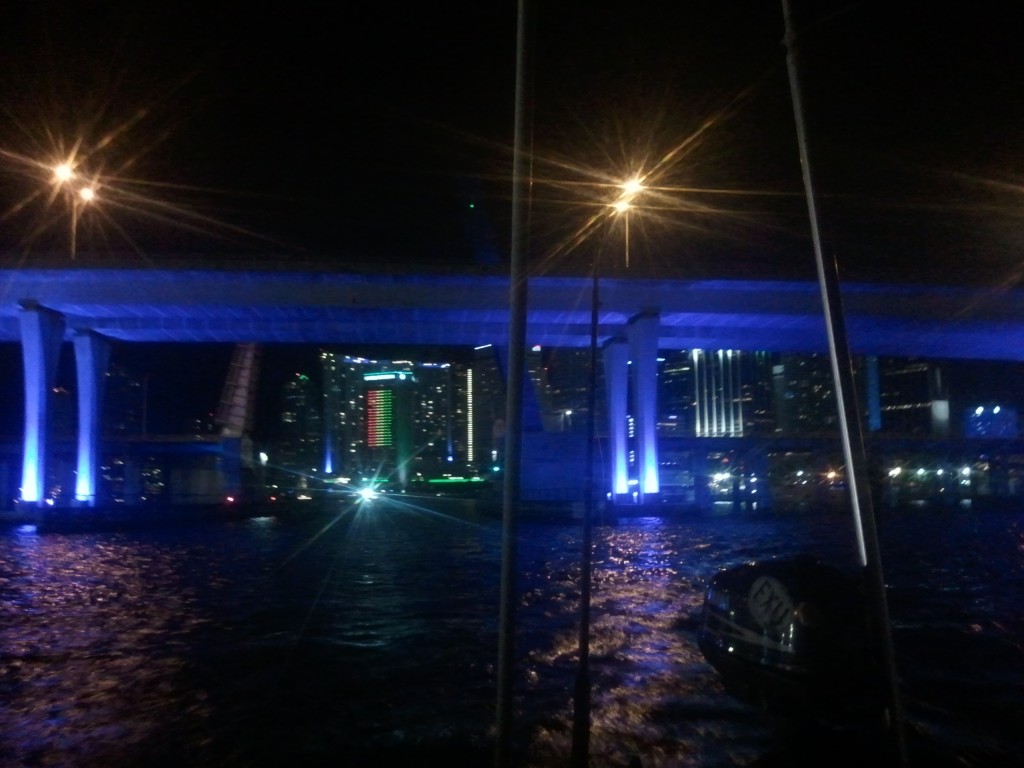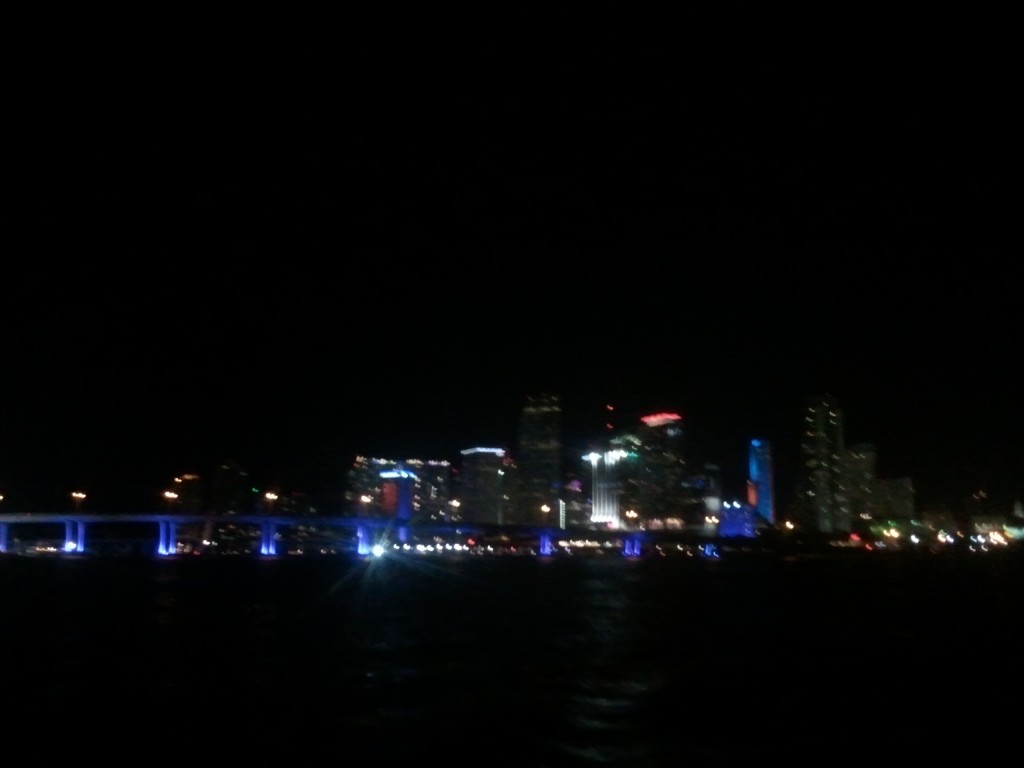 We anchor 10pm in a nice secluded spot just off the Venetian Causeway. Saturday morning we make the short trip to our new marina just 10 minutes away. Passing small islands within the bay, so much to explore.  Arriving to Palm Bay Marina we see dolphins and lots of smiles to greet us. This place has a great vibe to it very Zen. To be continued…