Introducing the amazing yellow… fish?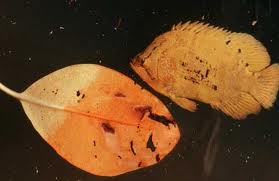 We first seen this creature on the island of Grenada and it scared the crap out of us while we were fishing one day. Thinking it was just a mangrove leaf we got too close to it unexpectedly and it suddenly made a splash and sunk! What the…Leaf? Hmmmm so we went out the next day with the GoPro and caught a very cool clip of the fish sinking to the bottom, very very cool. Ergo… we would like to show you this creature in action. Enjoy!

Its ingenious adaptation to mimic leaves and other floating debris as it impressively camouflages have fooled many. But to us we were familiar with the sneaky little guy so when we got to Miami and noticed the same looking fish floating around the marina we were stoked! This one is very similar but more approachable. Friendly little guy. So here is a better video of it up close floating by our boat doing what it does best…

He might not be the most beautiful nor the most interesting to some, but to us this guy is wicked cool. Sea life is pretty amazing!
Never judge a book by its cover…. or in this case the fish would prefer it if you do
Here is some official background of what we could find on the internet….
This is a Tripletail (Lobotes surinamensis). They are usually spotted mimicking a leaf or floating debris. This is thought to be a feeding strategy because of the locality of their prey items and the floating structures associated with this behavior.
Coloration
The juveniles are mottled with yellow, brown and black. Lying on its side at the water surface, a young tripletail looks like a floating mangrove leaf. The juveniles have white pectoral fins and a white margin on the caudal fin. Adult tripletails have varied mottled color patterns, ranging from dark brown to a reddish brown or brown with a tint of gray.
Geographical Distribution
The tripletail is found from Massachusetts and Bermuda to Argentina, including both the Gulf of Mexico and the Caribbean Sea. It is also found in the eastern Atlantic: Mediterranean Sea as well as from Madeira Island (Portugal) to the Gulf of Guinea, Eastern Pacific: Costa Rica to Peru, and the Western Pacific: Japan, Fiji, and Tuvalu as well as in the tropical and subtropical waters surrounding Australia. It is rare north of the Chesapeake Bay. They are found on the Gulf coast April through early October and migrate to the south during the winter months. There has been one report of a tripletail caught off the coast of California. The tripletail is not very abundant in any particular location.