Over 4000 nautical miles later, we wake up and look out 360 degrees to see a beautiful world of water and life…and we love it!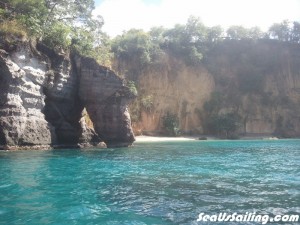 Wow, Where to start…In the year that has passed we have learned so much and have grown into our tan skin, at times unwillingly. We have sailed day and night excited for the adventure. With each passage testing our physical endurance. We have been through our share of squalls, tropical waves, depressions and full on storms. We also have been very fortunate to have most of it be pleasant weather, and at times really hot."Yaargh!" says the captain. "Yesss!" replies the 1st mate. Always taking all the necessary precautions and always being prepared for anything. Enjoying the good and rocking out with the not so good weather. All of it has been such a wonderful experience. To think we have been surviving on this boat for one year. Using the rain for water at times and solar for power, fishing for eating, what more can one want? This is our water world. Learning and experiencing trade winds, seasons, tides, has expanded our minds on this beautiful world of ours.
Our eyes have seen the most amazing things. To some of the most secluded beaches and many islands all with their own special character. From the most beautiful sunsets and sunrises. And at night the stars fill the mind with endless possibilities of what the secrets of life are and how we are such a tiny form. Humbling the soul. We have seen all different kinds of life forms. -To a leaf floating on the surface of the water that suddenly revels itself as a fish and slowly sinks itself to the bottom of the bay. Wow. -To pilot whales hunting a fish forming very strategic movements just aft of our stern. Coming out to breathe then the other surfaces starboard.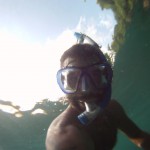 It was magnificent to see how strong and smart they are, the force is unimaginable . And the adrenaline rush being so close was intense! Whoa.- We have seen many fish snorkeling. To many to name but we are pretty good at spotting our favorite meals. Aside from reading (we read ALOT), we also have done lots of hiking on the islands. Take time to hang out with the monkeys and other wildlife we come across. Exploring many terrains and vegetation. Learning about the many uses of each plant. Tasting many of the fruits and vegetables.Trying local foods is always a favorite…and that includes the local fish.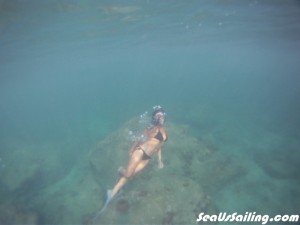 When we are not exploring the islands on land we are fishing the surrounding bays. We have learned to fish from our dinghy "Chico". With many successful catches, its a great way to get a free lunch. And with the menu being so vast we are always excited to see what is on the other end of our line. Fishing from the dinghy usually leads us to some very good snorkeling and some secluded beaches to swim. We swim ALOT! Beau even MORE. He loves all of it and much as we do.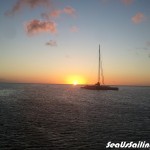 We have met alot of people and created lots of life long connections with other sea salt buddies from different parts of the world. Life out here is different. People are different. They treat each other with a manner of respect and a comforting feeling of well being.Here there are no colors just a love for living. We have met a lot of wide range of people, retirees, a few- very cool couples around our age, a few coconuts in between, scientists, engineers, some skeptical under cover/ "retired" military, to a 70 yr old couple still sailing and they look healthy, limber, and at times have more energy than us! Everyone we have met has touch our life in a special way.  The locals, have been pleasant on all of the islands and are always excited to teach others about their culture. Roots run deep here. With lots of exciting history. Piracy, hurricane encounters, fish stories, all very interesting and end with a positive. Its a beautiful thing to see survival through positivity. With the many cultural influences, I have been able to get by on alot of Spanish. Which at times has come in very handy. With lots of other language influences we come across some language barriers like creole, french, dutch, and some others mixed in, but always in the end we all seem to get our point across with a smile.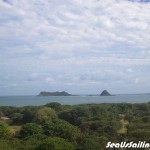 You can feel the sailing history on these waters. Feel the wind on your face and look to the horizon and imagine Tall ships and their captains feeling the same trade winds and seeing the same sunset, sailing the same seas centuries ago. One thing that remains of those days is the respect for the sea. When you see someone in the water helpless in a sea of blue a survival instinct kicks in. Cause you never know when there will be a day when help might seem far but there is always a helping hand if a sailboat is around. Sailors are always up for the rescue. Always ready for a mission. We have many successful rescue missions under our belt. From helping fisherman when their engine died out and they seemed like a spot in the horizon drifting out to sea. To a helping a couple with gas as the guy is trying to swim his boat back in shark filled waters. Or the time when a inexperienced guy tried to sail a 16 ft catamaran in 30 kt winds ultimately to capsize and start to be dragged out to sea fast with the current. We happened to be passing by in the dinghy. Ryan jumps out and right sides the cat then sails it like a pro. While Beau and I are circling in the dinghy , tourists snap pics and video the whole ordeal (shoulda got a copy of that one). Or the most recent one on New Years Eve. We are saying hi to one of our friends chatting and then see in the distance a boat floating by unattended! A rouge boat snapped its chaffed line off a mooring ball. So the boat was drifting about to crash and side swipe other boats anchored. We quickly say goodbye to our friends and go on our last the rescue mission of the year. We quickly tie the line from our dinghy to the boat and Ryan revs the outboard. I jump onboard the sailboat taking over the helm as if it was our boat and start to maneuver to a mooring. In just a matter of minutes the boat is secure and other boaters are giving us thumbs up and smiles. Ahh The love for the ocean, where everyday is an adventure and no day is ever the same.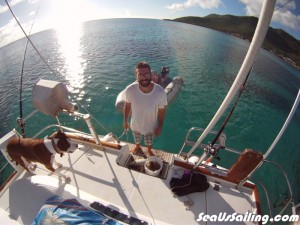 Lots of excitement and challenging moments that's for sure. But always FUN! Surprising each other by our new talents. Ryan has turned into quite the mechanic, and I, his assistant handing him tools like we are conducting a surgery. Together we learn and figure things out. Now, mechanically the heart of our boat is in excellent shape thanks to Dr. Frank. He fixes everything.  Aside from sewing together repairing our sails proudly and very carefully. We practice learning new ways to tie knots to pass time and entertain ourselves. Another form of entertainment is food. Discovering something I never thought I would find in the Caribbean, a baker was found… on our own boat! Moi? Yes, I have learned to bake bread the French way. My wonderful teacher Jackie aboard their sailboat "Popeye" set aside a whole day to teach me in her galley, I am forever grateful. Many other women have shared their recipes along the way, for I am thankful and much obliged to make for my captain. Now when it comes to cooking under sail…well that is a whole other thing. When the waves are big and the heeling makes you feel like you are in a fun house, you dont want to be in the cabin as sea sickness will be inevitable. A warm cooked meal prevails, especially if you're at sea for days. I had to learn to overcome that one pretty fast. I have to keep my captain in tip top shape. Now, I create feasts under way excited for the challenge, enjoying the heeling and movement of the boat. Holding on and planning my moves carefully all the while laughing as I, myself am the one getting tossed like a salad. Then to see a smile on his face when I give him a plate full of yummy goodness made with love, I have a happy healthy captain. And that makes me happy.
To sum up the year, it has been simply INCREDIBLE! We have managed to cut our expenses down dramatically and live off the earth. Just as planned. Thus living minimally and happily. Most of the time people think we just stepped off a cruise ship. Or give us the confused where did you come from look? Once they find out we sail, its ALL respect. Respect for having the chance to do while we are young, on our own. Other than receiving a "surprise expense" that usually means a major boat repair. Or learning a lesson on sea water 101 and electronics, do not underestimate either. Rust is enemy #1.  Money, the very little we spend is for things we need, not our wants. In hindsight we are always investing in our home. This is our house. And it moves constantly.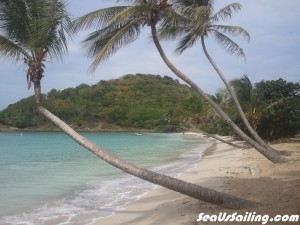 On water. The challenge keeps us on our toes and thinking creatively. But the experience in itself, is invaluable. Being able to face the challenges in life with a focus of patience. Its everything we hoped for and more. All we would ever want in this life together. To be able to appreciate this world in all its raw forms. To be rewarded everyday by the beauty that surrounds us. To be self sustainable. To travel. To be free. To really Live. Life. Simple.