Da BIG fish!
Its a bird its a plane! No its a Sailfish!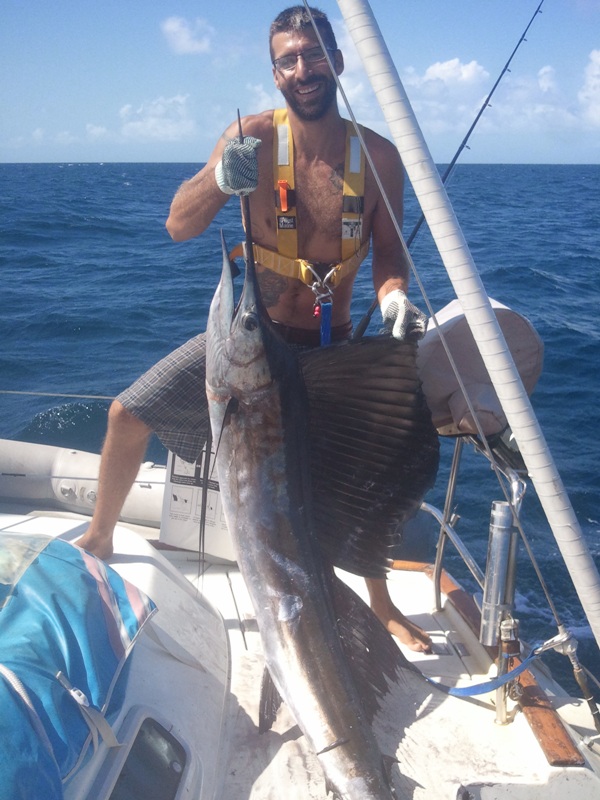 Sailfish are the fastest fish in the ocean and have been clocked leaping out of the water at more than 68 mi (110 km) per hour! That being stated I would like to share with you our ultimate catch under sail.
Just after Thanksgiving…
Sailing around the Caribbean making our way back to Grenada. Under full sail going about 8 kts. we are cruising! Ryan goes back to the boat to check on our fishing lines. As he is about to pull up the line, it starts to pull. Then it pulls harder. Then something takes it fast! Ryan yells in excitement, "Whatever it is, its big!!!". Im stoked cause we have not caught anything the last couple of days and we could use the extra nutrition.  But we are on a great sail and dont want to lose the wind….
About 40 minutes later. We opt for our special fishing maneuver. As Ryan is concentrating on reeling in the fish, I focus on slowing the boat
First I loosen the main sheet as much as possible to ease the tension and speed. I take in a little of the jib. We are now sailing about 5kts.  Then as he pulls the fish in closer, I turn on the engine. Slowly ease it in reverse under sail. With the engine in reverse it relieves any extra tension and makes it a whole hell of alot easier to pull in the fish, keeping our course and stability. Now we are ready to bring in the fish.
I harness in and make my way to the aft deck. We have not determined whats on our line and still have to figure out how we are going to get the fish on our boat.  Looks to be some kind of Billfish? He is hooked and we have to do our part to get him unhooked. We determine that its going to be a throw it on deck kind of event. Rope in hand my assignment is to get the rope around his tail so he doesn't flop back into the water with a hook still attached. Sure enough Ryan reels it in close enough and does a wicked man move… he picks it up by the sword and pulls onto the boat. Fearless this man. I have never in my life been any more impressed. As he is pulling this massive fish on the deck, it is tossing Ryan side to side with his sword. He lays it down and I hop on it and rope it by the tail. Its a Sailfish! OMG. Its so beautiful. By the time we unhook the fish we realize its too tired and weak so we decide to keep it. Its surprising how fast these fish start to deteriorate once out of the water. Amazed we have this big ass fish that covers our whole aft deck, we just stand there in awe….talk about an adrenaline rush!
The Sailfish fed two Grenadian families, two couples on two different boats, and left us with fresh fish for a week.  The sea gods have been good to us. Thank you Poseidon, Neptune, may we be forever grateful. A week after this event, we found the gift they left us. A small piece from the tip of the Sailfish bill was found on our deck! We saved the special piece and I later surprised the captain by turning it into a necklace he could wear, a special SAIL necklace.