Since the beginning Beau never ceases to amaze us. We discovered Beau in 2007. Spontaneously one Saturday morning at a local rescue shelter. Walking down the jail cells a big lanky dog came out from the shadow. He showed his beautiful innocent face, licked my hand and that was it! We were  family. Since then he has been forever amazing us. He came aboard our 26 ft MacGregor we sailed religiously in Colorado. So now the big ? would be, could he go from a weekend boat buddy to a full time sailing companion…and like it?
Leaving all familiar things and scents behind and starting a new life together on the open ocean. To get to our sailing dream, we must first travel by land! In our old Jeep we camped across the US. Heading to Miami where we are to purchase our floating home to sail the open ocean.
Becoming a sardine in the back seat of the ol' jeep for over a week, there were no complaints from him. He sure loved all camping! Wherever, whenever, & whatever the case may be, he will cross oceans just to be with us. Little did he know that will come into play very soon…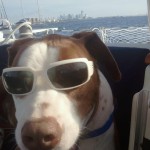 Our biggest amazement was to see how Beau was going to adjust to our move as liveaboards. Our sailboat is now our home. Training began without hesitation from Beau. He loves to learn. First off he took to the boat immediately, giving a look on his face "This boat is bigger than the last one (as he lays down in the spare berth), so where we going?"
Some of the questions that popped into OUR heads were….
Will he protect the boat?
What if we are out at sea for days on end? Will he manage?
Where will he poop?
How will he get in, on and off the sailboat?
Going up the ladder in the companionway, How about docks?
Do dogs get sea sickness?
And the list could go on…. but why even question it. He's Beau! He has all the answers.
So back in our old home on land, when the doorbell rang he scared the crap out of people with his big bark. So to start we downloaded a doorbell sound online that was similar to the one at our old house. Tested a few out and found the perfect one. Once he heard it he ran out of the cabin and on deck and barked with the force. Never used the fake doorbell again. It just clicked to him. He was to protect the boat. Goooood boy.
It took Beau about 3 days to feel comfortable to go potty on board. On the deck. We mocked up a fake landing ground for him. Some astro turf and some plastic plants on the aft deck. Very nice…actually too nice cause all he wanted to do was lay on it, it quickly became a chill spot for him. No go on that one. What worked was to talk to him and encourage him to take a walk with me around the deck. It worked like a charm. He now takes himself on walks around the boat, sometimes sprints if hes in a hurry. He chooses to go up by the bow, more privacy I suppose. And amazingly he can go under sail also! Talk about sea legs! One week out at sea. Sailing our little hearts out nonstop, Beau was the perfect boat dog. Hanging out with us. Enjoying the ride. On night sails he was right by my side every night as if to protect me or keep me safe.
Getting in and out of the cabin, and on and off the boat. No problem. He learned to climb ladders. Amazing Beau.(See Video Below)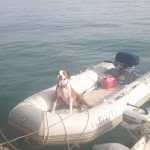 Same with docks. If its to high, he uses the ladder. To get back on the dinghy he jumps with grace. Just like the big cliffs in Colorado, remember our hiking days Beau? Woof!
Sea Sickness. Well we were all sick dogs for a little when we crossed the Gulf Stream and had the opportunity to experience some NE winds. Winds against the current created a hell of a ride for all of us. Beau was last to show signs. His lips started to pucker up in the funniest way. Making us laugh hysterically curing us of any sickness. I mixed in some tuna juice in his water and he was cured. These are just some of the things Beau has overcome along the way.
He is becoming a big helper. Helping any way he can (see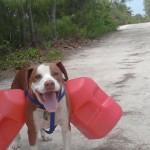 jugs) Also, a very good rescue dog. Using his tail as a tow rope in the water to pick up anyone that needs a lift back to the boat. A very strong swimmer. And LOVES to swim. And dive (again see video). Like he was made for water. Made to eat fish. And good thing for us cause sailing and fishing should be our middle names.
On top of teaching himself new things, along with peeing and pooping in the water! YES you read that right! We did not train him or even think it was possible. But for Beau its convenient! You can tell when he is about to pee cause he swims in a circle before and then tries to lift up his leg during. Heeling like a boat. Its quite the site
Oh Beau. We have been blessed with a wonderful, funny, smart, crazy, but gentle soul where his whole focus in life is to love and protect us. And to us, Beau is the peanut butter in our peanut butter sandwich. Our #1 sidekick. Our buddy Beau.  Amazing Beau.