Marin, Martinique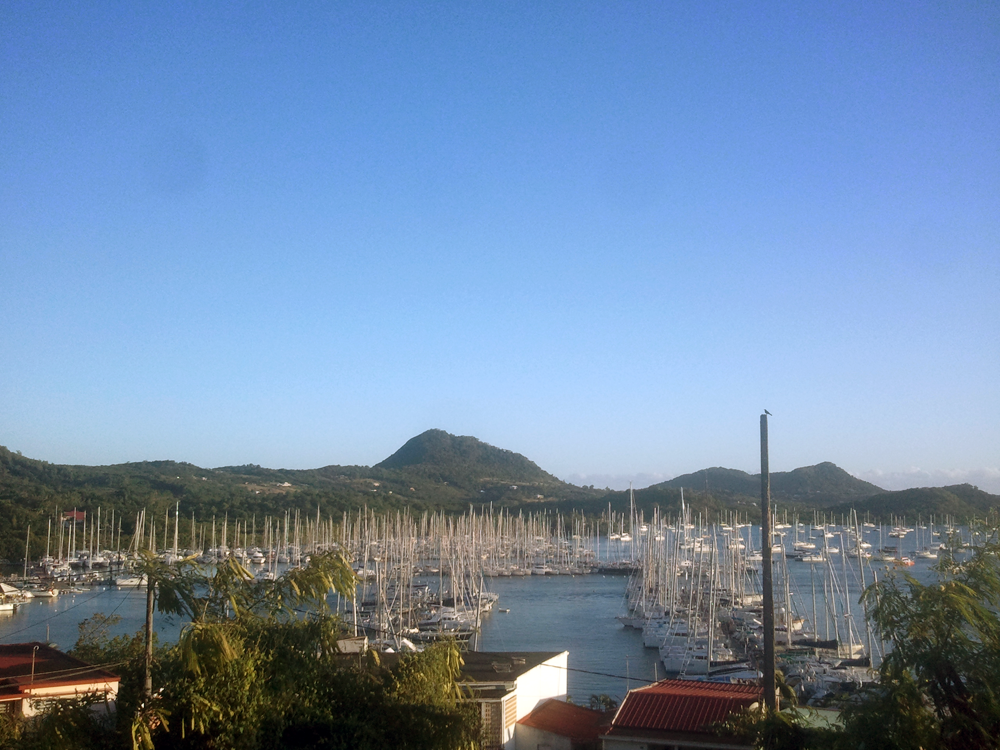 6:30am. We wake up and get ready to tackle the day. We have been monitoring the weather and it looks like the low pressure system is getting stronger and will be turning into a tropical storm with the name Ernesto. With winds expected to be 65 + kts. we look at this as an opportunity to get a good practice in for hurricane season. Which means securing your boat and for us that means tying into the mangroves. Mangroves are great to secure a boat during a storm. One great thing about mangroves is they bend under great stress and pressure, rarely breaking. This is due to the wood density and fiber wall thickness. Also usually underneath the waterline is mud which is preferred over any rocky surface.  There are only a handful of good "hurricane holes" ( meaning a bay that has good protection from wind and surge and mangroves are a major plus) in the Caribbean. One of which we are in. Since we are able to track the weather as soon as it develops off the coast of Africa it gives us about less than a week heads up before it approaches the chain of  islands where we are sailing. Just enough time to create a safe plan or opportunity to stay out of the way. Pretty much from here south there is nothing much for hurricane holes until you get to Grenada. So we are not here by luck.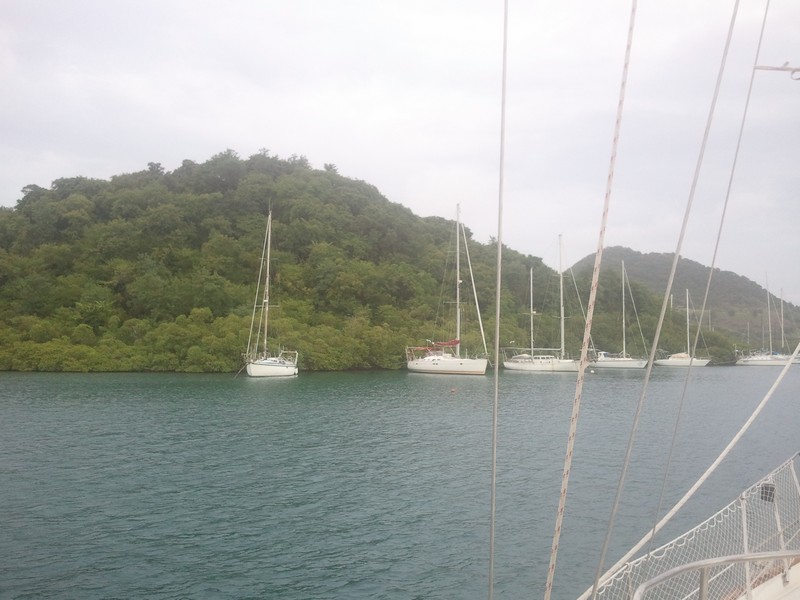 Sure go tie into the mangroves and you will be fine!
Nice.
OK…but how….?
????
…..
We make some coffee, (which we never really drink) and hop in the dinghy with our caffeine high to go scope out the mangroves area for depths. We don't have a depth finder. But we do know the depth of our boat (draft) is 5′ 10 and our boat hook extends to 7 ft. Today our boat hook is our depth marker. We must make due with what we have
As we approach the mangroves Ryan slowly steers the dinghy as I dunk the pole in the water. I can feel the end touch the mud. The pole proves good. But if you have a depth finder, I definitely recommend using that. We find the perfect spot and take a mental note on the location then head back to the boat to prepare.  We go over some important things like wind and tide and precisely plan every move to take the boat into the mangroves.

8:00am. Low tide. Engine on we calmly make our way towards the mangroves. Lines and anchor prepared, we slowly make our approach. Its calm and quiet. We break water as if we are tip toeing. We pass silently weaving through the boat filled bay. Most people are still sleeping. We gave our plan of attack some real good thought before going in but still this is something we never tried or practiced…
The run down, slow down, tie down. As we get close we slow down. Ryan at the helm, he runs and I run, we pass each other as we swiftly switch places. As soon as I take the helm I turn the boat 30 degrees straight into the mangroves. Ryan throws our 40kg (88 lbs) Brittany anchor out (#1 anchor in diagram) and runs back to the helm. We switch off again. I run back to feed out the anchor line and on Ryan's word I am to tie it down.  The goal is to set the anchor with the momentum of the boat and simultaneously get as close as we can to the mangroves while still leaving a few inches of water under our keel.  Its very quiet for a few moments as Ryan closely monitors the depth sounder, then he says "tie it down fast!" I secure the starboard stern anchor(#1), the line goes tight and Ryan revs the engine up to snugly set the anchor and checks the depth exactly 0.3 Ft. I then quickly run up to the bow to release our main Delta anchor. This anchor weighs a little more and is a "beast" we are happy to have on our boat. The Delta anchor will only gently touch the ground beneath to add temporary lateral stability holding our bow in position. Then we will see what happens? After a moment of silence. Very quietly, I say" I think it worked?". Ryan nods slowly. Perfectly.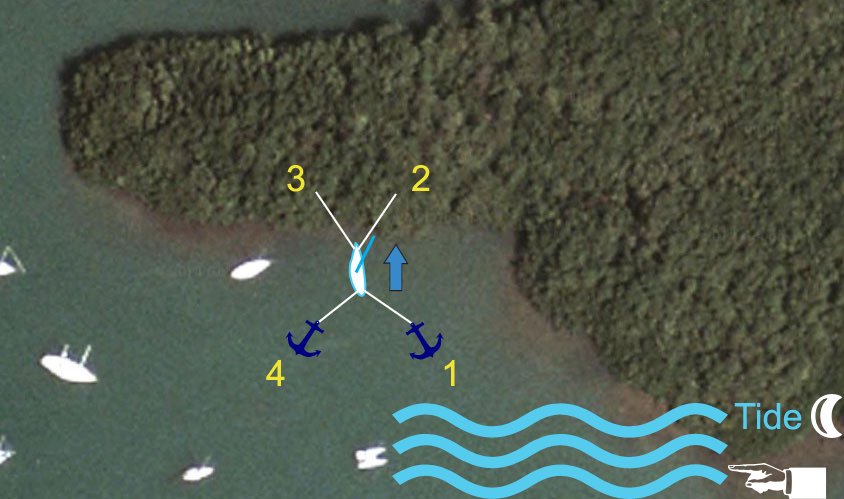 On to the next phases. Now with the tide pushing on our starboard side. We have to set out lines immediately to tie into the mangroves. As one of us should always be on the boat in control, this is looking more and more like a tag team event. Tag, I start up Chico (our Dinghy) and head into the mangroves. Its muddy and murky. I anchor and tie the dinghy and then I climb into the mangroves in a hurry to tie in line #2 Starboard bow ( as seen in the diagram) This will keep the sailboat from drifting on the bow anchor we have temporarily set down. Now with the boat secured on the starboard side, we start to make adjustments and set out to secure it perfectly. I got bullied by a gang of spiders and then to top it off an unknown slimy critter crawled up my leg (((shiver me timbers))). I tag out. Ryan goes in to secure line #3 into the mangrove.  We pull up the bow anchor and with Ryan still in the dinghy I release the anchor and he takes it. Motors out  about 175 Ft then takes the anchor and drops it in. We use our sheet winch, a rope, and a shackle to take in the slack of the chain anchor rode and set the hook but its not holding. Its pretty much sliding in the mud. So after one more try we set the anchor (#4 complete). Now we have two stern anchors about 100 degrees apart (Brittany on starboard side & Delta on Port) and two lines from the bow leading deep into the mangroves. We then release a good amount of slack in all the lines to allow for a high rising tide. We tie some markers (bumpers) on the anchor rode so any passerby's wont foul the line accidentally. Its holding nice. The boat feels super secure with about a half foot under the keel at low tide. Safe and Satisfied. We then start to secure the lines from the critters of the mangroves. They have a reputation of crawling on the lines then onto your boat.  So I cut a hole in some spare plastic bowls enough to fit a line through and secure it with tape, it fits perfectly. Mission accomplished. Now we kick up our feet and watch the rest of the herd race to find a spot.
Maybe its not precisely how one would do this? But it worked for us!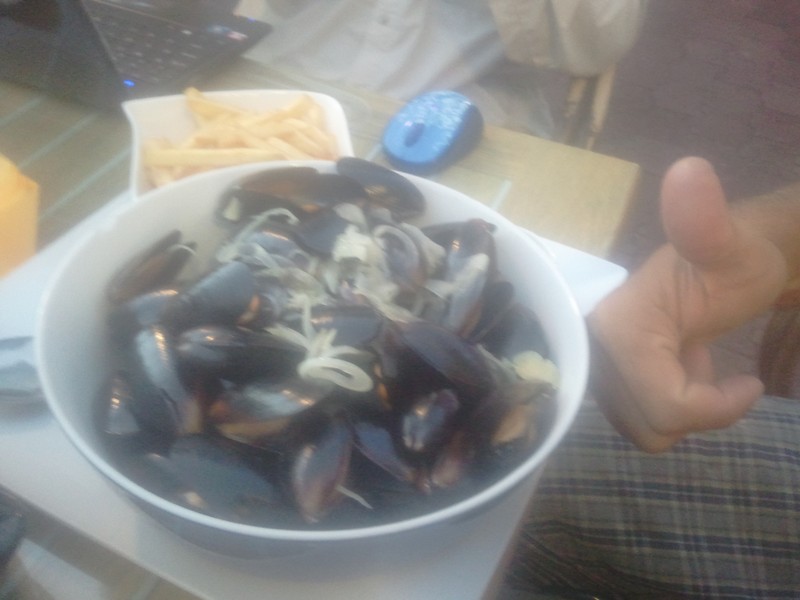 As we are hanging out a man swims by and stops to chat. His name is George! He is from Prague and has a very heavy accent. He liked our spot it was the only fairly deep spot but it was still too shallow for his boat. He mentions he has a 8ft draft. And he is conducting his own depth survey. He swims around testing the depth with his body. Yells at us, "see its up to my belly!" happily pointing at his big tan belly. Then a little later he is further, then yells "not good" mostly laughing because he is standing in it now and I think he forgot his swim shorts… he wishes us the best and swims off. Wow.
Sometime in the pm. After a long and productive day with some time on our hands before the storm we hang out with our friends from Inspiration, good conversations and some of the best mussels we ever had we relax at Mango Bay. As the day passes its now time to wait for Ernesto. The storm should be arriving a little after midnight, so its going to be a long night. We dinghy back to the boat under a full moon and to our new home in the mangroves….hope that's the last full moon we will be seeing tonight 😉
Hurricane TidBit: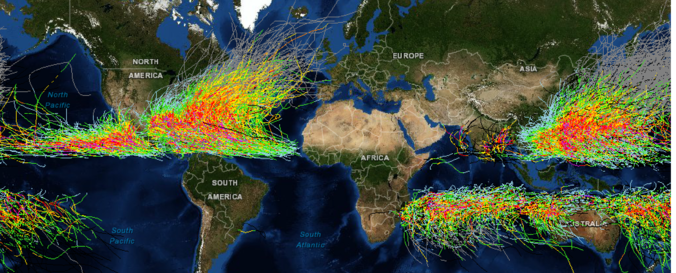 Intrigued by what's above you, literately speaking?  Here is some interesting things to know.  Hurricane/Tropical Cyclone season varies in each ocean, here in the Atlantic it is from June 1 – Nov 30. The further south you go in the chain of islands the better off you are in a sense because Hurricanes never really form close to the equator or beyond 10 degrees latitude.  This is mostly due to the ITCZ (Intertropical Convergence Zone) which every sailor is familiar with the doldrums that lay within aaargh.  This really does not apply for us in the Caribbean as much as it does for Pacific sailing. But more so in the fact that the ITCZ is a barrier for Hurricanes. To feed a hurricane you need warm waters and humidity. So the "cold fronts" the ITCZ forms somewhat of a belt around the earth and equator thus keeping hurricanes from going past either hemisphere. This is the very simple version. There are alot of other factors in consideration to weather and formation, all very fascinating and all very real. But one fact will always remain you can never predict what mother nature will do. We can only do our best by preparing. To learn more NOAA has tons of information.
Below are charts on stages and a scale on hurricane categories to get an idea. So when tropical storm develops, we pay attention. There is still lots to learn about this wonderful planet. Envisioning possibilities and traveling by wind only helps us to understand first hand. It also give us a chance to experience raw nature even at its ugliest.
Hurricane stages:
| | |
| --- | --- |
| Tropical Wave | A low pressure trough moving generally westward with the trade winds. |
| Tropical Disturbance | An organized area of thunderstorms that usually forms in the tropics. Typically, they maintain their identity for 24 hours and are accompanied by heavy rains and gusty winds. |
| Tropical Cyclone | A generic term for any organized low pressure that develops over tropical and sometimes sub-tropical waters. Tropical depressions, tropical storms, and hurricanes are all example of tropical cyclones. |
| Tropical Depression | An organized area of low pressure in which sustained winds are 38 mph or less. |
| Tropical Storm | A tropical cyclone with maximum sustained wind speeds that range from 39 to 73 mph. |
| Hurricane | A tropical cyclone with sustained winds of at least 74 mph. |
Saffir-Simpson Hurricane Scale
Category

Winds (MPH)

Pressure (Millibars)

 

Pressure

(Inches)

Storm Surge

(Feet)

Damage

1

74-95

<980

<28.94

4′-5′

Minimal

2

96-110

979-965

28.91-28.50

6′-8′

Moderate

3

111-130

964-945

28.47-27.91

9

'

-12′

Extensive

4

131-155

944-920

27.88-27.17

13′-18′

Extreme

5

>155

<920

<27.17

>18′

Catastrophic
In order to appreciate this earth to really understand what it has to teach us, we must set out to discover. In order to discover, we must travel.  – Liv