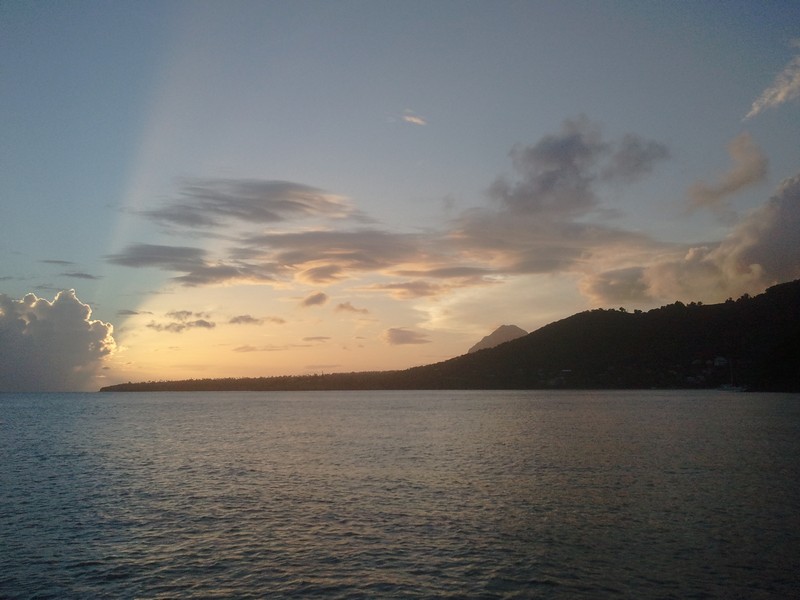 10am we leave Rodney Bay.For a nice sail south.
Noon. After 3 attempts anchoring in rocky deep waters out of our comfort zone. We decide to leave Marigot. Very sweet place, narrow, lots of reefs, not many places to anchor due to the mooring balls and day charters. You can grab a mooring ball for and X amount of dollars. But we are saving all we can. So we opt to head back out into open ocean. From here to Soufriere it is Marine Protected, so no anchoring or fishing. You could grab a mooring ball overnight for 25 US dollars a night. But we continue to sail on
6:30pm Just as the sun is setting we anchor in Labordie. St, Georgies bay. Were experiencing minor swell, but not too bad. We are the only boat here…
There are a couple of guys on the beach looking towards our boat. We send security out to show his stuff, good boy Beau. We lock ourselves in and do our precautionary booby traps. Ryan didnt get much sleep last night due to the swell. It rocked me to sleep like a baby.
We wake up 3am to head for Bequia. As we look out we can see someone at the beach with a light,…. interesting. They seems to be looking out towards us. Just then we get a weird feeling and we just know its the right time to leave. Like professionals super efficient with time we are out of there in record speed. Peace out!