Admiralty Bay – Bequia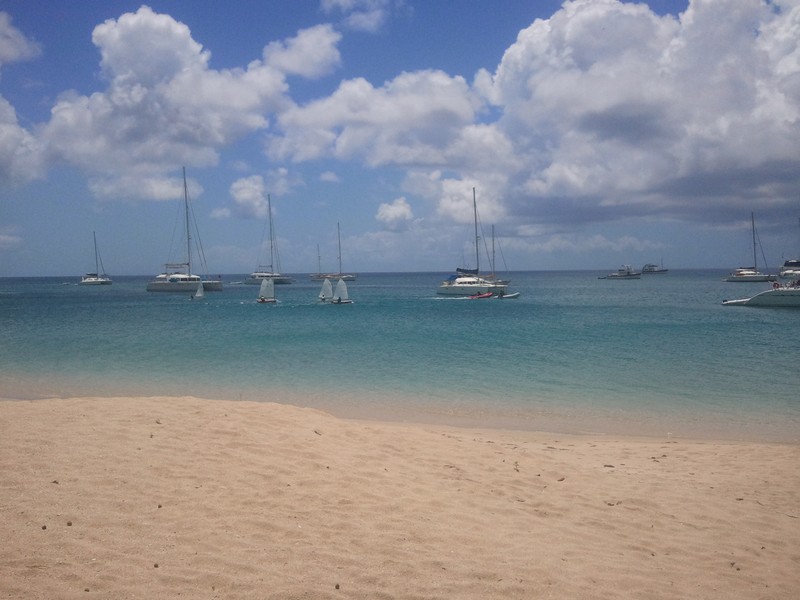 3 am. Early shift. The stars are still out. We quietly leave Labordie. Just as we past the mainland we have Great wind! Averaging about 7kts steady on a nice starboard tack. We plan to go on the E side of St. Vincent and through the Bequia channel and into Admiralty Bay located on the west side of island.  Wind is on our side and we enjoy the ride.
We had the lines out when, we spot a Pilot whale. I reel in the lines in for a while. With much encouragement from Ryan less than ten minutes later I put in the line and wait. Sure enough in a few minutes the whales come out with a force and a plan, we can now see they are chasing what is chasing my line! I start reeling in fast. It was quite the adrenaline rush seeing whales trailing our sailboat. Then in an instant it was all over. Whoa intense! But very cool to see. We sail on surfing downwind through the channel when Ryan catches a fish just before we get there! Mahi mahi its whats for dinner.
12:30pm.  We are anchored in the clear water of Admiralty bay ahead of schedule. Admiralty bay is fairly large and has quite a few beautiful very long white sand beaches. A sea turtle welcomes us. Then we go into town to clear customs.
2pm. We are at the beach! And creating some really great memories here. We swim, we eat, I swim more. The beach is awesome, and the water is warm. Nice walk on the beach and back to the boat to watch the sunset.
The locals here are very nice, we had a great time.  We just had to stay here a couple more days. This definitely is a place we want to visit again.   Love Bequia!