Hillsborough & Sandy Island – Carriacou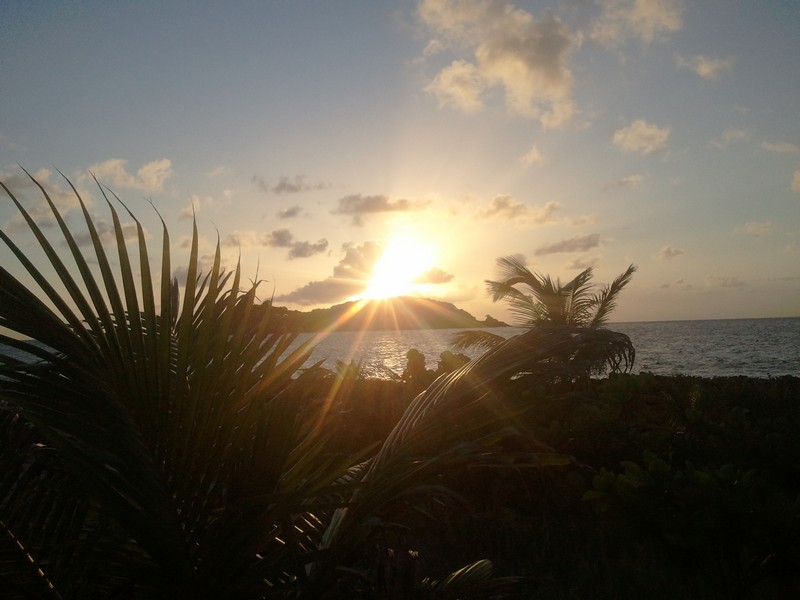 11:30am. We cleared out of Clifton, Union Island and set sail. Nice light E wind 12-14kts. On a nice broad reach, starboard tack. 215 heading. Sailing a smooth 5 kts.
2:30pm. A quick stop in Hillsborough to clear in for Grenada. We picked up some conch from a fisherman before we left Clifton, so I throw together a conch salad and we eat before we go in the clear customs. While in town we grab a few things from the market. Do  little running around between Immigration and Customs. Then something magical happens…..
⚓
Standing on the pier just after we clear customs, on an unfamiliar island in the Caribbean – in beautiful place. I hang out taking in the view observing my surroundings, our sailboat anchored in the distance, the ocean below. A little boy notices I am looking at the water. He comes up to me and immediately starts talking about fish…types of fish, fishing… this little dude definitely knows his fish. Intrigued by his knowledge and kindness I smile and listen on. While his other friends are busy being boys this particular little guy sits next to me with his homemade pole, recycled line, and bait (that he proudly caught himself) in an old plastic coke bottle, he invites me to fish with him. Having knowledge of fishing which I didn't disclose to him, rather I choose to sit quietly next to him and let him teach me. He talked about life on the island, nature, and he tells me about the sealife here. After some time I mention to him I have to go, he responds not with words but with a gift. He wants me to take his old plastic bottle with his bait, "So I can catch a fish myself and eat." After saying no a few times, he refuses to take money for it and insists that I take his bait as a gift. This boy, this beautiful soul that I don't have a picture of but a memory that I will hold onto forever. A respect for nature. The knowledge and power of teaching. The kindness of giving. Preserving the good in all of us. That day this little island boy thought he taught me how to fish, but what he really taught me was something much more valuable…… the gift of giving.
We leave Hillsborough with a full heart.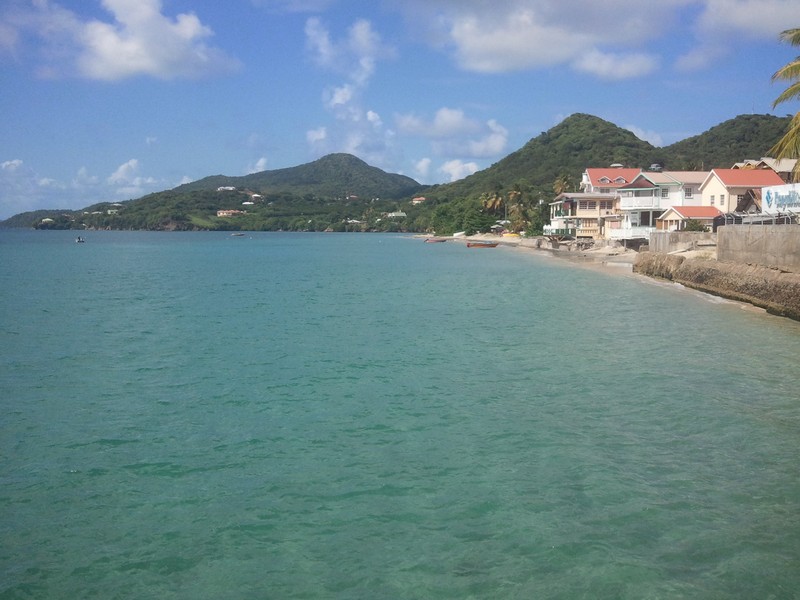 3:30pm. The hook is up and we plan to go to Tyrrel Bay. Then as we are passing this wonderful tiny little island. Ryan asks if I want to stop here instead? Yes, yes I sure do! We grab a mooring ball.
Sunset. I pack up a picnic bag and we head to the island to explore. Beautiful white sand and clear water. Its just amazing! You can see the other islands in the distance. Like The Sisters and Mabouya. We watch the sun set the sky is filled with beautiful colors of red and pinks. Take a nice romantic walk on the beach. What a beautiful place to be. Beau had a blast playing with the big sticks
Love is everywhere….
Tomorrow we sail to Grenada!