Splish splash we are taking a bath! The Baths – Virgin Gorda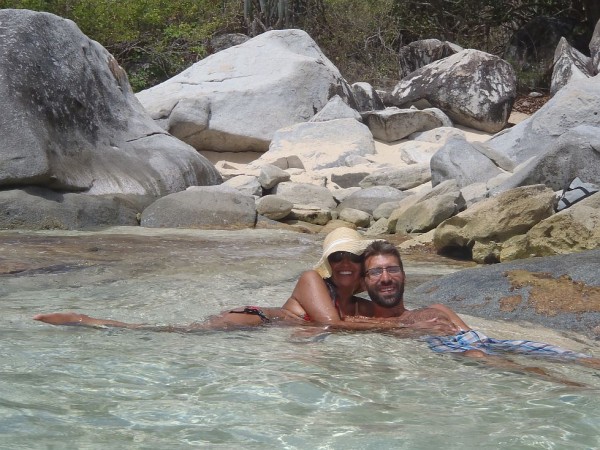 9am Into the Sir Francis Drake channel. Our destination will be The Baths. Southern end of Virgin Gorda. 8 nm a short sail away. We have straight East wind 17-21 kts. We are sailing about 5-6 kts cruising on a port tack, reefed main and full jib. "Inspiration" is ahead of us on the same tack. Beautiful day to sail.
11:15 we grab a mooring ball. We are at the most southern edge of the island last ball next to the big beautiful boulders. Its so cool here! Lots of people on beaches, swimming and jumping off of rocks, nice! A turtle comes and welcomes us, nice little guy. We go snorkeling by the boulders, and see tons of marine life. As we are swimming Ryan somehow grazes a coral with his arm and it gives him a gnarly rash. Instantly its red and puffy on his forearm. Fire coral. OUCH. Poor guy. We hike through the boulders, find drinks, hike more. Then we reach the top of the highest boulder and it opens up to a breathtaking view. It was a moment to remember, my husband whispers the most wonderful things in my ear. We hang out and enjoy the moment as the sun is starting to set we head back to the boat. The moorings are not for boats to stay here overnight. So we get ready to set sail to our next anchorage about a 20min sail north.
6pm We anchor and make dinner. What a awesome day!