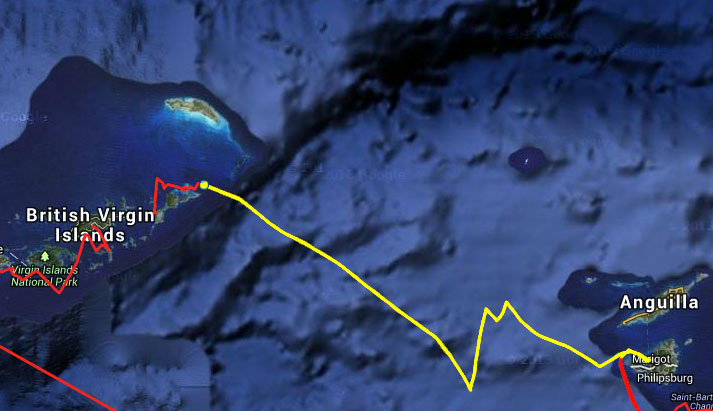 Long story short. Overnight sail from Virgin Gorda was very interesting. Very squally, but fair wind direction the first half, the other half well… was not so fair. We tacked. And tacked. It rained. It rained more. Very squally. And the wind shifting was not nice to our sail. The jib protective cover is ripped to shreds. Were going on 24 hours and were beat. But we keep spirits up the closer we get to land. "Inspiration" has been sailing with us and they are about half an hour ahead of us. Nice! We arrive 8:45 am and anchor in Marigot. Our energy back due to the beautiful scenery we cant sleep. So we have a rum and coke to ease us down a level and relax. Get some rest.
1pm We go say hi to "Inspiration" and go to clear customs. The official is super nice and very dog friendly. He even let Beau in his office! He gave us tons of information and things to do here. We have to clear out before we leave. No problem. Do a little walking around, I love it here!
The following days we celebrate. Celebrated Bastilles day. Dancing in the rain, french food, live music, fireworks. Take morning runs through town, eat lots of baguette, drink french wine and cappuccinos. Oh lala! We love French territory~
*Having generator problems, cannot use anymore for the time being. Part is ordered waiting for us in Martinique, 250 Nautical miles away! Cant stay here too long we must Sail on!