St. Kitts and Nevis – Tarmarind Bay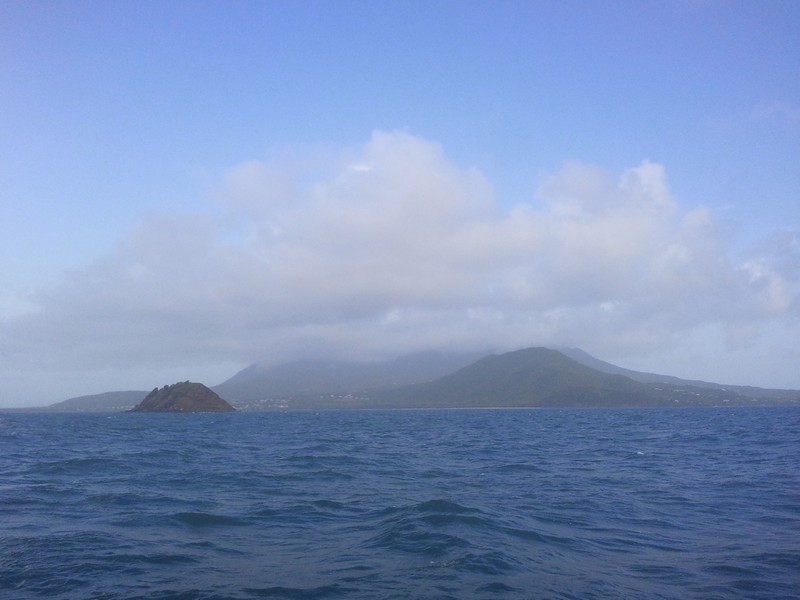 5:15 am We leave Anse do Colombier. Still dark out, By the time we get out into open water visibility is good. Good bye St. Barthelemy. We get some rain here and there but not too bad . This seagull has been doing some wicked maneuvering above us as we sail.
11am We are under full sail! Its sunny out and even thought our sailing angle could be better, we enjoy sailing. You gotta work with what you have! Life is good.
Wind is 20kts steady, on a 165 heading on a starboard tack. Boat is cruising 6.5-7.
2pm Fishing lines out, Ryan gets a bite! Damn barracuda. Sailing on we see land. It looks mysterious. The clouds hover over the volcanic island of St. Kitts (St. Christopher) Green lush land, its about 4000ft at the highest elevation. We see Booby island shown in the picture above( the small left rock). A  little island, more like a maker for "The Narrows" We go through the narrows which is between St. Kitts and Nevis. We sail nice and slow between these two islands. Its gets shallow through the channel 12-20 ft. We go to anchor in Oualie for the night, but get mobbed by bugs. These ant/ fly creatures totally engulfed us I could barely breathe! Beau did not like it either! And just as fast as they invaded our boat with no hesitation we are outta there! Our backup spot is Tamarind. We make way.
4:30pm We anchor in Tamarind, Nevis not many bugs. Whew! The wind is light and swell is at a minimum. We eat leftovers and watch the beautiful sunset on one side and a gorgeous volcanic mountain. The beach is black. and the vegetation is like a green I have never seen. The water is so clear. We see turtles pop their head up to take a peek at us. Now we must get some sleep for a early departure to set sail for Montserrat. We are on a mission to get to Martinique to get our part. For now we enjoy the views…..Zzzzzzzz