Portsmouth – Dominica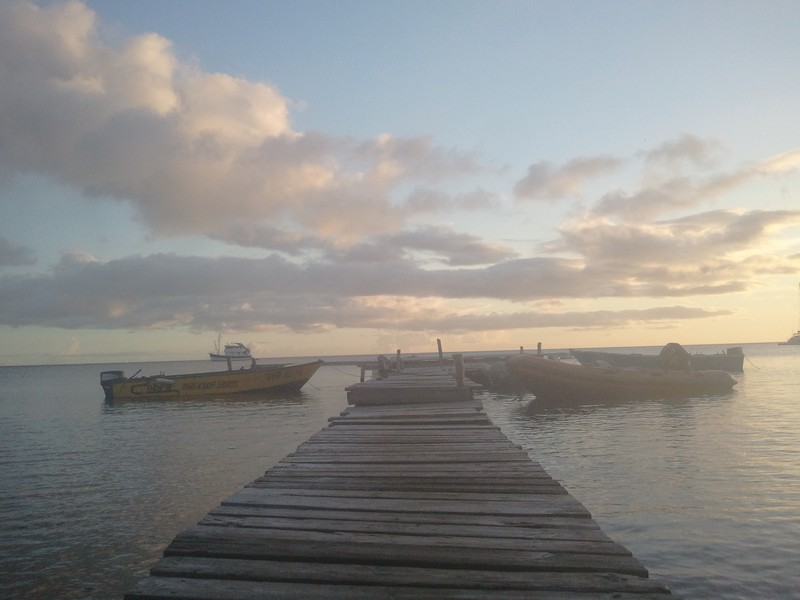 10:20am We leave Les Saintes. And do some fishing.
12:30pm No fish, lost a lure to a pod. I make a lure out of some feathers and fabric and stinky cheese. Line out. We sail. Now we are on a nice sail angle 160 degree heading 20kts of wind from the SE. We are moving 7-8 kts heeling at a 25 degree angle… nice! Reefed jib and main we are cruising! We are now in the middle of the Dominican Channel. 1500 meters deep! Then I catch a fish. I was so into my book I totally forgot about my line. Ryan alerts me to go get em! Dinner. Sweet!
3pm We anchor in Portsmouth. Customs closes in an hour so we rush to clear in….
Pirates of the Caribbean 2 was filmed here.
Land of rainbows.
Holding not the best.
Lots of collage kids to the south of the bay
Good idea to lock your hatches here.
EC ( Eastern Caribbean dollar), is awesome.
Dog friendly
The land is awesome and after we clear in which the customs office is not too convenient. You can take a water taxi or walk or …like us, anchor close ( which is not known to be a good area) But with a big dog on board we have no worries. We get as close as possible to where we think the customs office is and anchor and lock the dinghy. Hop off and climb some rocks and go in the direction of flags. Immigration is just a building away, sweet. Back to the boat we decide to stay anchored here for the night despite what the customs officials said, not safe, not a good idea. We play with Beau and he secures us with his nice loud bark. We lock our hatches and go over safety procedures if someone were brave enough to board our boat. My bow and arrow ready, Beau on alert. We are comfortable.
Next day, we move in closer to where all the other cruisers are anchored. We see "Inspiration"  and go to Bluebird to go over weather and have a few drinks. Do some shopping. We would have loved to stay longer but weather is coming in the future. We need to move out. Tropical Storm conditions are forming in the Atlantic, we play it safe and look for a hurricane hole. We decide to leave asap. Marin, Martinique is our goal.