It's not what we call smooth sailing…. Nevis to Montserrat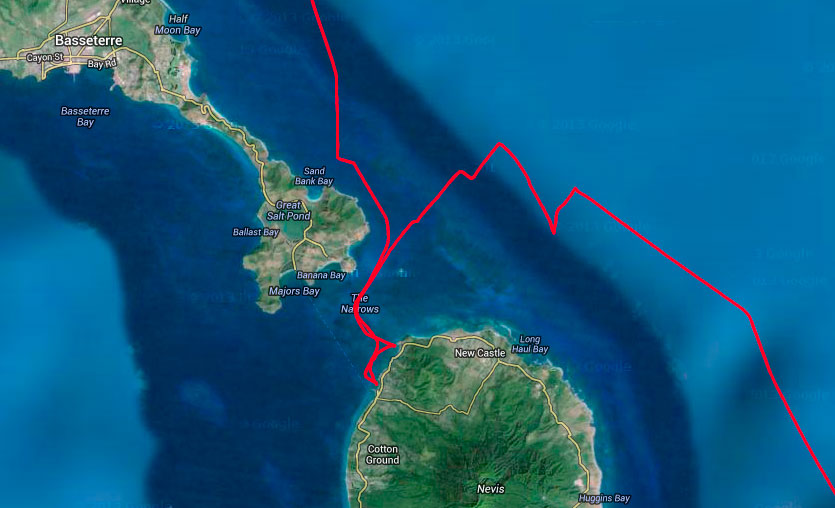 3:20am. We are anchored near the island of Nevis, by Tamarind Cove. I start preparing breakfast and prepping lunch for our sail today. Its very dark out and it rained all night. Its warm and pitch black out. Also very foggy. Visibility is about 40- 80ft. Just as we are getting ready to lift anchor, we are clocking gusts up to 28tks. We have sign language on getting the anchor up, but today we have to wing it, cause I cant see Ryan up at the bow showing me where the anchor is. And I dont think he can see it either. With the wind gusting words are scattered. So we feel it out. Forward, neutral, wait. Repeat. I get word anchor is up,  and I quickly dodge mooring balls hardly visible. Ryan takes the helm and starts making our way out the bay. I tighten my safety harness and go up to the bow and clip in. With one arm around the rolled jib and my other hand holding the spotlight we proceed forward. We decide to go back up north and around the the east side of St. Kitts to get the most out of our angle and wind (Geez did we get wind!) Going through The Narrows the waves are big. "The Narrows" is the channel that lies between St. Kitts and Nevis. Not only is it shallow (ranging from 12-20 ft) but the current that runs though here allows for some gnarly commotion to happen. I'm on the "SeaUs" ride up on the bow, holding on tight. I stand swaying side to side with each wave, rocking with the motion. Spotlight still in hand to help guide the captain. We make our way out The Narrows under the stars.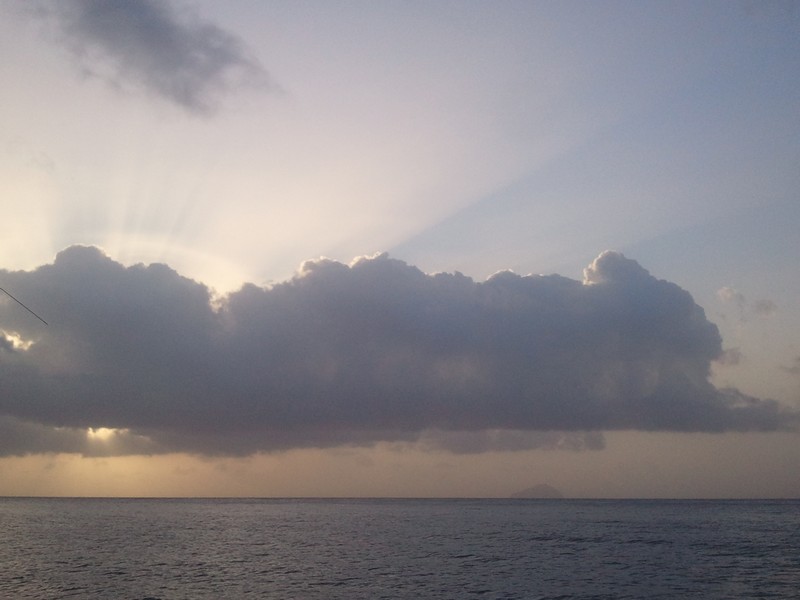 Sails out, the tacking begins…The wind is shifting E, to SE. Looking good, then not, then tack. Reefed main sail. Take in a little jib, reef a little more. Wind is gusting up to 30kts and waves are choppy and big. We rock on. On a great course we are moving 7-8kts on a starboard tack. Beau and I are hanging out….then all of a sudden I hear a loud SNAP! I cover my head as I hear some thing fall onto the deck. Terrified, never wanting to hear any noise like that under sail. I look up and everything is in tact, Hmm? Even Beau looked up like what the? Immediately I think its the back-stay shroud.I strap in my line and go back to the aft deck to see if I can find what made that noise. I call Ryan and he didn't hear a thing as he was in the engine room down below. He comes up and I update him. We observe all the rigging and everything looks ok? We sail on. Weird. About an hour later… Im playing with Beau and find a ball bearing rolling around!?! We look at each other and instantly look at the boom. Its turns out its the traveler car, this sliding piece attaches to the boom for the main sail outhaul (this is used to unfurl our mainsail and hold it down to the boom for shape when reefed. )Somehow it was still in the track.  Now it all makes sense. The piece that snapped off created that loud pop then the pieces I heard falling were the ball bearings flying  on the deck. Mystery solved. Its firmly holding in the track still so we watched it closely and ride it out carefully. Dispite the situation we are making great headway. The white X below is the location where the snap happened.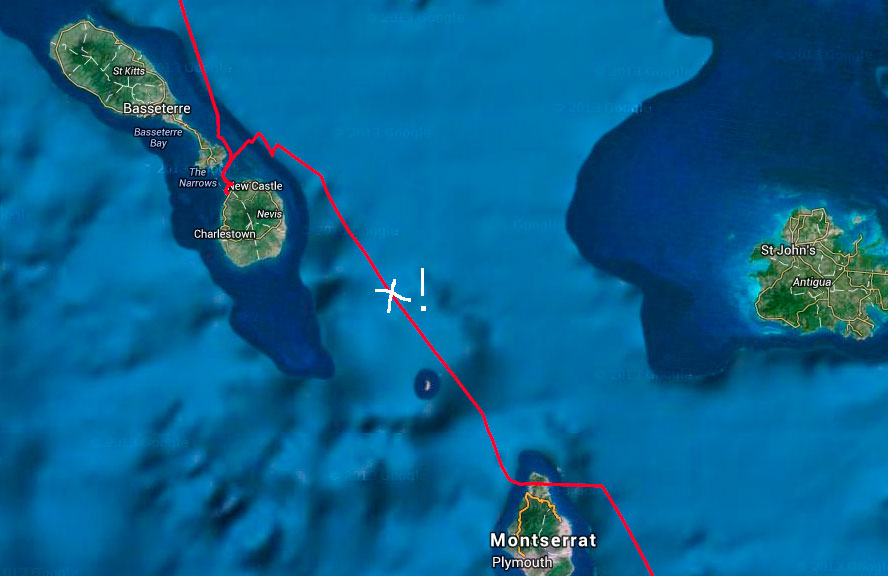 1:15pm. We anchor in Rendevouz Bay, Montserrat. This place is breathtaking! The land is lush green with white sand beaches. Rendevouz is practically the only place where the sand is white on the island. The rest is black due to volcanic activity in 1995- 2004 ( not long ago when you think about it!). Ash from the volcano that is still prominent on the island. They enforce a maritime exclusion zone that is about 2 miles off the S & SE coasts of the island down to the SW parts. When we leave here we have to take that into consideration so we will be sailing on the windward(east) side of the island to avoid the falling ash. It also gives us a nice angle for sailing to the next island. Guadeloupe. Which we are really excited about, we love French territory.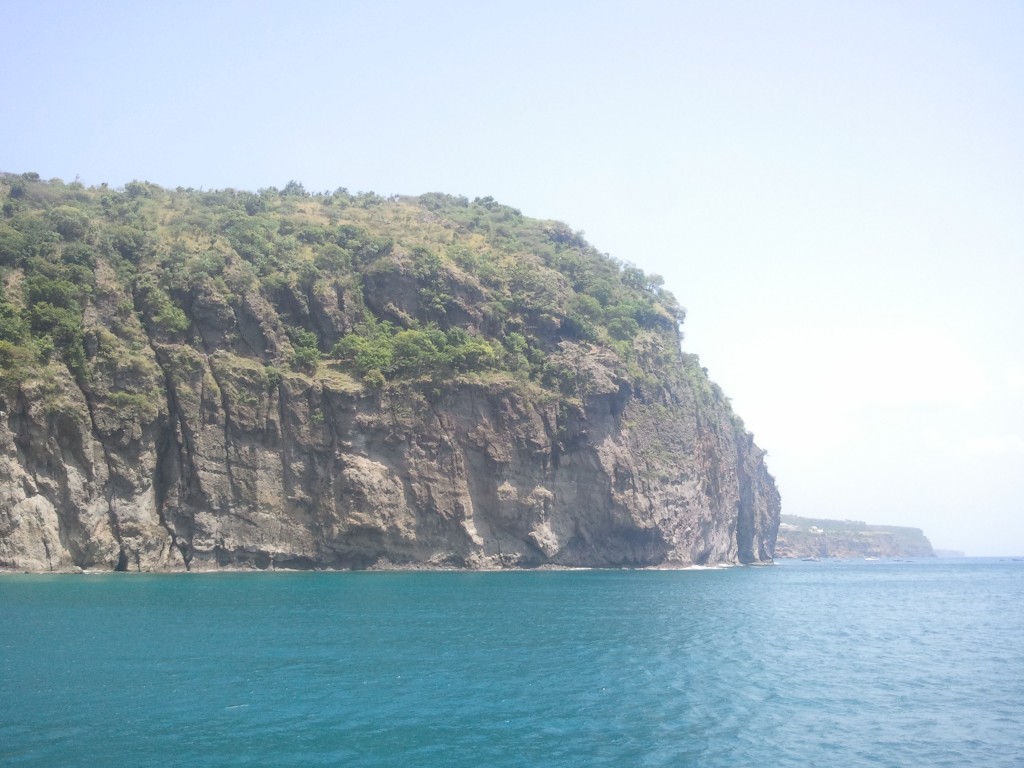 The mountains. The steep cliffs.  Everything is so unfamiliar and so amazing. This location has not been touched by ash. Nice sand, clear waters. We take in the breathtaking view.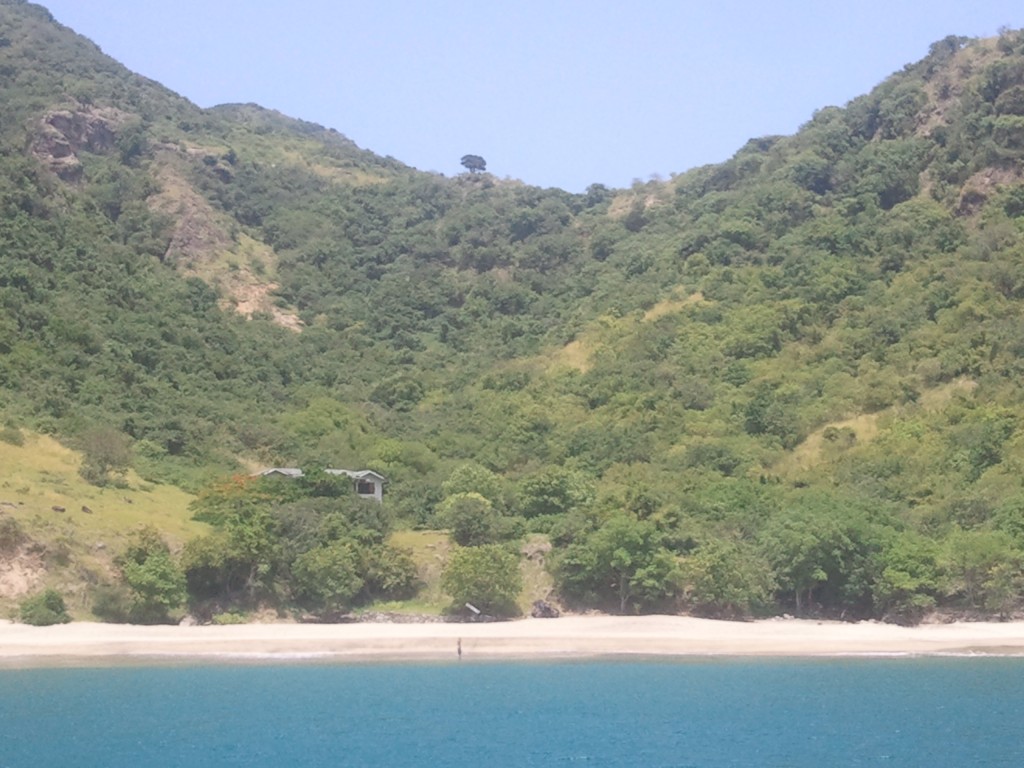 We fall in love with it all. All of a sudden we see a goat on a cliff and then more. They are climbing up and down so gracefully.  As we are getting taken in by the moment reality hits us. We have to fix our outhaul. Currently we cant use our main sail. Not so bad. But definitely not good either. Shortly after we start brain storming ideas for fixing the outhaul….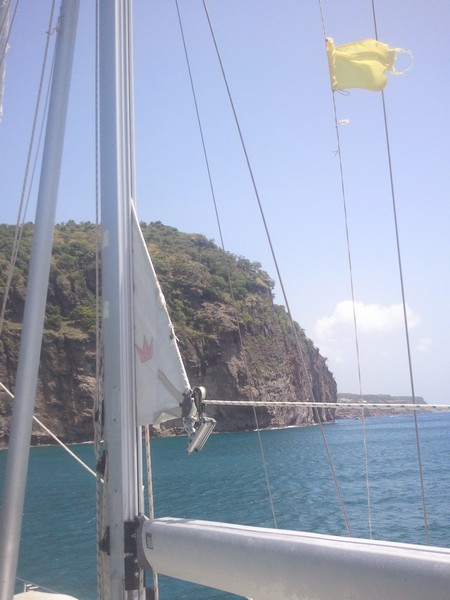 Above is the part that broke. Now we must find a solution to secure our main sail and we must be able to sail with it. Ryan gets to work finding the perfect piece of rope for our make shift out-haul.  Using  some spare rope he wraps it  around the boom through a block on the topside, that attaches to the outhaul. We play around with a few ideas, in the end this is the final rig. It might not look like much but this rope rig is just as strong as steel. And it will be taking on alot of load so it must be done correctly.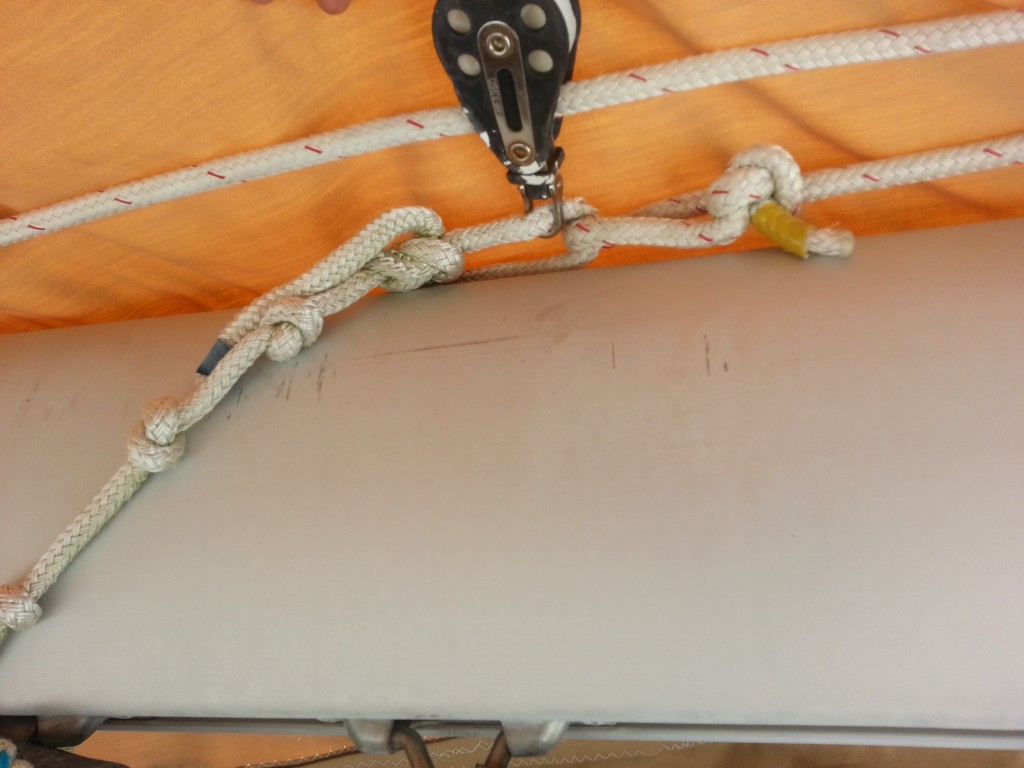 Happy with the results of our rig, we make the most of our time and the sun. I silicone the hatches that were leaking, Ryan and Beau take in the view out on deck and conduct any final inspections before our sail tomorrow. It took less time than expected, nice. The fixes and repairs have been done so now we play! Its so hot out so we all go out for a nice snorkel. I see 2 stingray and one small fish. The current was strong so Ryan stayed close to the boat just in case. I love this man.  Beau and I swim over the anchor, nice and snug in the sand. Scoped out the bay.  The water is nice and cool, so refreshing. Beau loves it just as much if not more. He also loves his new toy. A homemade toy. An old sandal we found in Nassau, some rope, viola! A new floating toy! After our swim we hang out on deck and enjoy a nice cigar. Thinking to ourselves practicing those knots sure came in handy!  As the sun sets we cant help but to be so thankful for this moment. All of the beauty that surrounds us. Raw nature. Survival. And to think the wind helped us get here. This planet is amazing~
We sail on.