Dolphins welcome us in St. Pierre – Martinique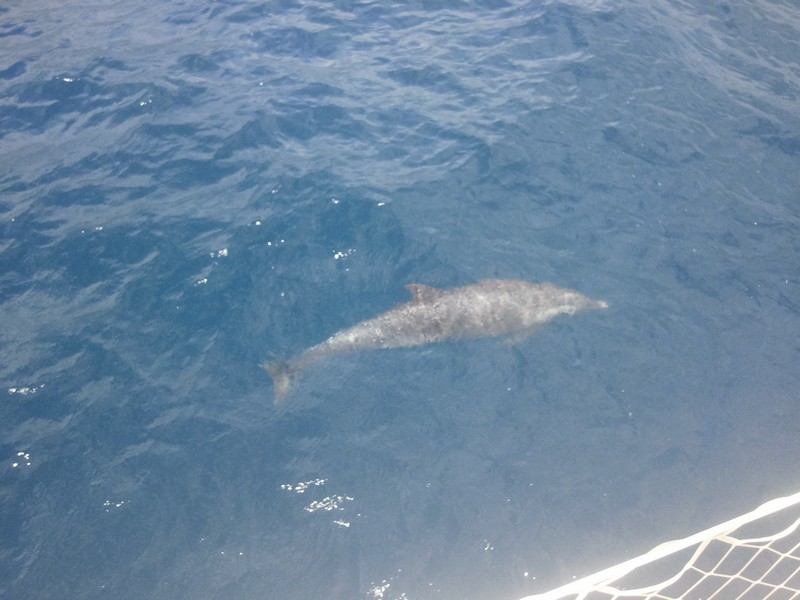 4am We wake up to the music from last night events. 4:30 We are ready to go. Really dark and foggy we make out the anchorage quietly. Beau and I are up at the bow with the spotlight. He loves to watch the fish jump up as I move the light across trying to stop buoys or boat or any other things to avoid.Its very calm out. Ryan turn on the engine and it vibrates me to sleep.
9:30am Scottsbluff, the end of the Dominica land is now on our port side stern.  We are flying 8- 8.5 kts! !9-23kts of NE wind
1pm I see some drift wood. Then up ahead a big piece of wood, like from a boat. Just then our wind dies down so we sail passed it slowly, not sure what it was but sure glad we seen it!
1:30pm Dolphins! Tons of them came to greet us! Beau was so happy to see his friends are back. He has not seen them since the Bahamas.
2:45 We anchor in Beautiful St. Pierre. You can here music coming from land. Its starts raining so we decide to stay in and rest. Or so we thought…
That night we had a lightning storm ( laptop in the oven time), And our anchor alarm kept going off with each swing of the boat. Reminding me we are anchored in 25+ ft of water. But we held in good.
Next day we have nice sunny weather. We tour some of  St. Pierre and have some lunch. Beautiful adorable very french town. Lots of volcanic ruins and lush green vegetation.  We had a great time here. Nice French lunch, got a little bit of groceries, fresh baguette. Drinks at this awesome restaurant where we could see our boat… then we notice all the masts swinging. Surge. When we get back to the boat, we see the surge is coming straight in from the ocean. Unexpected SW swells creating havoc. It was a hell of a time getting on the dinghy and getting on the boat. One dog in the water. Boats are rocking we can see masts just swaying side to side with each wave. We make the decision we have to go a different location, pronto. This is not safe as much as we were rocking. The boat next to is picking up anchor. 4pm we leave St. Pierre to make a night landing in Fort de France.