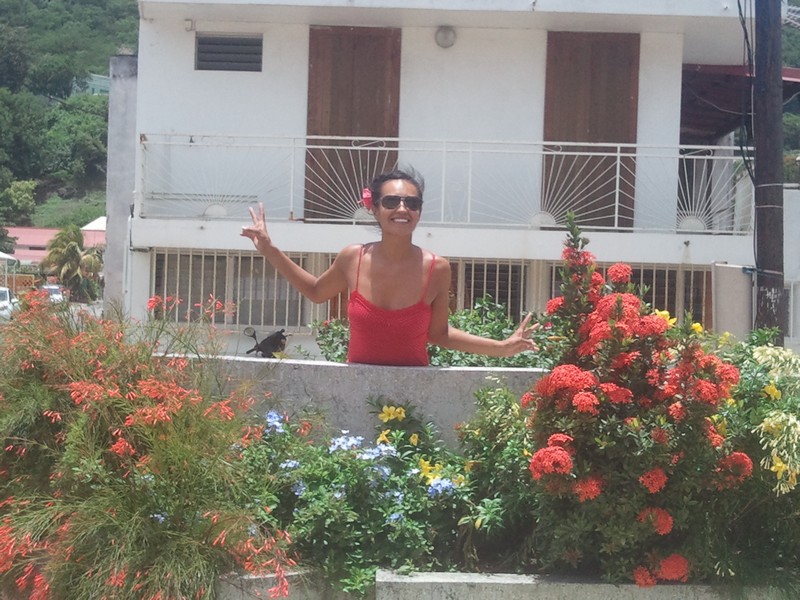 5:15am We leave Rendevous. I got great sleep with great sailing dreams. There was little humidity this morning with nice cool air. Clear morning, we make our way around the NE side of the island. And with the tide we are moving! Our speed is reading 3.5kts But on our navigation screen our SOG is reading 5.7kts. The waves are getting bigger as we round the island headed south on the East side of it. Ryan goes down below and just then a huge wave confronts us and takes us on a ride. OMG that wave was like 15ft! Our bow was so high in the air we came crashing down. It was so exhilarating! Ryan was holding of for dear life down below. While Beau and I were like woah! Riding it quietly eyes wide open.
7am We are on the East side and the sun is out and weather looks good. Wind is pushing 20 -25kts. Reefed main and jib we are averaging 7- 7.6kts. Heading at 145 on a starboard tack. The jury rig on the main is working like a charm.
8am Heeling at a 30 degree angle we are averaging 8.5kts. The day is like a breeze…we are flying!
1:40pm We anchor in Anse Deshaise. Adorable little town.  We clear custom at Le Pelican a little gift store where you go and sit in a little area with a computer and clear in, simple! And the store has some pretty cool stuff. They take siestas very seriously here..practically everything closes!
So we take one also in a nice shaded park. Zzzz
We stay here another day to hike and explore the town more. Snorkel. Hike more, and collect mango's by the river. There are lots of yummy mango's everywhere, we load our backpack up and fill our bellies.  Just as everything is perfect, I happen to sit on a bee… lesson learned- Never sit down without looking first! Especially in a jungle…or anywhere for that matter!