Road to recovery! Road Harbour – Tortola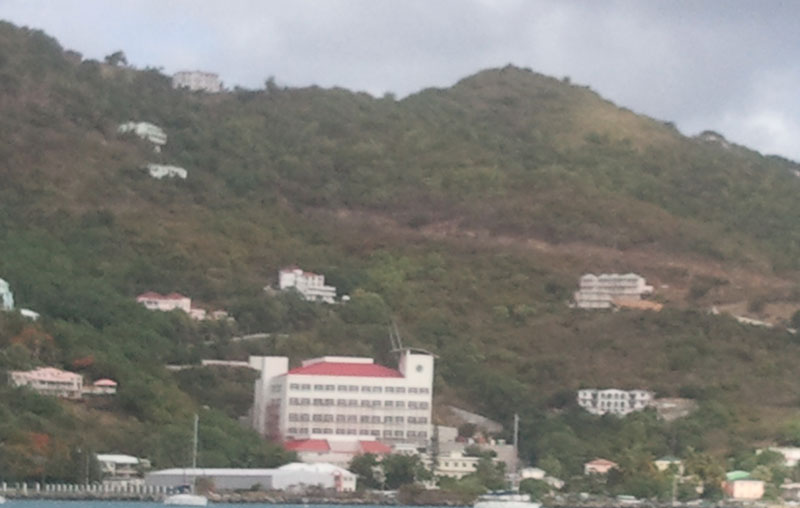 Day 3 Just Beau and I… and another day without my other half.
7am. He says Good morning from the hospital through the VHF. I have not been sleeping well but Im in good spirits when I hear his voice. I anchored as close as possible to the hospital. I can see it from the boat. Nothing has changed he is basically a sitting duck waiting for doctors to come back. He feels no more pain so that's good. The last couple of days I have been keeping busy working on the boat. Its the only way to keep myself from worrying. I thought we were prepared for every situation, but losing my husband was not a situation I EVER considered. So the thought that the symptoms he has been experiencing could be fatal, totally caught me off guard. I really don't like to admit this but the first hour I spent on the boat alone I broke down and cried for about an hour straight. Not because I was alone or sad. It was holding back the fear and hopelessness that was out of my control and to be strong for my husband when he needed me the most took alot out of me. I had to keep positive, so no tears were shed in front of him. After those tears came a sense of self awareness, I got us here. He is in the hospital now, he is safe. Everything will be ok…
9:30am. I am sitting in the saloon reading. When I hear a boat engine roar very close. I go out on deck to the bow, ready to let some rode out. Oh geez! His bow is 2 ft. or less from our bow! The surge brought him very close to our boat fast. We both look at each other like Whoa. He works for a charter company in the bay and grabs one of his mooring balls and is off back to work. Oh boy.
10:30am. In between two catamarans now.  One of the guys anchored uncomfortably close, if I wanted I could practically step over to his boat. He says he will only be there for 20 min. and while he goes to land. Here I am now watching closely that his boat doesn't hit ours by swinging into it. The guy stops by after to chat, ended up to be a nice guy. Beau didn't think so, he was very protective and on guard. That the guy couldn't even put his hands on the boat without Beau going straight up to him like he was going to bite his hand off! I never seen Beau act like this before, but I trust his instinct. Sheesh what a morning! Like cows, I am in the middle of the heard. With the way the wind and surge has been I hope its not a crowded night, or I might have to re-anchor.
1:30pm. I hear from Ryan He finally got to eat! Yay! He is waiting to see doctors. I cross my fingers he comes back to me healthy. I miss him more and more. I read. Clean. I sit outside. Observe surroundings. Its so hot out. I repeat.
3:30pm. I hear someone hail SeaUs! It sounds like our cruising buddies on Inspiration. I respond back as I only heard our boat name. No answer. Either I have been on this boat too long alone and now hearing things? Alone on the boat for this long and only Beau to talk to, oh I wish Beau would just say something back
He listens and makes faces, he is a good buddy~
6pm. Ryan tells me he contacted Inspiration on the Internet and they are making their way to us. To help out in any way. Oh that is awesome! I would love company! And good, Im not going crazy I did hear someone hail SeaUs on the radio
So they must be getting close! The sun is going down and its getting cooler. Its calm. No boats coming in other that the ferries that come every couple of hours creating big wake. I hear roosters in the distance, lots here. And they sing nonstop! Natures music. Tortola looks beautiful from afar. Lush vegetation. Palm trees. The mountains are nice and tall with houses scattered along them. Spots of orange pop through the green lush vegetation.
7pm. Dang it I miss him. I prepare for another night alone, again. I start my nightly process of locking Beau and myself in the cabin. Set up a "backup dude" pretty much the winch cover over a handheld  spotlight, a hat, and glasses . Nicely propped on the hatch cover and viola! Looks like someones looking out of the boat
Which I thought would stall a potential unwanted guest, and give me some extra time. I had to introduce Beau to the "backup dude". He didn't like him at first and growled so I had to take him apart to show him he was not real oh Beau, love this dog~  I practice my aim with my bow and arrow and set it up nice for an easy reach….set up the horn and check to see is the deck lights are working. All good. Since the first day we met we have only been 1 day apart….this bites.