We arrive into Georgetown, Jib-less.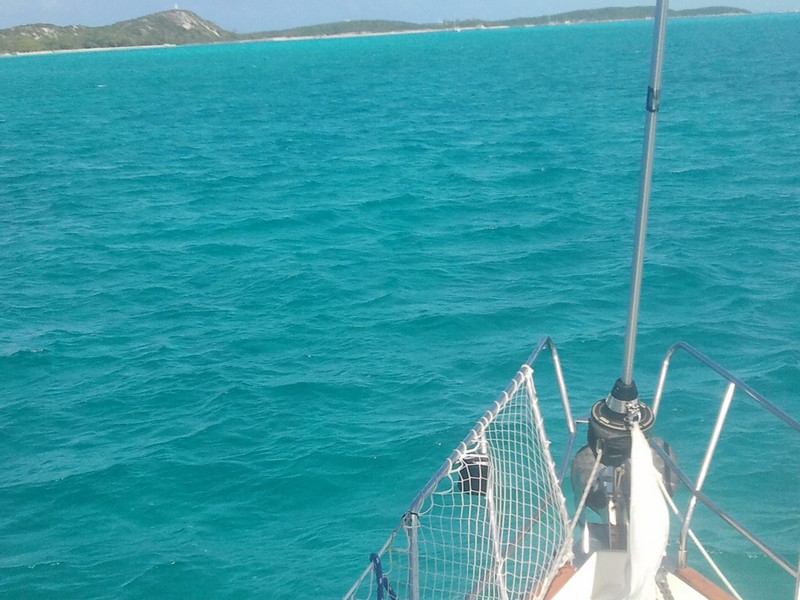 7:05am We are up and ready to go. Beau proudly goes pee before we leave, good boy. We approach the cut between Cave Cay and Galliot, High Cay to ocean side Atlantic. By High Cay just behind Big Galliot there are reefs extending out that are creating huge breaking waves. Not to mention tide against wind creating rollers. It was quite the adventure going through this cut. We rode the waves excited like kids eyes wide open and hysterically laughing into the wind. Exhilarating!
7:30am 110 degree heading. Main out, 13kts of East wind. We are cruising 6kts. Beau is sleeping, Ryan drinking coffee and Im enjoying the sailing.
7:50am Jib out 120 degree heading 14kts of East wind. now averaging 7kts +. Now on the east side of Cave Cay.
8:30am We had an amazing sail….for the first hour. We were on course with great wind. Then it changed in an instant! Our jib broke loose from the furler at the webbing on the head of the sail. With fast thinking and recovery of the jib not much damage was sustained. It turns out it ripped at the webbing. Good thing we have extra so we are able to do the repair ourselves with the good ole Awl.  We smoatered the rest of the way, just main sail and under motor
4pmWe got into Georgetown at 4pm and then went right to work to retrieve the jib halyard… from the very tippy top of the mast. I totally got a birds eye view of the whole island from up top!
We sewed up the jib webbing and had her back up the same night. Great team work! And all the while there were dolphins swimming around our boat for hours making us laugh! They played with Beau and then I jumped in to swim with them. They were so friendly~ The more I laughed the closer they got. So amazing to have them so close swimming and playing. It was quite an eventful day…..wow!