Warderwick Wells Cay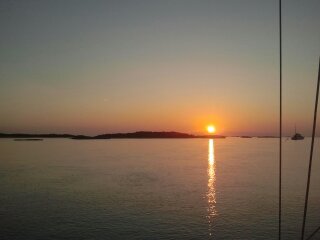 9:30am We leave Shroud. Light East wind 5-7kts. We thought we would get enough protection from the elements from our dodger.. until we reached the Bahamas. Very hot and sunny bright weather might not seem bad but when your sailing in it for a whole day, ouch. So we decided to made one. With lots extra materials left from the previous owner its was plenty. We have 4 kts of wind now we sail.
5:30pm Sailing the entire way in 2-4kts winds
we arrive with a finished bimini. Awe yeah for the awl! We grab mooring ball #6 for a couple of days here. And escaped to Escape beach….