Staniel Cay & Big Majors…oink oink!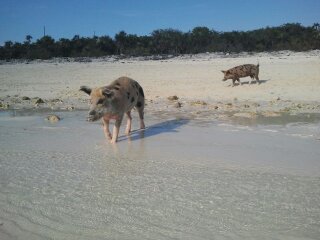 9am We leave Wardwick Wells. Winds is nice 10-14kts. Set up sail for a broad reach. Heading West.
9:30 On a close reach Heading south. Averaging 5kts. We pass up "Wind Song" a boat that left right before us. We are both heading to Staniel Cay. We communicate back and forth, and we win the race.
4:30 We anchor in Big Majors. Thunderball Grotto, pigs, pirates beaches oh my!
We go to the beach and bring some snacks for the pigs, they are hungry! They come rushing over t the dinghy and one tries to bite Beau. We barely make it out alive by the look on Beau's face haha. Next day we snorkel the Thunberball Grotto/ Low slack tide, we have the perfect entrance for Beau to come swim in with us. We hang out and Beau is stoked! The Grotto was made famous by the scenes in the James Bond movies. Its better in person. Very cool! Later that night we are invited to a cruisers BBQ on the beach. As the sunsets we head toward the fire on the beach, lots on cruisers. We met alot of nice people here. And had tons of fun. It was worth every bit of blood those damn mosquito's got out of me. It was really cool to see all the dinghy's leaving under the star filled night…. good times here!