Leaving Nassau! Destination Highborne Cay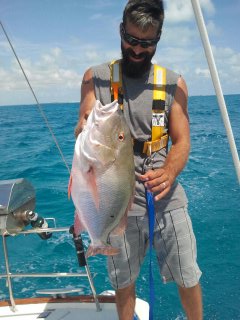 Yay we start our island hopping! Fully equipped, and ready as can be we sail on! We download new weather charts and we are headed to Highbourne Cay!
9:15am Heading East with the wind on our bow.We motor.
10:30 SE wind we start sailing 190 degree heading
11:15am Ryan catches a Huge snapper!…. that didnt fight much for as big as he was.
12:30pm We see a shark. No fish.
We start heading East 120 degrees into The Yellow Bank. Main out. Smoatering…
4:20pm We are in Highbourne. We anchor and go to the beach to have a romantic sunset dinner. Its beautiful here, not many people so we have the beach all to ourselves.  Awesome Day and awesome sunset!