Big Galliot Cay…Big swells…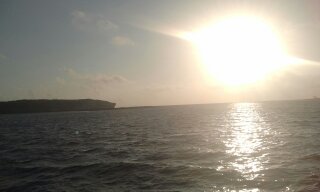 8:20am We leave Big Majors. Light fresh water shower swept through going west. Nice East wind pushing 14-17kts. Broad reach.  Averaging 5kts, SOG is reading 6tks. 226Degree heading. Today we see how far we can make it. Fishing lines out lets see if we can catch any food. Nothing
10:30 We practice our heave to and hove, then do it again, pretty sweet! It puts the boat to rest, and feels pretty comfortable.  We practice for fun. Then its back to sailing.
11:45 am We make our way back towards the island.
We make it Big Galliot. Here we make our cut through to the ocean side. Whoa, boy did the Atlantic welcome us with big…. swells!
Ryan makes some peachy coladas and we study weather charts and ride the surge. I wish I could write about all the little moments. But there are so many things that happen its practically impossible to to track it all, so I take in every moment. But what I really like are the sailing moments of wind in my hair hearing the sound of the wind, seeing it fill out sails and take us. The water gently splashing against the hull. Freedom. I love sailing to a new island and wake up to all its beauty. I sometimes wake up at night just to look out at the stars for a bit. I love to see how Beau is adapting. How we are all working like a team. Its pretty darn awesome…. Loving life.
Tomorrow we head for Georgetown!