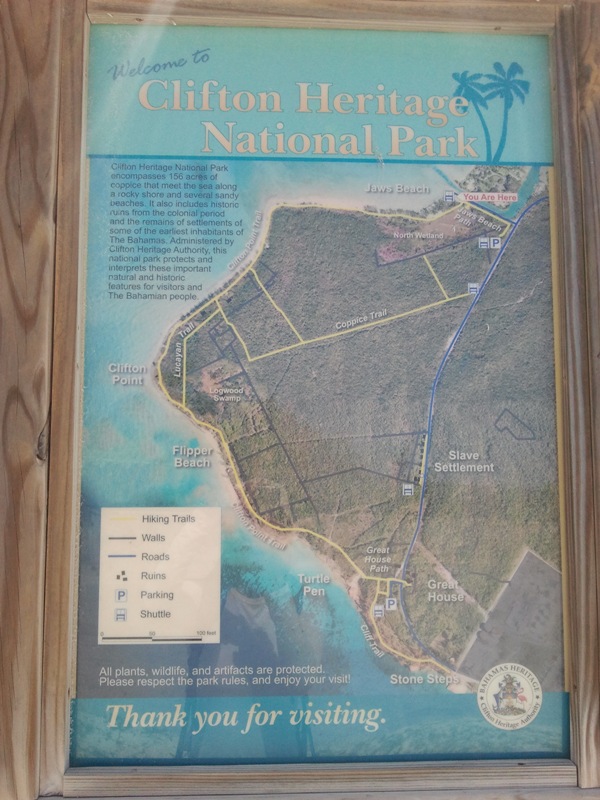 March 19- 24, 2012   We are really excited to explore the land we set out on the dinghy to have some fun in the sun! They call us the "scanners"  because we scan everything as they put it. In a couple of days we "scanned" the surrounding area (and then some) and reported back to our fellow sailors anchored, and newbies coming in. They loved it! ….and we enjoy to spread the love and help out.
We find the place to throw trash (actually next to this sign to the your left there is a big dumpster) A nice beach called Jaws Beach…and  yes they did film it here! We then take the dinghy around the south end and grab a mooring ball to tie our dinghy to while we went swimming ( only to find out later that's where boats take tourists to see sharks- not to mention FEED them!) We didn't see Jaws, didn't really want to. But the snorkeling was awesome! The rest of the day Wwe hang out at Flipper beach, so nice there. Walk around looking at the history. Love this place.

Jan and Gary from "Adrenaline" invite us over for dinner and she gives me a present. A book! The Essential galley companion by Amanda Swan-Neal. Excellent book! I learned alot about provisioning and storing items. Cooking, preparing meals, a super awesome book for the beginner. A big thank you for that wonderful thoughtful present!
The following days we explore the Northern side by dinghy. We explore a very cool Tiki themed resort that was being built at one point. It got burn down mysteriously by someone who didnt like that fact that they were turning this into a high end brothel. We make it passed the reef just as we round the corner of the resort on high tide in "Chico" and go into Lyford Marina. We met a nice couple on a catamaran that let us dock out dinghy by their boat. We grab some food at the restaurant there, and people watch. Like in the movies one by one coming off their big mega yachts dressed to impress. We had a few drinks, enjoyed the scenery and had a few good laughs at the expense of some billionaires ;). This marina has been know to be a very hosh posh place. But most importantly for us it is known to have good water and fuel. We come back with 15 gallons of water and 15 gallons of diesel. Like happy kids that got candy at a candy store we dinghy back to our anchorage around the island.
We find free wifi on the bay, sweet! I get to designing our sailing website, and make our boat cards. We were too busy for me to even think about this before we left. And boat cards? I had no idea this existed before we started to meet other cruisers?!?
We swim, relax, meet some really cool friends. A group of dog lovers. These guys adopted a pack of dogs separately and together they became friends. Keeping the dogs connected they meet at the beach every weekend for all of them to hang out, so cool! We hang out with our new friends and invite them over for a Mahi mahi dinner. We had such a good time with these guys! Lots accomplished here, and most of all great memories!